Safai karamcharis in Maharashtra have not been paid minimum wages for nearly two years, and are demanding an end to the contract system.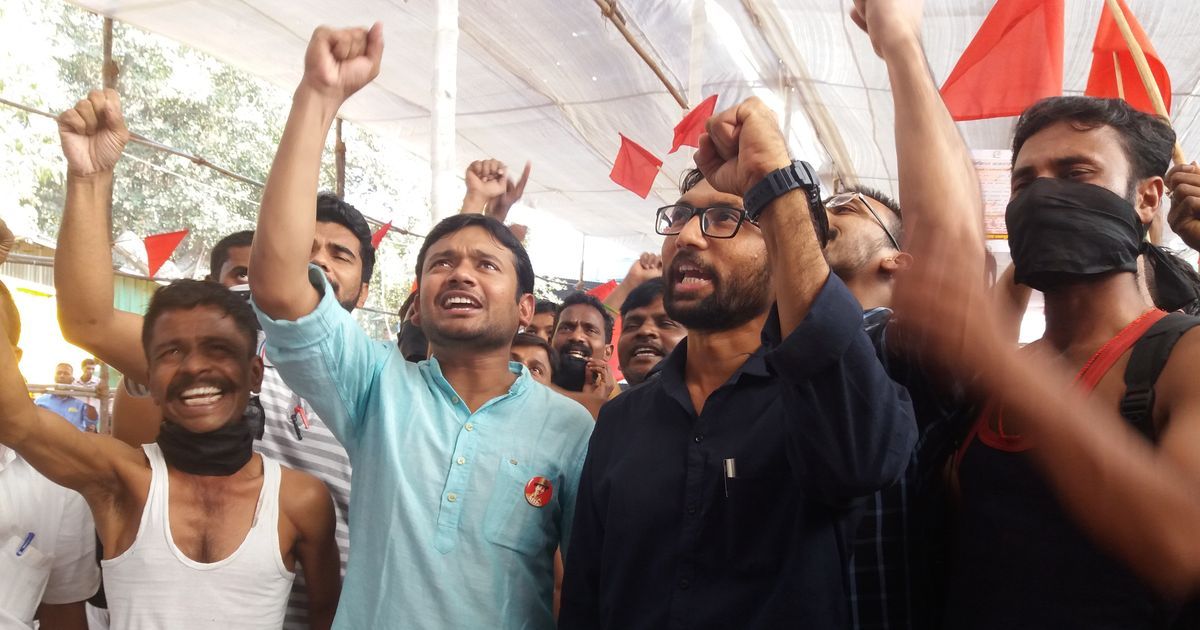 As a sanitation worker employed on contract to clean drains in Mumbai, Shivaji Bhadekar is entitled to a monthly minimum wage of Rs 14,000. But he has never been paid more than Rs 7,000 a month for the past two years, despite attending numerous union rallies to demand minimum wages for
safai karamcharis
(sanitation workers).
But on Friday afternoon, at a protest rally of more than 2,000 sweepers, garbage collectors, sewer cleaners and dumping ground workers at Mumbai's Azad Maidan, Bhadekar felt more upbeat and hopeful than ever. "Seeing the atmosphere this time, I am 100% confident that our demands will finally be met," he said.
The special atmosphere in Friday's rally was largely due to the presence of young leaders Kanhaiya Kumar and Jignesh Mevani as chief guests at the union rally. Kumar, former president of Jawaharlal Nehru University Students' Union, shot to national fame last year after the Delhi police briefly arrested him for alleged anti-national sloganeering. Mevani, meanwhile, has emerged as one of the main leaders of the Dalit agitation in Gujarat after four Dalit leather tanners were assaulted by cow protection vigilantes in July 2016.

More than 2,000 safai karamcharis from across Mumbai and parts of Maharashtra attended the rally on Friday. Photo: Aarefa Johari
The two leaders attended the rally to give a boost to a long-standing protest by Maharashtra's safai karamcharis, who have not been paid minimum wages for the past 22 months. Protesters also demanded an end to the contract labour system in sanitation work.
"We have been crying ourselves hoarse about these demands in so many protests and rallies, but our voices are never usually heard," said Vijay Dalvi, a union leader speaking at the rally. "This time, with Kanhaiya Kumar and Jignesh Mevani here, even the media has come to cover us."

Seeking justice
According to the Kachra Vahtuk Shramik Sangh, which organised Friday's rally, there are at least 6,500 sanitation workers in Mumbai, and more than 35,000 across Maharashtra. The vast majority of these workers are not directly employed by municipal bodies, but hired as temporary contract labour by private companies.
Contractors routinely deny safai karamcharis their most basic rights, including timely minimum wages, paid leave, medical expenses, protective masks, gloves, boots and other gear. Since the Industrial Disputes Act of 1947 allows all contract workers the right to demand permanent jobs after 240 days of service, contractors are also known to employ devious tricks – like offering only 210-day contracts – to circumvent the law.
In February 2015, the Maharashtra government announced that municipal workers would get Rs 14,000 as monthly minimum wages. However, most contract workers who keep municipal areas clean have been paid a mere Rs 7,000 or Rs 9,000 a month for the past 22 months. "The arrears of the minimum wages of the last 22 months in Mumbai are Rs 110,000 per worker," said Milind Ranade, a leader of the Kachra Vahtuk Shramik Sangh. Meanwhile, the Thane and Nashik Municipal Corporations owe workers Rs 121,000 each as arrears, the Satara civic body owes Rs 198,000 and the Navi Mumbai Municipal Corporation owes workers Rs 83,600.
If municipal bodies are also made to pay workers the fine levied for not paying minimum wages, every worker in Mumbai would be entitled to arrears worth Rs 11 lakh for the past 22 years.

Speeches by the stars
At the rally, Kanhaiya Kumar was introduced to the protesters as the leader for whom Mumbai's safai karamcharis had collected Rs 10,000 last year, so that he could pay the fine imposed on him by JNU after he was released from jail. Kumar led the crowds in chanting his popular "Azadi" slogans, and began his speech with some Marathi.

Kanhaiya Kumar and Jignesh Mevani were media magnets at the rally.
"You are all aware that the contractors who employ you are the ones pocketing your minimum wages," said Kumar. "But you have the power not only to clean the garbage of this city, but also the garbage in the minds of the politicians who ask for your votes."
Mevani, who is leading a similar agitation of sanitation workers in Gujarat, used his speech to tear into the Bharatiya Janata Party government's Swachh Bharat Abhiyan. "When Swachh Bharat was launched, the prime minister and big Bollywood stars posed for photos in which they pretended to sweep roads," said Mevani, who went on to ask workers to stay firm in their demand for minimum wages, even if they had to strike work. "Don't worry about garbage accumulating on the roads, because if that happens, all those Bollywood stars will be inspired by Swachh Bharat and clean it themselves."

Posters mocking the central government's Swachh Bharat Abhiyan at the rally.

Equal pay for equal work
Besides demanding minimum wages and arrears, sanitation workers at the rally also demanded an implementation of the October 2016 Supreme Court judgement allowing temporary contract workers to receive equal pay for equal work. This would mean that contracted safai karamcharis would be entitled to the same monthly wage of Rs 24,000 as their counterparts employed by Mumbai's municipal corporation.
More than just equal pay as temporary workers, however, the workers' union demanded an end to the contract labour system altogether, and permanent jobs for safai karamcharis directly with municipal bodies.
"The contractors don't treat us as humans, and offer no support at all in cases of accidents, which happen quite frequently when we work in the gutters," said Sachin Goru, a drainage worker in central Mumbai who suffered a rib fracture when he accidentally fell inside a gutter while on the job two years ago. Because the injury has not healed fully, Goru can now only work short half shifts. "The contractor has now reduced my wages by half, but till today, I haven't received any money for my many medical expenses."

Drainage workers like Shivaji Bhadekar and Sachin Goru wore black bands over their mouths to protest their silenced voices.
Mangesh Kamble, another drainage worker, claimed that many contractors do not even keep official records or time logs of sanitation workers' hours. "This allows contractors to claim in labour courts that we were not working with them at all, or that we were employed as labour in their private shops, not for sanitation work," said Kamble. "For a while, my contractor has also not been giving payment slips for the salary, and it turned out that the PF [Provident Fund] documents they gave us were fraudulent."
Through the rally, the workers' union hoped to get a meeting directly with Chief Minister Devendra Fadnavis, to put forth their demands. However, the union has now been granted a meeting with the state's chief secretary on January 10.
Courtesy: Scroll.in