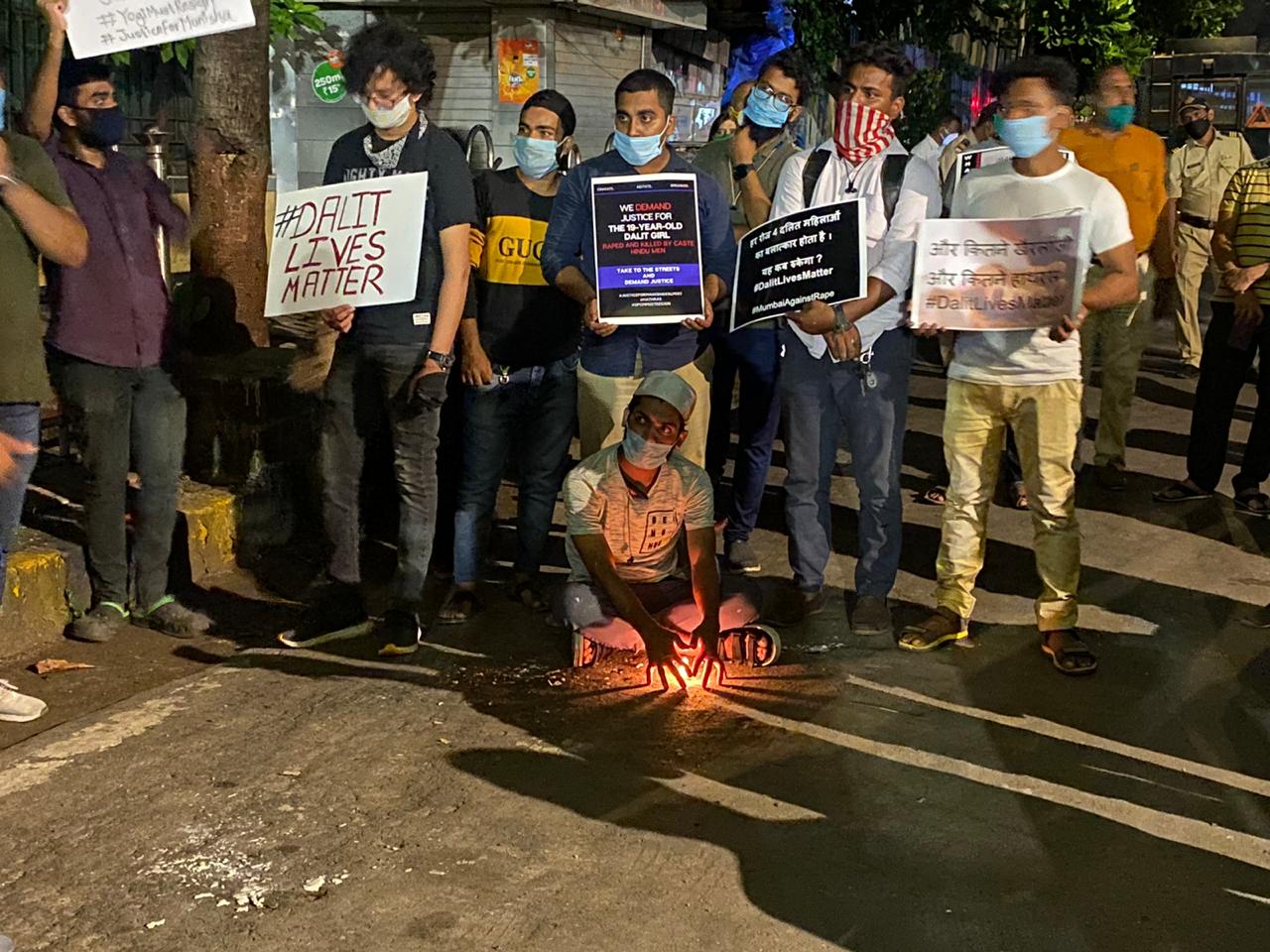 Sickened by the Uttar Pradesh government's apathy towards the Hathras rape case, citizens of Mumbai observed a candle march on the night of September 30 at Dadar's Chaitanyabhoomi. The protesters demanded justice for the victim's family and the immediate resignation of Uttar Pradesh Chief Minister Yogi Adityanath.
All those in #Mumbai who can, please show up.
Tonight, 8:30 p.m. at Chaitya Bhoomi, Dadar.#JusticeForManisha #StopDalitAtrocity #UPCMResign pic.twitter.com/zG439GS0ac

— D✨ (@a_blah_naari_) September 30, 2020
People gathered at #Chaityabhoomi, Dadar in #Mumbai to protest against the gang-rape of a Dalit woman who succumbed to the injuries last night and her body was forcibly cremated by policemen in #Hathras. #HathrasHorror @mid_day @patel_bhupen pic.twitter.com/8fFCAzJiBK

— Diwakar Sharma (@DiwakarSharmaa) September 30, 2020
The silent candle march in which other party leaders like Congress President Balasaheb Thorat participated denounced the horrific incident of gang rape of a lower-caste 17-year-old girl in Hathras Uttar Pradesh. People went on the streets to shout slogans demanding justice for the victim's family. A women's organisation also observed a similar protest at Andheri.
Protest in Mumbai…Mumbaikars Raising Their Voice Against The Injustice in Hathras #HathrasHorrorShocksIndia #HathrasHorror #manisha_valmiki #HathrasCase #Manisha #Mumbai pic.twitter.com/KWYyLFAnXY

— Anand N. Ingle (@anand_ingle89) September 30, 2020
Protests of this nature have erupted all over the country especially after authorities cremated the victim's body without the family's permission. Members of the family lamented this act that defied their religious beliefs and robbed them of a chance to say their final goodbyes.
At Chaityabhoomi, Dadar.#JusticeForManishaValmiki #JusticeForManisha #DalitLivesMatter #UPCMResign #HathrasHorror #ResignAdityanath #ResignYogiAdityanath pic.twitter.com/tEogdObxlg

— Dinisha (@_theoratic_) September 30, 2020
Hashtags such as '#UPCMResign' and '#HathrasHorror' were used to decry the insensitive behaviour of the state government that had failed in its duty to protect the victim's family from further harm.
People in Mumbai raising voice against the injustice in Hathras.#Mumbai #HathrasHorror #HathrasHorrorShocksIndia pic.twitter.com/1iIhG8DDMh

— Hamza Sufyan (@HamzaSufyan11) September 30, 2020
Other parts of Mumbai also observed protests at the same time yesterday.
Major Ongoing protests.
-India Gate at 5 p.m,
-Candle light march at 6 p.m Arts Faculty DU,
-Chaitya Bhoomi, Dadar at 8:30 p.m,
-Good luck cafe chowk, FC road at 6:30 p.m#JusticeForManishaValmiki

— Rohan (@urbannaxal) September 30, 2020
Student organisations such as the All India Students Federation and the Mumbai Youth Congress participated in similar protests not just at Dadar but in other areas like Wadala and Goregaon.
To show continuing dissent Mumbai has planned another protest on October 2 at IIT Main Gate Powai.
Protests against caste based sexual violence.

Date: 2nd October | Friday

Stand Against Caste Oppression and Sexual Violence

2nd Oct | Friday | 04.30PM | IIT Main Gate Powai#JusticeForManishaValmiki #DalitLivesMatter pic.twitter.com/ic2KF2TiOx

— Shantanu (@aeroshantanu) October 1, 2020
Similarly, Delhi will observe a protest on Friday as well at India Gate to demand justice for the victim's family.
#भारत_की_बेटी_को_न्याय_दो
Join us, in solidarity
2nd October 2020
Time : 5pm
Location : India Gate, New Delhi #JusticeForHathrasHorror#DalitLivesMatter

A call by Concerned Citizens of India
PLEASE RT & SHARE MAX pic.twitter.com/c4mxkVwtAy

— Swara Bhasker (@ReallySwara) September 30, 2020
Related:
No dignity even in death for Dalits
Hathras rape a case of Caste Supremacist Atrocity: AIPWA
Hathras Dalit girl rape: Why are Smriti Irani, PM Modi, UP CM Adityanath quiet?