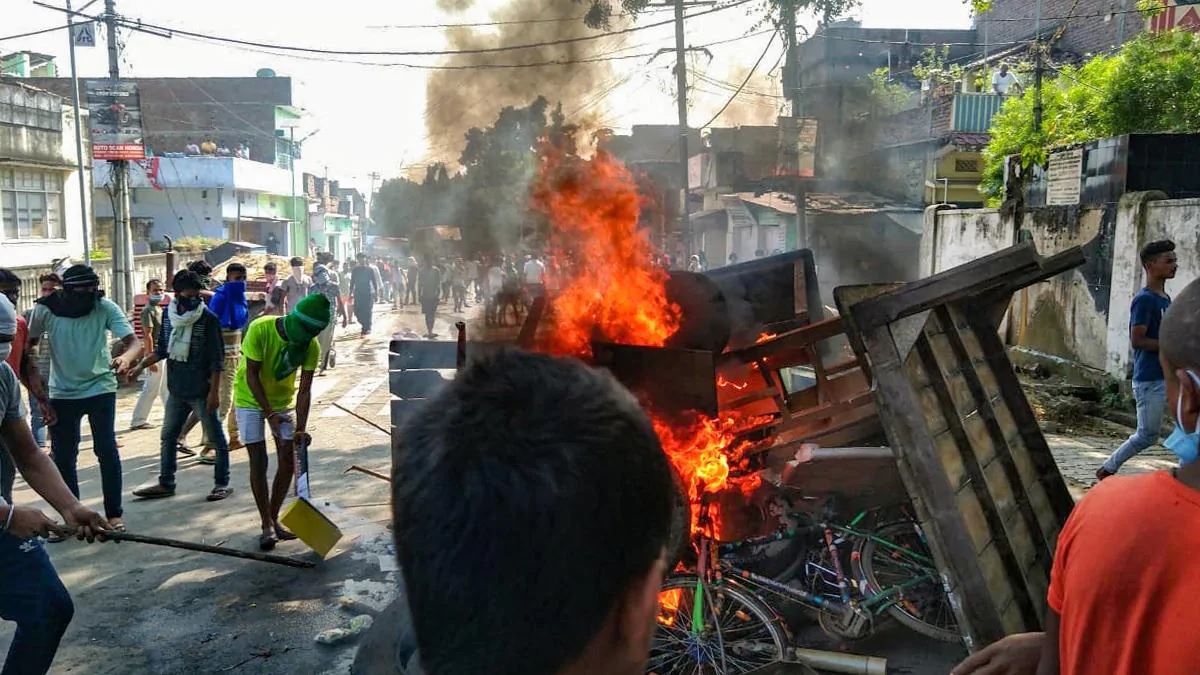 Image: PTI

The Election Commission has ordered the "immediate removal of the Munger Superintendent of Police (SP) and District Magistrate (DM)", after a young man was killed in a firing, during a Durga Puja procession late on Monday night. The ECI has also ordered a probe into the violence that occurred two days ahead of the State Assembly elections. The Bihar Chief Electoral Officer issued the press note, announcing this decision: "In the light of the prevailing situation in Munger, ECI has ordered immediate removal of SP and DM Munger. ECI has also ordered inquiry into the entire incident by Mr. Asangba Chuba Ao, Divisional Commissioner, Magadh, which has to be completed within next seven days."
Press release:-
In the light of prevailing situation in Munger, ECI has ordered immediate removal of SP and DM Munger.
ECI has also ordered inquiry into the entire incident by Mr. Asangba Chuba Ao,Divisional Commissioner, Magadh which has to be completed within next seven days. pic.twitter.com/ExnPEzwpK5

— CEO Bihar #ElectionDepartmentBihar (@CEOBihar) October 29, 2020
The orders came amidst as protests raged on in the area to protest against the firing, allegedly by the police, in which the young man was shot in the head and killed on the spot. According to a report by NDTV protesters indulged in arson at the Sub-Divisional Officer's and the SP's offices in Munger, on Thursday, setting several vehicles on fire and damaging public property. The first phase of polling took place on Wednesday. According to news reports the polling process in Munger district was conducted peacefully, however the voter turnout in the district was only 47.36 per cent. The next phase of polling in Bihar is scheduled on November 3, and the last phase of voting is November 7.
Deputy Inspector General of Police Manu Maharaj told the media that the police were investigating the arson as well, "such incidents can not be tolerated". He has appealed for peace and asked people not to be a part of the destructive crowds.
मुंगेर का माहौल शांत करने उतरे डीआईजी मनु महाराज, लोगों से की शांति बनाए रखने की अपील#Munger #mungerpolice #मुंगेर_नरसंहार #मुंगेर_जल_रहा_है pic.twitter.com/nylxfzJtDb

— Janta Junction (@janta_junction) October 29, 2020
Meanwhile social media users had been protesting since Monday, demanding the sacking of Lipi Singh, some had announced her 'suspension' on Wednesday, itself. Many continue to hold her responsible for the firing, and the young man's death, comparing her with General Dyer who is known as the 'butcher' of Jallianwala Bagh.
The victim, identified as 18-year-old Anurag Kumar Poddar, was killed in the firing and 27 people including 20 policemen were injured. The clash between the police and a mob turned violent on the intervening night of Monday and Tuesday, said news reports. According to eyewitness accounts reported by the media "police opened fire to control the violence that followed an argument between revellers participating in immersion of Durga idols and Kotwali police personnel". The police are reported to have initially used tear gas shells but that proved ineffective. According to the police however, it was someone from the crowd of revelers who fired. "The mob pelted stones and opened fire on police which led to the death of one person and injured 27 people including 20 policemen," Munger's superintendent of police Lipi Singh was quoted by the media.
A video, said to be from his family has appealed for the protesters to remain peaceful. "Please protest peacefully and get justice for Anurag, he was your son and brother. Get the accused punished. But please protest peacefully," said his father in the message.
Please listen. A short Message from the family of #AnuagPoddar

Please keep demanding justice. Keep tagging politicians. #JusticeForMunger ? pic.twitter.com/V1urx9P6cy

— INDIA WAKES UP ?? (@IndiaWakesUp_) October 29, 2020
From Tuesday, Munger and Lipi Singh's name began trending on social media and the horrific photo of the young man who was shot in the head was shared thousands of times. It is reported that 27 others were also injured in the violence that flared up during the procession. Right-wing aligned social media users also compared this tragic incident with the Palghar violence and raised calls for the sacking of Munger's superintendent of police Lipi Singh, who they accuse as the one who 'gave the order to fire'.
They do not seem to be satisfied with SP Lipi Singh and DM Rajesh Meena's removal from duty, and the setting up of an inquiry, and are demanding stronger action.
Lipi Singh should be immediately arrested for what she has done. I wonder why journalists who openly demanded #JusticeForPalghar are silent on Munger incident. PM and CM should speak up. #JusticeForMunger

— Shaurya D Joshi (@ShauryaDJoshi) October 29, 2020
A massive rally of angry localities is marching across the town, Munger demanding the permanent suspension of SP Lipi Singh. And this protest is going on at Bata Chowk rn.

Anurag didn't deserve to die. Hindus should unite!#HindusLivesMatterToo#JusticeForMunger #AnuragPoddar pic.twitter.com/njHS2cvQLX

— Neha Beniwal (@NehaBeniwal18) October 29, 2020
Meanwhile, the Opposition parties have begun asking for Nitish Kumar, and Prime Minister Modi to address the Munger situation. "Who is responsible for firing on the devotees in Munger," asked Congress spokesperson RS Surjewala. He added that the SP's transfer was a 'whitewash', that will not work.
मुंगेर पुलिस फायरिंग को लेकर कांग्रेस ने मोदी सरकार को घेरा #ATVideo #MungerFiring #Bihar pic.twitter.com/iw1zPMitI9

— AajTak (@aajtak) October 29, 2020
Related:
Bihar: 1 killed, several injured in firing during Durga procession in Munger
Bihar Elections: First phase of voting concludes
Bihar elections: Is Nitish Kumar's popularity dropping?
Bihar Elections: If Chirag Paswan is Hanuman, PM Modi is Ram, who is Nitish Kumar?