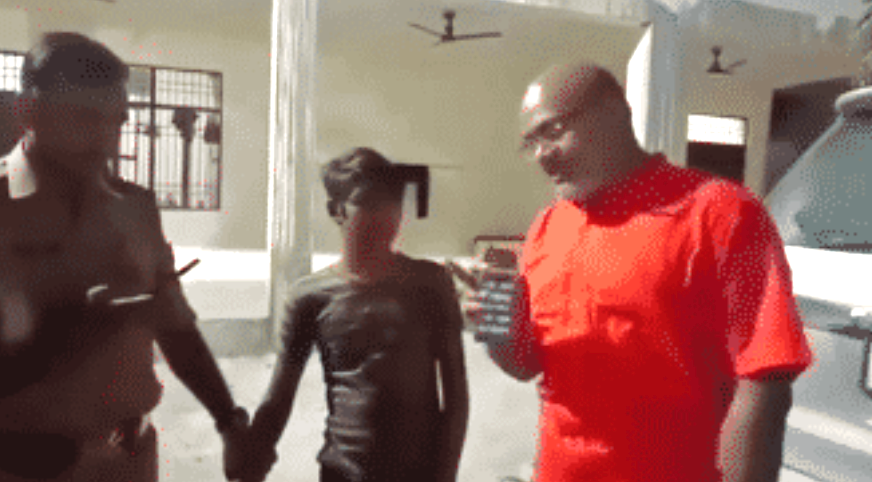 The recent incident of Yati Narsinghnand handing over a 10-year-old boy to the police for questioning brings back chilling memories of when a 14-year-old Muslim boy was beaten up by Narsinghanand's disciples in the Dasna temple premises for fetching water.
There was a call for action against him then, and in many instances that followed thereafter, but Narsinghanand remains a free man, spreading communal hate with impunity. In fact, he receives the protection, reportedly, of over 50 policemen as he claims there is a conspiracy being hatched to eliminate him.
One cannot imagine the atmosphere of palpable fear that his actions must have created in the Dasna area and the areas surrounding it.
This time around, he "caught" a 10-year-old Muslim boy who accidently landed in the temple premises, being new to the area and also, most importantly, being too young to understand the religious identity he was born into, and its consequences in a BJP ruled state.
The boy told police that he had come to the area to visit his pregnant sister-in-law admitted to the community health centre (CHC) adjacent to the temple, reported The Wire. The police say that they let him go after verifying the veracity of his statements.
Yati has released a video in which he claims, "Ye hamle ki tayari hai (this is in preparation of an attack)". He further claims that the minor boy came to the temple to conduct a "recce" and states that "nobody has slapped the boy or anything". In the video a cop can be seen holding the boy's hand. The comments on this post on Instagram are as vile as it can get.
SabrangIndia's India's sister organization, Citizens for Justice and Peace (CJP) has complained to Commissions and authorities multiple times against Narsinghanand, but to no avail.
Yati Narsinghanand has a history of inciting Hindus against the Muslim community and he has multiple disciples, who follow in the path so clearly paved by him, to spread the hatred in wider circuits. Shringi Yadav, Vikas Sehrawat, Kunal Sharma, Sukhdev Sahdev and Rambhagat Gopal are a few of his disciples who get in trouble with the law every now and then such as the infamous, derogatory and shameful "sulli deals" where Muslim women's pictures were put up to auction them off; Gopal was involved in shooting at the Jamia Milia Islamia University in January 2020 and so on.
Related:
CJP approaches NCM against Yati Narsinghanand's hate speech
Meet hate spewing 'Sadhu' Yati Narsighnanad
CJP takes steps to fight Yati Narsinghand hate speech