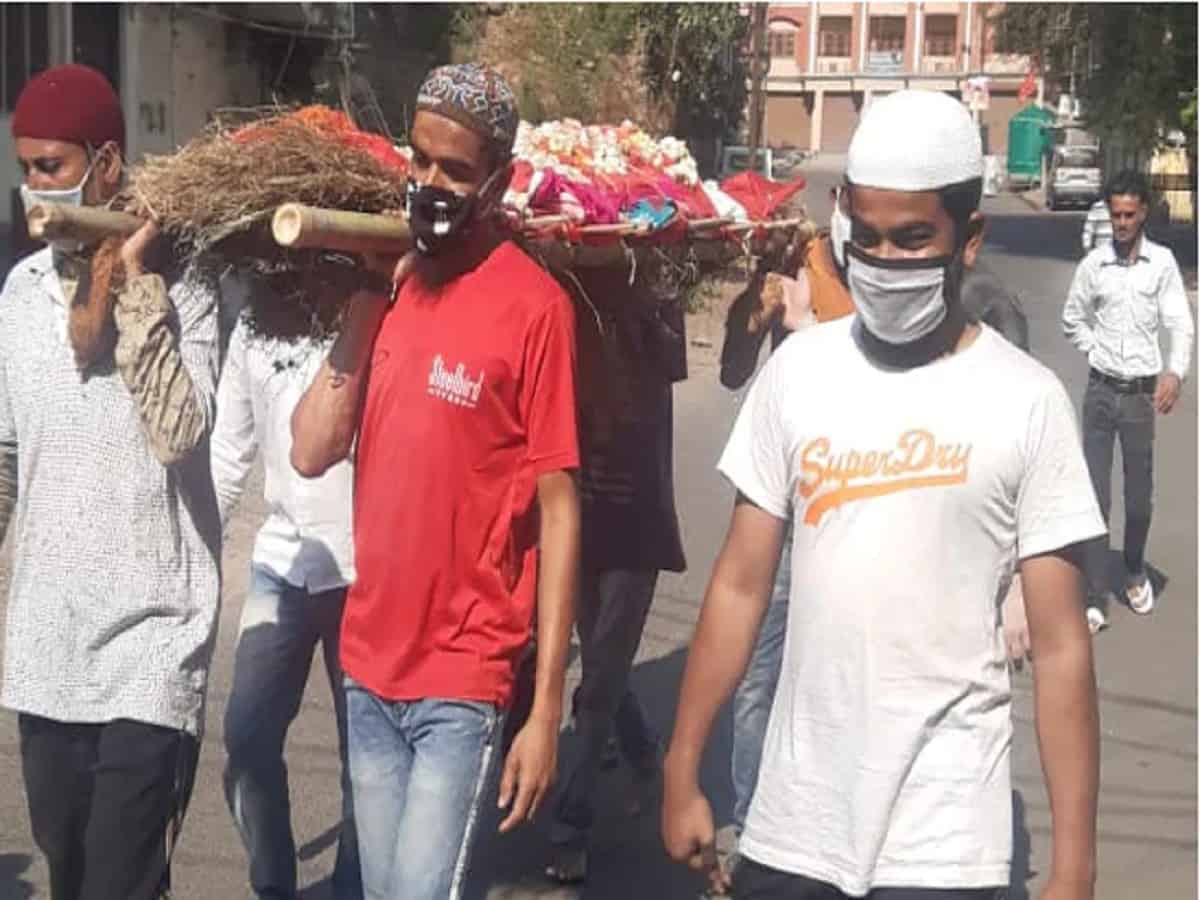 While some forces of communal hatred keep spewing venom to create a religious divide in the hearts and minds of people, some others with nothing but only love for their fellow humans, set heartening examples of humanity and communal harmony.
Members of the Muslim community in Sewri, Mumbai helped in performing the last rites of their 72-year-old Hindu neighbour, Pandurang Ubale, after the deceased's relatives could not reach for his funeral due to the lockdown, reported The New Indian Express.
Ubale, who was paralyzed since the last few months, died at his residence in Zakaria Bunder area of Sewri on Monday. He had been staying in the Muslim-dominated locality along with his wife and son for the past few decades.
After his death on Monday, his relatives staying in suburban Mulund, Belapur in adjoining Navi Mumbai and Alibaug in neighbouring Raigad district could not come over to his place in the wake of the coronavirus-induced lockdown.
As Ubale's wife and son were unable to make all arrangements for the funeral, they informed their neighbours, who came forward to help and even prepared the bier.
A neighbour, Asif Sheikh, who attended the funeral, said, "We knew Ubale uncle since a long time. He always participated in our festivals and we used to be a part of their festivities. We all came forward to bid him a farewell and helped in performing his last rites."
Last month too, some Muslim men carried the body of a Hindu neighbour in suburban Bandra on their shoulders to the cremation ground after the deceased's relatives were unable to attend the last rites due to the lockdown.
In Rajasthan too, when a Hindu man passed away in Jaipur, his Muslim neighbours stepped in and cremated him with full Hindu rituals as no male members in his immediate family and none of his relatives could travel to the city for the last rites due to the lockdown.
In Bangalore, when a Hindu woman's father passed away, 10 Muslim neighbours stepped up to help the widow conduct the last rights.
A death is viewed with suspicion in these times of Corona. A Hindu woman who lost her father didn't know what to do next. These 10 Muslim neighbours not only performed the last rites according to Hindu rituals, they also got their womenfolk to comfort and feed the family. pic.twitter.com/fx3lc6ttb5

— Ravi Joshi (@Joshi_Aar) April 21, 2020
Examples of such brotherhood are galore but they're never mentioned by mainstream media which only works to create a fear psychosis about the minorities in the eyes of the public. However, as they say, acts of kindness never go unnoticed and whether or not the media brings it out to the public, harmony will continue to prevail due to the efforts of some.
Related:
Setting an example: Muslim devotee donates sprayer for Tirupati temple sanitization