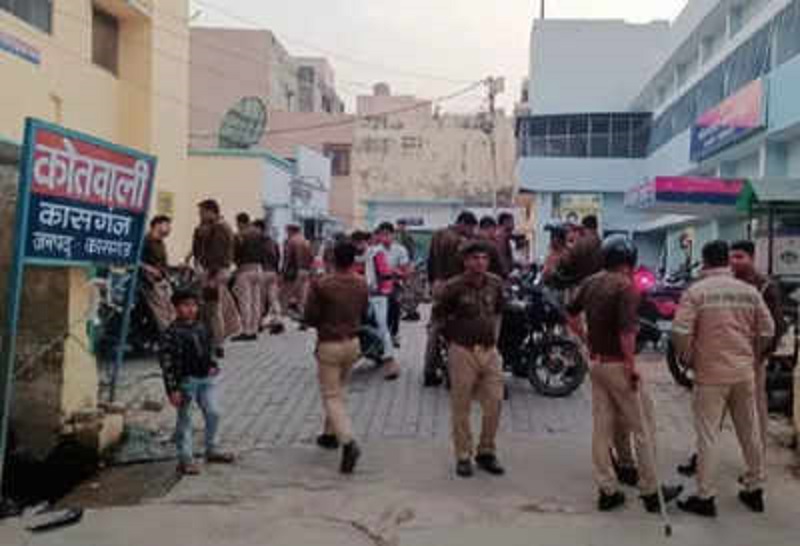 Uttar Pradesh police have tried to explain away the death of a man in their custody, as a death by suicide. Kasganj Superintendent of Police Botre Rohan Pramod claimed the man identified as 22-year-old Altaf, went to the washroom inside the lock-up and "there he sought to strangle himself by tying the naada or string of the hood of his jacket to a tap."
आज दिनाँक 9.11.21 को जनपद के थाना कोतवाली कासगंज में बंदी की मृत्यु होने के संबंध में #SP @kasganjpolice द्वारा लापरवाही बरतने पर 5 पुलिसकर्मियों को निलंबित करने की कार्यवाही की गई है, प्रकरण में की जा रही अन्य कार्यवाही के संबंध में पुलिस अधीक्षक द्वारा दी गयी बाइट । pic.twitter.com/EvMnLA9ozG

— KASGANJ POLICE (@kasganjpolice) November 9, 2021
"I sent my son in their custody, they came to investigate and gave them my child. I came till the police station. And 24 hours later they tell me my son has hung himself to death?" Altaf's father Caahat Miyan, tells the media surrounding him. He is in shock but calm, and the wails of the other family members can be heard in the background. The bereaved father recalled that he handed his son tover o the police at 8 P.M on Monday, and himself subsequently went to the police station to get more details and a copy of the first information report. He told the media that the police took his son "to the big police station" from the local chowki, and that when he followed the police allegedly warned Caahat Miyan not to come to the station again. "On Tuesday evening, I was told by the local reporters that my son had died inside [the police station]," recalled Caahat Miyan adding, "It happened in the big police station." According to news reports he said that by the time he reached the station again, Altaf had been taken to the local hospital. Doctors there declared him dead. My son was innocent, he had no criminal past."
Kasganj Superintendent of Police Botre Rohan Pramod issued a video statement that Altaf was called to the police station early on Tuesday and not Monday evening. The SP claimed that as Altaf did not return from the toilet, police officials went in and found him in an unconscious state. They took him to a community health centre at Ashok Nagar in Kasganj. The police said that Altaf died after 5 to 10 minutes of treatment. The SP added that Altaf's body has been sent for a post-mortem examination, and five officials have been suspended for negligence of duty.
Altaf's family members have also claimed that he was not produced before a magistrate on Tuesday. Altaf had been accused of kidnapping a Hindu girl, stated news reports. His family has now alleged that he was murdered at the police station on Monday.
Uttar Pradesh police have been under the NHRC scanner
Interestingly, in October, the National Human Rights Commission(NHRC), after a delay of almost two years, instituted a spot enquiry by its own team led by Rajvir Singh into widespread overreach by the state police and administration in both Kanpur and Lucknow districts. The action followed detailed complaints that pointed out various human rights violations during the protests against Citizenship Amendment Act (CAA) in Uttar Pradesh first sent to the Commission on December 24, 2019.
During the anti-CAA protests in UP, several allegations of the incidents of deaths in police actions, brutal and excessive use of force by state forces, and the and fabricated cases against human rights defenders (HRDs) apart from cases of custodial torture, have come to light and even and even reported in news media. The state of UP also had one of the most widespread internet shutdowns during the protests with 21 districts experiencing an imposed internet block over a span of about 10 days. Further, there was also a blanket application of Section 144 across the entire state.
In another case, the National Human Rights Commission (NHRC) has instituted inquiry into death by suicide of a minor boy who was sent to district jail on charges of possession of drugs. The Commission has taken cognisance of a complaint it received that a 15-year-old boy unable to bear the torture of being sent to a jail as an adult on charges of drug possession, committed suicide when released on bail after three months in Etah, Uttar Pradesh on September 21. The father of the boy has reportedly alleged that his son was illegally arrested and tortured to extort money by the police. The Commission then directed the SSP, Etah to have the allegations inquired by a Senior Rank Police Officer, and submit an action taken report to the Commission, within four weeks.
Related:
With thinning patience, SC recommends HC judge to monitor Lakhimpur Kheri probe
Inquiry into rights violations by UP police during 2019 anti-CAA protests: NHRC
UP: NHRC sets up inquiry in minor boy's death by suicide after spending 3 months in jail
Gujarat: Citizens group may march to Raj Bhavan to protest "inaction by police"
Anti-Muslim hate on streets: Vendors beaten, forced to chant Jai Sri Ram, boycotted, dargah desecrated