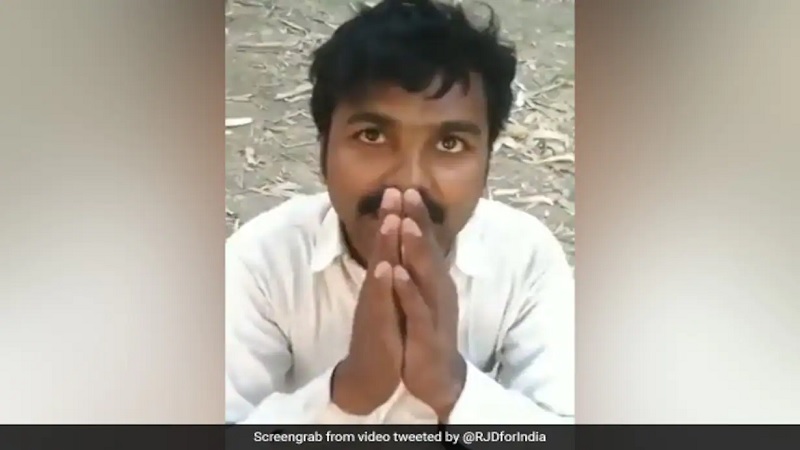 Image Courtesy:ndtv.com
"This is Hindutva, merely making an organisation is not enough. It has to be run also. That man was with me in my NGO, this is a case of cow slaughter… we just beat him up, i didn't kill him. He died on his own… we made a video so I could bring it [the victim pleading] in front of the world," the voice is calm; the speaker is a man who has been accused of allegedly killing a Muslim man identified as Mohammad Khaleel Alam, whose body was later burnt as well.
In the video, the accused is talking about, Alam is heard pleading for his life as he is questioned rather than accused of eating beef. Cornered, Alam tries to convince the man filming and 'interrogating him' that he will never eat bovine meat again, and has never ever fed it to his children. The fear in his eye is haunting, he perhaps said that to protect the children from harm, and accepted eating the 'forbidden' meat even if he had not. The inetrogator abuses him with vile sexual inuendoes invovind his mother, so often used by violent men.
गाय के नाम पर बिहार में जबरन एक और इंसान की बलि।

बिहार सरकार ने विधि व्यवस्था को अपराधियों और माफिया के हाथों नीलाम कर दिया है। कभी भी,कहीं भी,कैसे भी,कोई भी गुंडा किसी की भी आम हत्या कर देता है। नीतीश कुमार अपराध पर आपराधिक चुप्पी साधे हुए है।

नीतीश से बिहार नहीं संभल रहा है। pic.twitter.com/AEO89OJPFR

— Rashtriya Janata Dal (@RJDforIndia) February 23, 2022
According to news report, the Hindutva lynch mob murdered Alam, and burnt his body in Samastipur, Bihar, a few days ago. The video just came to light, days after it was uploaded on Instagram.
"Understand what Hindutva is. We did not kill him for money. Video was made to create awareness". Khaleel Alam was kidnapped, killed and burnt to death by Hindutva goons on 16 February. Video was uploaded on Instagram two days ago, no media showed this news properly, + pic.twitter.com/zolOy2wv5h

— Meer Faisal (@meerfaisal01) February 22, 2022
According to a report in NDTV, Mohammad Khaleel Alam, was a Janata Dal (United) party member from Samastipur district. The assailants, heard in the video footage, are heard forcing the victim to tell them where "cows are slaughtered" and name the people involved. He mentions a 'fakir'. They continue taunting him and accusing him of consuming beef and asking if he fed it to his children as well. They ask him whether the Quran tells him to consume beef. "No, it is not written in the book," says the terrified man. The hate speech and expletives continue to rain upon him.
However, according to news reports, the local police "deny the allegation and claim it's a diversionary tactic to cover up a murder." They however say that one accused was arrested and this video was made before the murder, to give the incident a communal colour.
खलील की हत्या से पहले का वीडियो वायरल होने के बाद पुलिस SP ह्रदयकांत का बयान आया सामने. pic.twitter.com/vj126hh6bB

— Meer Faisal (@meerfaisal01) February 22, 2022
"We did not kill him for money. Video was made to create awareness," the Hindutva goon reportedly claimed on February 16. According to news reports, the accused killed the victim who they had abducted, soon after this video of his, burnt his body and threw it into a river.
[English Captions]

Muslim man k!lled, his body burnt over allegations of cow slaughter in Samastipur, Bihar (India)

Hindu extremists first made video of Khalil Alam, then killed him, burnt his body and dumped it in a river. pic.twitter.com/0Ti2bKsEW3

— HindutvaWatch (@HindutvaWatchIn) February 22, 2022
The self-professed cow vigilantes, according to a report in NDTV, had allegedly beaten Alam to death and buried his body in a ditch, other reports claim they doused the body with petrol and set it on fire. They allegedly then sprayed salt on his body and buried it so that it would decay faster. Bihar's Leader of Opposition Tejashwi Yadav tweeted a Hindi news clipping of the incident late last night and said this was an example of the situation of law and order under the NDA government of Bihar, and demanded that Chief Minister Nitish Kumar speak up.
बिहार की NDA सरकार में कानून व्यवस्था पूर्णतः समाप्त हो चुकी है। गाय के नाम पर मुस्लिम युवक जो स्वयं JDU नेता था उसे पीट कर, जिंदा जलाकर दफ़ना दिया गया। नीतीश जी बताए, बिहार में लगातार ऐसी घटनाएँ क्यों हो रही है? लोग कानून को हाथ में क्यों ले रहे है? pic.twitter.com/7XjFqYKICY

— Tejashwi Yadav (@yadavtejashwi) February 22, 2022
Related
No interfaith nikah sans parents' consent: MP's Ulama Board's latest diktat
UP: 18 police officers face the music for alleged fake encounter
Youth protests for employment see overwhelming response in Bihar
UP-Bihar Bandh call after police-student conflict