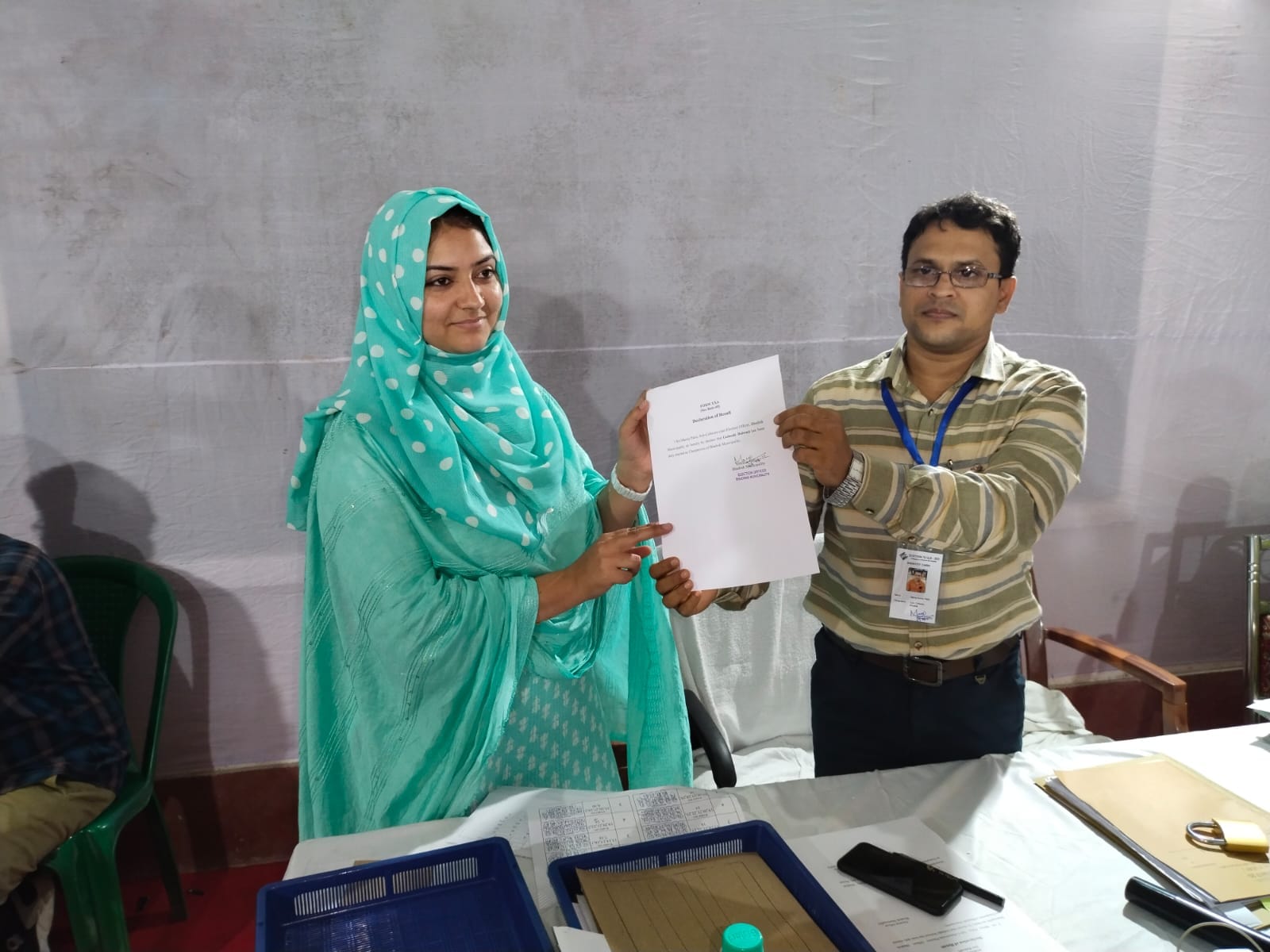 Image: Gulmaki Dalawzi Habib | Facebook
Gulmaki Dalawzi Habib, a 31-year-old woman from Odisha has made history in the recently concluded civic body polls of the state. She, an independent candidate, has won the election to the post of chairperson of the Bhadrak Municipality. What makes the victory sweeter is that she defeated a candidate from a strong political party, that too by an impressive margin, to win the election. Habib defeated Samita Mishra, Biju Janata Dal (BJD) candidate, by 3,256 votes, reported The Hindu.
A moment defining photograph on her own Facebook page, which as yet does not have a verified mark, shows a confident Habib facing a beehive of television news crews. Other photos show her standing with her supporters as they happily wave the Tricolour. She holds an MBA degree. According to news reports it is a milestone in poll history as it is for the first time that a Muslim woman has been elected as chairperson of an urban local body. She has also defeated a candidate from a powerful party by an impressive margin.
According to the news report, Bhadrak, has a sizeable Muslim population and this time the the post was reserved for women.
With @DM_Bhadrak Trilochan Sir .
Had a great experience .
Thank you sir for giving us your valuable time .@eobdkmunicipal @JahidHOfficial @CMO_Odisha pic.twitter.com/3OnUFIEw7K

— Gulmaki Habib (@Gulmaki_Habib) March 28, 2022
Thank you bhadrak ??
This is your power .
I dedicate this to bhadrak ❤️❤️ .#ThankYouForYourSupport@JahidHOfficial @iamsuffian @SatpathyLive pic.twitter.com/fyOgdMPtMb

— Gulmaki Habib (@Gulmaki_Habib) March 27, 2022
According to Habib she did not sense "any reservation in the minds of voters towards a Muslim woman candidate" during her election campaign. She told media persons, "People treated me like their daughter irrespective of the community they belong to." Muslims are less than 3% of Odisha's population, and have little representation in the State's politics, stated the news report.
According to a local news portal The News Insight, Habib secured 28,115 votes, BJD's Samita Mishra got 24,859 votes, BJP's Gitanjali Padhiari got 6,787 and Congress' Amitbala Acharya got 1,907. Gulmaki Habib's husband Jahid Habib, is a former Councillor of Bhadrak Municipality, is seen in many photos campaigning with her and the two led a massive people to people outreach campaign, which then converted into votes for her.
She also seems to have won the hearts of Hindu residents and is seen in the photos meeting them and bowing to elders to seek their blessings. The couple was also seen meeting people on Holi and exchanging greetings. According to the news portal, she has said that she is confident of contributing "to peace, harmony and development in Bhadrak."
Overall, the Biju Janata Dal (BJD) had a comfortable win of 95 out of 108 municipalities in the elections, reported India Today, the results of which were announced on Saturday and the Bharatiya Janata Party (BJP) won 16, Congress won seven, and independents won nine seats.
The BJD candidate Sulochana Das has won the election to the post of Mayor of Bhubaneswar Municipal Corporation (BMC) by polling 1,74,562 votes. According to India Today, she "trounced her nearest rival Suniti Mund of the BJP by a margin of 61,143 votes." Journalist-turned-politician Sulochana Das is the first woman to be elected as the Mayor of State Capital BMC added the news report. She joined the BJD in June 2017 after quitting Congress and has been the party's spokesperson and State Commissioner for Persons with Disabilities.
Related:
Maharashtra: Hindu man offers terrace to Muslims for namaz in Amravati
Will never accept BJP's offer of President's post: Mayawati