On April 6, Times Now aired a segment on its 8pm show India Upfront, where anchor and Times Now Editor in Chief, Rahul Shivshankar, released a list of twitter handles and claimed that the handles belonged to people who were a part of Rahul Gandhi's troll army. He called the people 'gutter snipers' and 'Amit Shah baiters' among other things and alleged that some of them were even 'Hindu haters'. However, when he named Riyaz Ahmed as one of these troll army members, the allegation ended up costing Ahmed his job.
The video that may be viewed here shows Shivshankar naming Riyaz at 5 minutes 15 seconds into the video. However, Ahmed who goes by the twitter handle @simpleriyaz has refuted the claims in a series of tweets: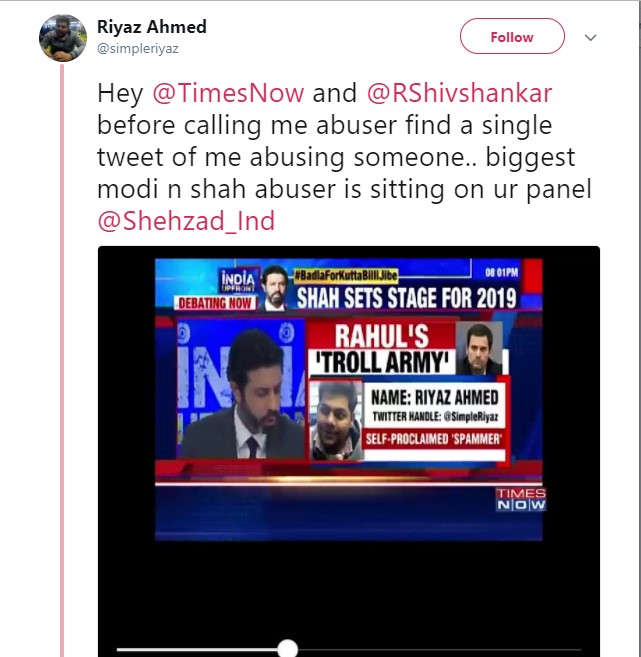 Riyaz also felt threatened due to this sudden invasion of his privacy. He feared for his life.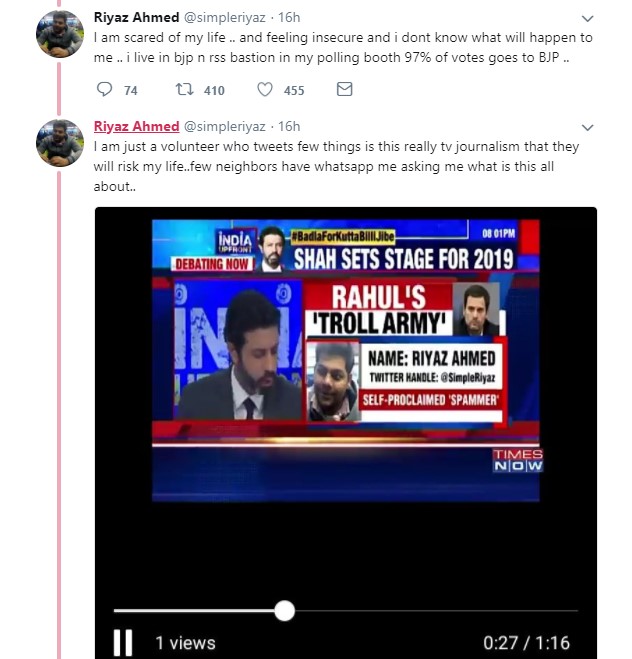 Shortly afterwards Riyaz tweeted that he had been fired from his job because of what Shivshankar said on his show: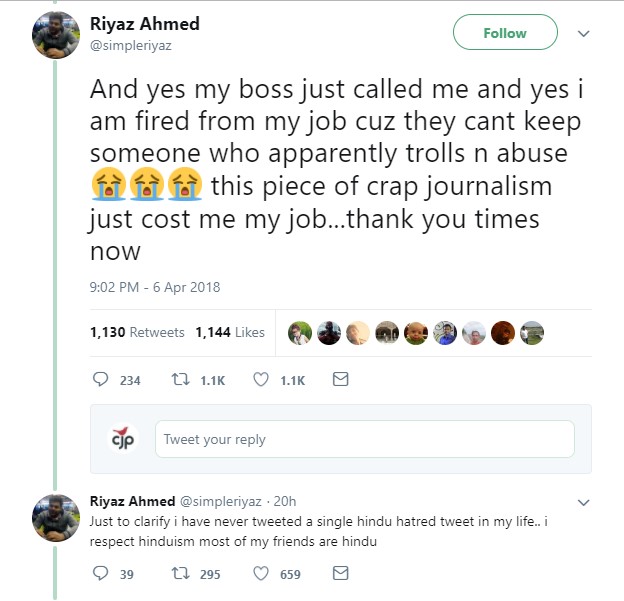 Riyaz was also deeply disturbed by
an article in OpIndia
where a previous tweet of his was quoted out of context to make it look like he was an abusive troll. Riyaz had used foul language while defending Asansol Imam Imdadul who forgave the killers of his teenaged son. This inappropriately worded tweet was in response to another user who was dissatisfied with the Imam's forgiveness and wanted some kind of retaliation. Riyaz used swear words to shut him down. It was this poor choice of words that drew attention to him in the first place. However, did it justify branding him as a member of a troll army and a hater of Hindus?
However, shortly after he tweeted about losing his job because of the Times Now show, he got many words of support from twitter users. #IStandWithRiyaz and #ShutDownTimesNow started trending. Riyaz has now decided to take legal action: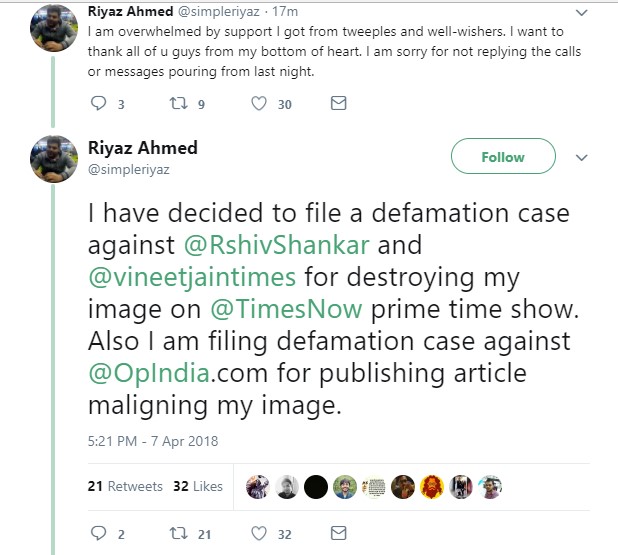 We reached out to Rahul Shiv Shankar for his response to Riyaz Ahmed's allegation that he lost his job because of the show on Times Now. At the time of publishing this story we have not received any response or quote from Shiv Shankar. We will update the story if and when Shiv Shankar or Times Now respond to us.
Meanwhile, the bigger questions still remain:
While social media trolls are an unfortunate aspect of our reality, how do we define a troll?
While people should be encouraged to avoid abusive language, especially on public platforms like social media, should a person be branded or labelled as a part of a political party's "troll army" without adequate proof?
If a television show makes allegations based on nothing more than a person's social media posts and that leads to that person losing their job, should the channel and the anchor not take some responsibility and at least apologise?