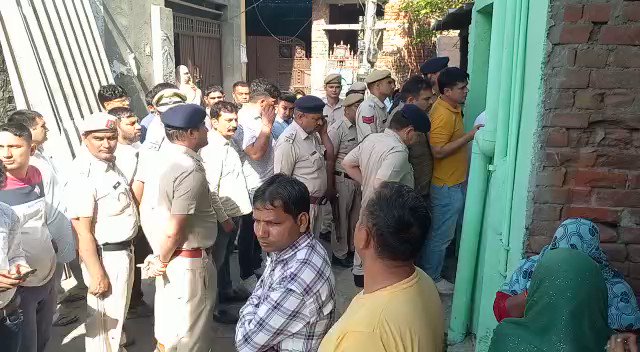 Haryana's Sonipat witnessed a brutal unprovoked attack on Muslims offering namaz in a mosque by some Hindu youth bearing lathis. The incident was captured on video by some of the residents of Sandal Kalan village. The incident took place on April 9.
While some Muslims were offering namaz at the mosque, as they do every year during Ramzan, some youth entered the mosque and beat up the namazis with sticks. A local news channel, Haryana Tak accessed some videos where the youth can be seen roaming around the village with lathis and entering the mosque.
The witness to the incident alleged that the attackers did not spare even women and children. Nine people were injured in the attack and had to be rushed to the hospital to treat their injuries. The nine injured suffered injuries to their heads, some had their arms broken while some had their legs broken.
The channel spoke to one of the witnesses to the incident, Mohammed Kausar who said that the young boys entered the mosque and started beating all namazis unprovoked and there was no prior incident that could have provoked this attack. He said that they did not spare even women.
Another witness said that without any reason they entered the mosque and started beating everyone. He also said that a police complaint has been filed and FIR has been filed 18 identified and 1 unidentified person.
Location: Sonipat, Haryana

Last night, Muslim community members, including women and children, who were offering prayers in a small mosque were brutally attacked with canes by a mob.

Atleast 9 Muslims were hospitalized with injuries. pic.twitter.com/ssZotCgawv

— HindutvaWatch (@HindutvaWatchIn) April 10, 2023
Last week, on Ram Navami, Sonipat had witnessed another communal incident. In Kharkhoda city, a group of men entered the mosque in the city and hoisted saffron flags on top of the mosque and the police arrested 5 people.
Related:
Section 144 imposed in Jamshedpur; arrests made in Bihar and Maharashtra over instances of violence during Ram Navami
Violence breaks out after controversial route of a procession passes Mosque in Karnataka's Haveri, 15 detained
MP: A group of 4-5 men stabbed an Imam while he was on his bike
Iftar observed by students of all faiths; Muslim students break their fast while non-Muslim students serve food and beverages