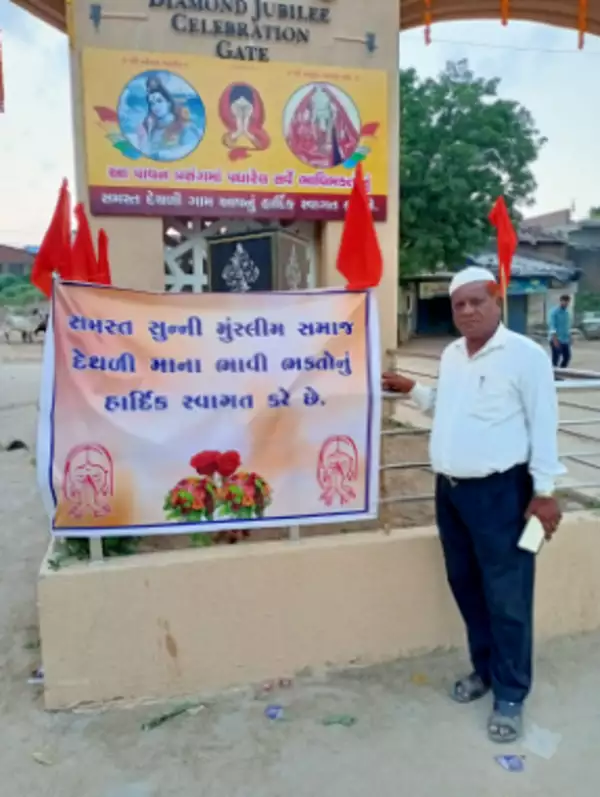 Image: The Times of India
In yet another example of communal harmony, Muslim residents of Dethly village near Siddhpur taluka in Gujarat, have donated money to renovate the temple of a Hindu deity. Community members are also offering free tea to devotees participating in an ongoing Hindu festival.
According to the Times of India, the temple was renovated at a cost of Rs 1 crore, of which Rs 1,11,111 was contributed by the Muslim community. Akbar Momin, a representative of the Agakhan Momin community in the village, told the publication, "The village population is around 6,000 and 30 percent of them are Muslims. We live in harmony and have never seen any communal violence or disharmony in the village."
A three-day yagna ceremony began on October 12 at the village and Muslims are participating by setting up counters to offer devotees free tea and coffee. According to Momin around 50,000 cups of beverages are distributed daily.
Another Muslim community leader, Ibrahim Sheikh, trustee of the Sunni Samaj, said that the community contributed Rs 51,000 to the temple, and are also participating in distributing free beverages and helping organisers with event management. "You can see many members wearing skull caps volunteering at the event," said Sheikh.
The villages Hindus have also acknowledged the efforts of their Muslim brethren. Sarpanch (village headman) Vikramsinh Darbar told the publication, "Muslims are offering services such as handling the temple kitchen, serving food and tea to devotees and also in coordination." He said that Muslims have been an integral part of the festival ever since planning for it first began a month ago.
This display of communal harmony in a state that has witnessed horrors of targetted communal violence, serves as a shining beacon of hope for peaceful coexistence of people from different faiths. Let us not forget that it was only earlier this year that Himmatnagar and Khambat were rocked by communal violence during Ram Navami.
Related:
Gujarat: Locals blame election politics for Ram Navami violence
Bulldozing the law and homes of the Muslim marginalized: Gujarat