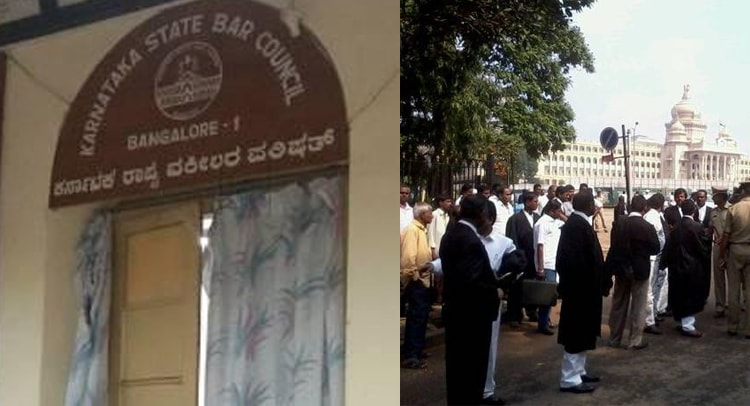 The Karnataka State Bar Council (KSBC) has informed the High Court that it will issue a notice to Mysore City Advocates Multipurpose Cooperative Society against its resolution precluding lawyers from representing a student accused of sedition.
A petition was filed by Advocate Ramesh Naik L against the decision effectively disallowing any lawyer from taking up Nalini Balakumar's case who was charged with sedition.
LiveLaw reported that the bench of Chief Justice Abhay Oka and Justice Suraj Govindaraj orally remarked, "Is it not unprofessional on the part of the lawyers to issue such a resolution? Should you (KSBC) not take action against such lawyers. Look at the resolution, some member of the Bar has signed this. The Bar Council must be proactive. There are societies of lawyers." Advocate Naik had submitted before the court at the last hearing that many advocates raised their voices against this resolution, and even approached the Karnataka Bar Council, but no response was received.
Advocate Naik in his petition stated that the resolution to not file vakalatnama for Nalini, stating that she was an 'anti-national' was passed. The Bar even, allegedly, went to the extent of displaying the copy of the resolution at multiple locations in the premises of Mysore Court Complex and even sent warning messages, through print and e-mail to all advocate members, to abide by the resolution or else face action.
This is not a first of its kind resolution and the High Court has dealt with a similar resolution of the Hubli Bar Association which had passed a resolution to not represent Kashmiri students for sedition over pro-Pakistani slogans. Chief Justice Oka had come down heavily on the Hubli Bar Association and the Association was forced to withdraw the resolution, as per the court's orders.
Related:
K'taka HC asks Mysore Bar Assn to submit resolution precluding members from representing an "anti-national"
Information about accused cannot be leaked to any third party: Karnataka HC
Right to Default bail is a valuable right: SC while granting bail to UAPA accused