First Published on: January 20, 2017
In our national capital, corridors of power, are nowadays echoing, once again with an unending discussion, regarding Haj Subsidy. Few people know what exactly Haj Subsidy is; or what are its pros and cons? But, every Tom, Dick and Harry, without comprehending the whole issue is seen and heard, busy in offering variant opinions. Various TV channels are always there to pick up non-issues, particularly related to Muslims. Even our sober and sincere English Press has joined the debate, again without any fundamental knowledge of the issue or having made any effort to know the background of the problem. In fact, the so-called Haj Subsidy is a non-issue—a problem, created out of nothing.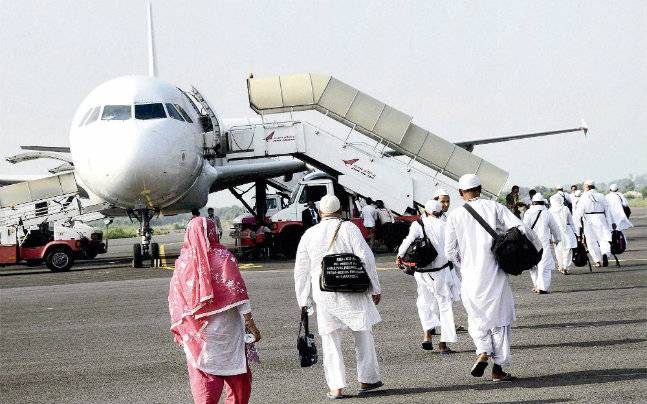 First of all, let's endeavour to realise, what Haj Subsidy is; in the common sense of the very word, a subsidy is a fiscal aid or at best a compensatory amount to make some fee or price, affordable, for the consumers. In this case, the Government of India subsidises the price of the air ticket for Haj pilgrims, taking a flight to Saudi Arabia, by Air India. A petty amount of Rs. Ten thousand or so, is sanctioned by the government for every pilgrim, flying for Haj. But, in practice, this amount is not directly paid to the travellers, but transferred to Air India. Truly speaking, this monetary assistance is meant at reducing the burden of Air India and not of the pilgrims, which is commonly believed.
This system was first adopted by former Prime Minister Mrs. Indira Gandhi to encourage Haj pilgrims to travel by air, abandoning the popular practice of journeying by sea route. The government, rightly felt, the air travel was safer and faster in comparison to sea journey. Ultimately, in 1995, the option of a ship journey was dropped altogether. So, all pilgrims began to take a flight to the holy shrines. In those days, there was a difference of ten or twelve thousand rupees, between the prices of the ticket of a ship and a plane. Hence, a provision of the same amount of compensation for the pilgrims, was made, in order to encourage them.
One thing to be noted is that Air India is the only option for the Haj pilgrims, to take a flight to Saudi Arabia, for performing the annual pilgrimage, through various Haj Committees. It should, once again be stressed that such a monetary help, doled out by the government goes to the coffers of the official air carrier and not to the pockets of the pilgrims, as the popular impression may be. The BJP Government, led by Shri Atal Bihari Vajpayee had limited the provision of Haj subsidy to poor pilgrims only. But, once Congress returned to power in 2004, the new government lifted the restriction, and subsidy, as earlier, was made equally available to all pilgrims.
Today, as a fashion, every body is opposing the so-called Haj subsidy, in his or her chosen way, and again without knowing or trying to know the basic facts. On one hand, the so-called liberal groups view that a secular government can not provide financial assistance to a particular religious practice and on the other, the rightist (read fascist) groups loudly protest that such schemes are aimed at appeasing minorities (read Muslims). As far as BJP is concerned, it has always been staunchly opposed to the subsidy, though, it would readily demand and support all sorts of facilities, to be bestowed upon to Hindu, Buddhist, Jain and even Sikh pilgrims, at the expense of the exchequer. For instance, the government is spending crores of rupees, for facilitating various religious rites, like yatras, fairs and festivals. Here one can put up the pointed question; whether Muslims have no right on the treasury for taking any benefit.?
But, this is not the real issue. The truth is that Muslims have never asked for any sort of subsidy, for their annual pilgrimage of holy shrines and nor any Muslim leader did ever raise a demand, in this regard. On the other side, various Muslim leaders have regularly been opposing it. For instance, Syed Shahabuddin, the veteran politician, always spoke against Haj subsidy, inside and outside Parliament. Presently, Member of Parliament, Asaduddin Owaisi is openly opposed to the continuance of Haj subsidy. Further, We do not think, any of the Muslim leader—across party lines—or any eminent Islamic cleric would prefer to lend support to the so-called Haj subsidy.
Ironically, common Muslims and even the annual Haj pilgrims themselves are not well aware of the existence of any subsidy, for their pilgrimage. Moreover, a paltry sum—in the name of subsidy—does not mean much for any one, who takes up the holy journey, spending around one-two lakh rupees. Let's remember, Haj is a sort of worship, compulsory for only those Muslims, who can afford it—wealthwise and healthwise—and that too once, in a life time only. Needless to say that a person, being capable of taking up such an expensive tour, would hardly mind to secure or save a little amount, in question.
In our view, the so-called Haj subsidy is a pretention, in disguise, to support Air India, to compensate its (non-existing) loss. The fact is that Air India charges a higher price from Haj pilgrims, in comparison to normal passengers. In our view, the best solution is that the government should float global tenders, for all flights of the Haj pilgrims. In that case a price competition would automatically reduce the fair and the pilgrims would also have a varied choice to select their flier. Resultantly, the new system would end the monopoly of Air India and the tickets may be available, at a lower price and then no subsidy would at all, be required. Thus, the curse of subsidy would eliminate in one go, freeing Muslims of a psychological pressure and then the opposing slogan mongers would also virtually be silenced.
This year the Saudi Government has resumed the previous quota of Indian Haj pilgrims to the earlier number of 1,70,000 pilgrims, as the holy shrine of Kaabah has been expanded suitably, to absorb a higher number of pilgrims. Notably, the Saudi Government had reduced the quota of all pilgrims, from the world over, including Indians, due to the construction and expansion work, being carried out in Mecca. Now, the operation has been accomplished, hence the restoration of the usual number of pilgrims. There is a rumour in the air now, that the government would have to spend an amount of Rs. 35,000/- per pilgrim, as the number of pilgrims have grown this year, so the treasury would have to bear a huge burden to the tune of Rs 500 crore. We do not know what the real statistics are. Meanwhile, the Government has declared that, this year, there would be no cut in Haj subsidy.
In view of a five year old Supreme Court judgement, the Government of India has constituted a Committee to look into the matter of Haj subsidy. The Apex Court in 2012, in its judgement, had verdicted that the Haj subsidy, should gradually be put to an end, within ten years. Most probably, the appointed committee would recommend an immediate curtailment of the practice. And all Muslims would certainly welcome it, as they, en masse have never been in favour of any of such pitiful schemes. As per Islamic tenets, a Muslim—who can afford it—has to bear all the expenses of Haj, from his or her own pocket. Neither government nor any other agency should share the expenses. Obviously, any Muslim, who is unable to bear the expenses, is not bound to perform Haj.
Before concluding this discussion, I would like to take liberty to recall a painful, but significant episode, when I had the privilege to remove the lid from the pandora's box. There was a syndicated embezzlement, in the huge amounts of Haj subsidy, which brought the booty to mischievous players, on one hand and deprived the genuine receivers of their share, on the other: This game was played, with a nexus between Central Haj Committee functionaries and private tour operators. For the dubious exercise, they had invented a unique method. It was not commonly known that many of the pilgrims, going for the holy pilgrimage, who preferred to go through private operators, were provided seats in Air India planes and the amount of subsidy was also claimed, against their tickets. Eventually, this money was usurped by racketeers, never to reach the deserving passengers.
I had the honour of unveiling an evil conspiracy and exposing the real culprits. Actually, during my stint at Doordarshan, in 1997, I was deputed on the Haj duty, as a Haj officer. When, I reached Jeddah and performed at the Indian consulate there, then through my work, while perusing the correspondence, between the Indian External Affairs Ministry and the Indian Consulate at Jeddah and between them and the Central Haj Committee, I was shocked to learn about the above-said highly placed embezzlement. I, very promptly prepared a report, revealing the whole dubious conspiracy and presented it to the counsel for Haj, Mr. Zikrur Rahman, who advised me to take the report back, as he feared for my well-being and even life. He told me in so many words that all the players, in the game were very powerful and sourceful, they could harm me to any extent. But, I remained adamant and approached the Counsel General, Mr. Afzal Amanullah, he appreciated my crusade, against the sinful act and assured me of all support and backing from his end. However, I preferred to hold the report, for the time being and decided to bring it to light in India, after my return only.
Later, during my stay there, I experienced another nightmare, which still haunts me. The pilgrimage of Haj had begun and unfortunately, the same year, there was a dreadful fire in Mina, in which more than 500 Haj pilgrims, including a great number from India, were burnt to death. I witnessed that none from among the Haj Committee officials and members of the good-will delegation from India, bothered about either the victims or their relatives, back home, who kept desperately inquiring about the dead pilgrims. And no body was even caring for those injured, in the accident. In those days, communication was not as easy, as it is today—the cell phones were yet to come on scene. So, everybody was in distress. But, no noble soul came forward to offer any help of any sort, to them. This apathetic attitude astonished me a lot. I could not sit idle and wrote a lengthy article on the whole event and despatched it to daily, Inquilab, Mumbai—where I had regularly been writing a column, since 1990. Late Mr. Haroon Rashed, the (then) editor, chose to publish that write-up, as a front-page story, in two instalments. It created a storm. Naturally, I had stirred up the hornet's nest.
The Haj Committee promptly raised the demand, before the Indian Ministry of External Affairs, to immediately call me back. Within three days, orders were issued and my deputation was cut short, under the immense pressure of Haj Committee of India. As a result, I had to take a flight back to New Delhi. The Haj Committee people did not stop there, they managed to pressurise Ministry of Information and Broadcasting, to take stern action, against me. Their charge was that being a government functionary, I had violated rules by reporting a matter to a private newspaper. Evidently, it was a ploy to nail me down, as I had unveiled their misdeeds. Nevertheless, the top officials at Doordarshan, chose not to take action against me. In stead they thumped at my back, for a brave act and adored me a lot. On their advice, I submitted a note, in my defence that, in fact, I had written a letter to one of my friends, in India, which somehow reached the newspaper and got published. They, of course counselled me to be cautious enough, in future.
Now, I could not write anything in this regard. But, with the help of some of my journalist friends, I managed to get various reports, exposing the above mentioned embezzlement by Haj Committee functionaries, published in English and Hindi newspapers, with different by-lines. With the publication of the reports, in various Delhi papers, the Ministry of External Affairs got moved and took effective steps to check the corrupt practices, but no action was taken against any one, responsible for it.
I am pleased of being the first one to raise voice, against an ongoing malpractice and exposing a high profile racket. I am proud of pelting the first stone, at the Satan.
[Translated from Urdu by Muzaffar Husain Syed]
Dr. Muzaffar Husain Syed
E-mail: syedmh92@yahoo.com • syedmh92@gmail.com