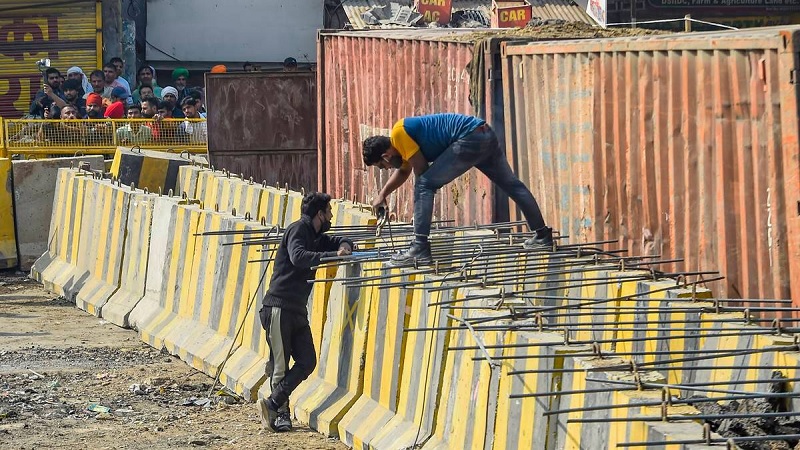 Image Courtesy:indianexpress.com
On a day the Union Budget was presented, and as expected conversations across the country featured developments, better roads, enhanced infrastructure, world class connectivity, border roads leading into the National Capital were being dug up. The massive barricading process that began over the last weekend of January, as the farmer protest crossed into its third month of a sit-in on Uttar Pradesh-Delhi-Haryana borders, has continued. The visuals that trickled in once in a while, as the internet connectivity too remains elusive at the protest sites, show a city preparing to lock itself in.
At Singhu today. Multiple barricades, more concrete. pic.twitter.com/HFqH5HzFVA

— Kainat Sarfaraz. (@kainisms) February 1, 2021
After the digging, concrete was poured between barricades in what appears to be the beginning of a permanent roadblock, this was reported over social media, from the Delhi side of Singhu border, and Ghazipur border, while large nails and sharp iron rods have been embedded on main road at Tikri. Most of the farmers are sitting in protest against the three farm laws on a section of National Highways and along the by-pass roads. They have all left a clear carriageway to let ambulances, emergency vehicles, and locals pass by unobstructed, langars and medical camps are run in the service lanes, and the discussions and speeches are from stages set up on roads that have already been occupied, many also sleep on these roads at night on the carriageway closed to vehicular traffic.
WATCH: A small report from Tikri Border. Roads dug up, big boulders put and now big nails plastered on streets to stop farmers and tractors from entering the national capital.

I report. pic.twitter.com/VOaxHYSbwo

— Prashant Kumar (@scribe_prashant) February 1, 2021
As the protest progressed, so did the massive barricades put in place by security agencies. These new high level barricading which included serrated barbed wires on top of the police barricades which are packed together thickly, along with the embedded nails these will not only prevent all vehicles, but will also stop anyone from walking along the routes. All barricades, which do not look easy to dismantle in case of emergencies, are manned by large contingents of security personnel of various agencies.
सरहद pic.twitter.com/ogmZfIlxCJ

— Anurag Dhanda (@anuragdhanda) February 1, 2021
These measures will also inconvenience local people, and cause traffic jams even on other roads around the areas, many Delhi Metro stations are also shut down without prior warning whenever orders come. Slowly, but surely this can also turn public opinion against protesting people, as an inconvenienced office goer, or someone who needs to get to a hospital etc forgets its the government run security agencies who have put up barricades not the farmers or protestors. This was last seen in the national capital during the anti-CAA protest sit-ins of 2019-2020. Especially at Shaheen Bagh protest site which was on one carriageway of the road connecting Noida to Delhi. Cut to 2021, and the process of barricading, and cutting off protest sites seems to be on overdrive.
This is what they did at Tikri last night. #Tikri #FarmersProtest pic.twitter.com/t9Sg29PUzp

— Amaan (@amaanbali) February 1, 2021
According to a report by the Hindustan Times, the Delhi Metro Rail Corporation (DMRC) on Monday had closed the gates of Brigadier Hoshiar Singh, Bahadurgarh City, Pandit Shree Ram Sharma and Tikri border stations. However they were opened at the end of the day.
Security Update

Entry/exit gates of Brigadier Hoshiar Singh, Bahadurgarh City, Pandit Shree Ram Sharma and Tikri Border are open. https://t.co/ho9GvsXRsa

— Delhi Metro Rail Corporation I कृपया मास्क पहनें? (@OfficialDMRC) February 1, 2021
The Delhi traffic police had also issued an alert for the commuters travelling towards ISBT Anand Vihar, stating, "Traffic will remain affected on Road no. 56 from ISBT Anand Vihar to Ghazipur due to closing of border".
सरहद pic.twitter.com/ogmZfIlxCJ

— Anurag Dhanda (@anuragdhanda) February 1, 2021
According to news report the suspension of mobile internet services will now continue till 11 pm February 2 at Singhu, Ghazipur, and Tikri borders, by order of the MHA that stated:
"In exercise of the power conferred under Sub-rule 1 of Rule 2 of the Temporary Suspension of Telecom Services (Public Emergency or Public Safety) rules 2017 and in the interest of maintaining public safety and averting public emergency, it is necessary and expedient to order the temporary suspension of Internet services in the areas of Singhu. Ghazipur, and Tikri and their adjoining areas in the NCT of Delhi from 23:00 Hours on January 31 to 23:00 Hours on February 2."
Related
Twitter handles covering the kisan andolan withheld, gov't scared?
Journalist Mandeep Punia sent to jail for 14 days
His tears have refuelled the revolution, we will win: farmers at Ghazipur border
The world is watching us: former Admiral L Ramdas to PM
Farmers protest sites remain on high alert on Delhi borders