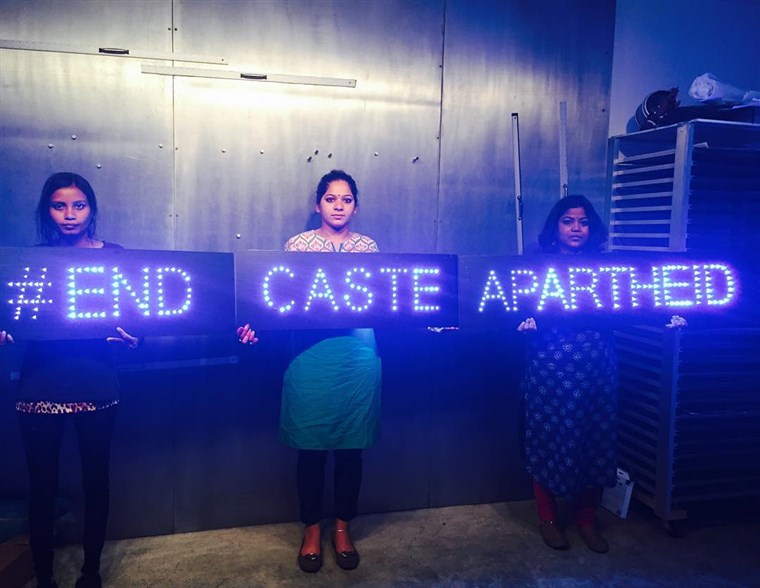 Courtesy: Thenmozhi Soundararajan and #DalitWomenFight

The National Alliance of People's Movement (NAPM) on October 3, 2020 joined the aggrieved family and agitators across the nation to demand justice for 19-year-old young woman from the Valmiki community, who was mercilessly violated by four dominant-caste men.
While demanding stringent punishment for the rapists and murderers as well as accountability of the police-political nexus, the organisation made the following demands.

Full security for families of all victims. Witness protection must be ensured, considering the manner in which the family of the Hathras victim feels isolated and terrorised.

Strict action against police and government officials who refused to file an appropriate FIR in time; cremated the victim in a clandestine way in the dead of the night; were complicit in covering up and attempting to destroy the case and evidence; persecuting the already distraught family.

Fast track of all cases of sexual violence on Dalit and adivasi women must be fast-tracked.

Removal of the UP Chief Minister for failing to protect the constitutional, legal and human rights of multiple marginalised sections including Dalit, Adivasi women and Muslims.

Prevent police from criminalising peaceful and democratic protests that express citizens outrage against caste and gender-based violence on other marginalised communities.
While making these demands, they argued that punishments such as hanging, castration or extra-judicial killings of the accused would fail to address the reasons for repeated denial of dignity and justice to the survivors and victims. "These forms of punishment are only an eye-wash and makes an already unaccountable State more powerful … we must remember that the key to realizing many of these [demands] also lies in intensifying our struggles in annihilation of caste and patriarchy, as systemic and pervasive agencies of oppression," they said.
While talking about the Hathras case, the organisation members pointedly mentioned the caste of the four accused – the dominant Thakur caste. They talked of similar incidents over the past few years that had a significant caste-aspect to them.
Around October 1 in Bhadohi, Uttar Pradesh authorities found the body of a 14-year-old Dalit girl, bearing stab wounds and stone injuries. A 22-year-old B.Com student was gangraped and killed in Balrampur. Moreover, similar incidents were reported in Bulandshahr, Azamgarh, and other places.
According to the National Crime Records Bureau (NCRB) data between 2009 and 2018, UP is the leading state for crimes against marginalised sections. The state recorded 22.38 percent of the 51,824 crimes against Dalits, registered under the SC/ ST (Prevention of Atrocities) Act.
"Of all crimes committed against Dalits, the highest are against Dalit women. Such crimes have steeply increased in recent times. NCRB data shows a 27.9% increase in crimes against Dalits, and a 20% increase in crimes against women, between 2016-19 in the state," said the press release.
They alleged that the state was shamelessly siding with the oppressors instead of safeguarding the rights of the vulnerable. The UP Chief Minister has remained largely indifferent, as caste supremacists reign terror on oppressed caste people, they said.
The organisation noticed that similar patterns of violence and atrocities had risen in BJP-ruled Gujarat, "the 'model' state for some, the laboratory of Hindutva in reality."
As an example, they talked of Devji Maheshwari, a Dalit lawyer and activist from the All India Backward and Minority Communities Employees Federation, who was killed in Rapar (Kutch District) on September 23 because of his Facebook posts that criticized Brahminism. His murderers were arrested only after his wife fought back bravely and refused to accept his body unless the arrests were made.
As per Gujarat's Scheduled Caste and Scheduled Tribe Cell data, cases of atrocities against Dalits have risen annually since 2010. The number of annual rape cases also went up from 39 in 2010 to 108 cases in 2018. A total of 568 cases of atrocity against Dalits and 36 cases of rape have been registered till May 2020 in Gujarat.
"The worsening of caste and gender violence is the result of Hindutva's political-ideological ascendancy at the national level and in these states. Ideologically, Hindutva upholds and valourises Brahminical caste/gender inequalities and oppression," they said.
The members mentioned how, the current Chief Minister Yogi Adityanath quoted Manusmriti to argue against women's reservations in Assembly and Parliament in 2009 on the grounds that women ought to be 'kept under the control of men.'
"Despite all its rhetoric of 'Beti Bachao', BJP has been acting as a 'Balatkari Bachao' party in multiple instances," they said.
They called out the BJP for the rising cases of caste-based attacks at societal and institutional levels despite calling itself a 'pro-Dalit' party. They alleged that Yogi's rule enabled the caste consolidation of Thakurs by favouring them in government appointments and recruiting them in private militias like the Hindu Yuva Vahini.
"The institutional murder of Rohit Vemula and many other students, the Una floggings, the Hindutva violence at Bhima Koregaon and the vindictive arrests of progressive Dalit bahujan journalists, activists and intellectuals (e.g. Prashant Kanojia, Anand Teltumbde, Sudhir Dhawale, Adv Surendra Gadling, multiple arrests of Chandrashekar Azad) are cases in point," they said.
They listed other indicators of the fascist ideologies such as increasing authoritarianism and political control over the administration and police forces. The pro-government approach of the police was and is on naked display in Hathras, said their statement. The state government has become one of the most authoritarian state governments, arresting anti-CAA dissenters, enabling arrests without FIRs, targeting Muslims and aligning police force with Hindutva through para-recruitments.
Related:
Urge Modi to dismiss Yogi, set up international enquiry into rapes of Dalit women: South Asian groups to UN
Why are rapists and 'upper-caste' supremacists getting bolder in UP?
Dalit woman, son assaulted for refusing to pick up cow carcass in Gujarat
Adivasi academic and activist targeted for stand on exams during Covid-19