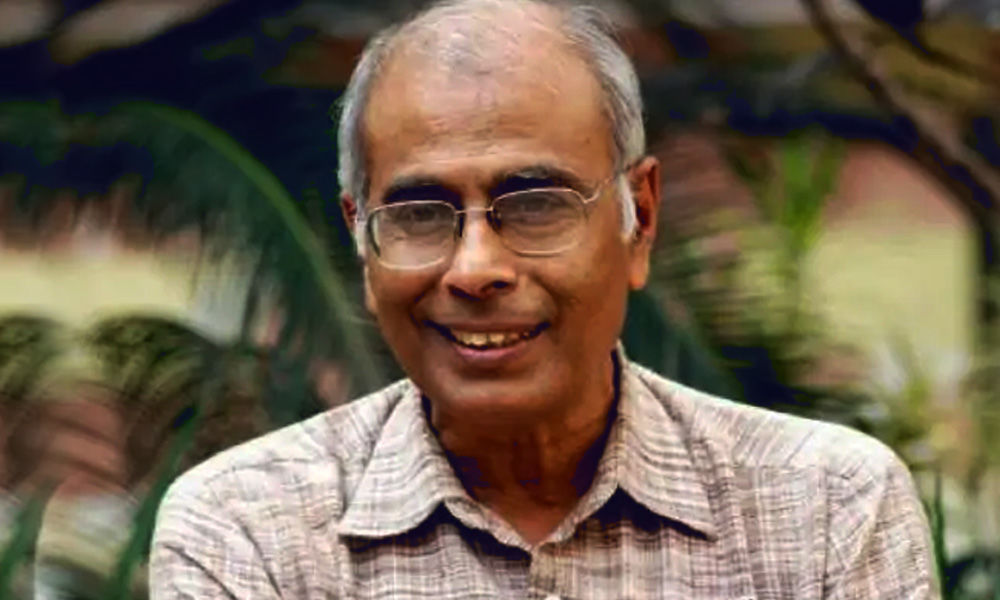 Every person has a brain, equipped to help them through any problem without the assistance of an external, supernatural power.
These words of social activist Dr Narendra Dabholkar continue to serve as a guiding post for his son Hamid as well as organisation the Maharashtra Andhashraddha Nirmoolan Samiti (MANS) years after his death in 2013.
Born on November 1, 1945, rationalist and atheist Dabholkar played a pivotal role in Maharashtra's social history. He switched from medicine to social work in the 1980s and years later introduced the Maharashtra Prevention and Eradication of Human Sacrifice and other Inhuman, Evil and Aghori Practices and Black Magic Act, 2013. His demise speeded up the enactment process of the Bill after many previous rejections.
The 67-year-old man was murdered early morning on August 20, 2013 by two gunmen near Omkareshwar temple in Pune. Since then, similar shootings have led to killings of communist leader Govind Pansare and Kannada scholar M. M. Kalburgi in 2015 and journalist Gauri Lankesh in 2017.
Hamid suspected the serial attacks were planned primarily to discourage organisations like the MANS from continuing social work. However, far from being disheartened, members resolved to bring justice upon the murderers.
"Following his [Dr Dabholkar's] death, the MANS was faced with many challenges, not the least of which were finding the criminals who killed him, enactment of the anti-black magic law and our persistent agitation for the eradication of superstitions in society," said Hamid.
Their first agenda made progress in 2018 with the arrest of Sachin Andure, suspected of being one of the two gunmen. However, the other two agendas grew leaps and bounds owing to the anti-black magic law. Despite strong opposition from religious groups like the Warkari sect, the law was enacted as the first-of-its-kind legislation in India.
"Maharashtra is the only state other than Karnataka [enacted similar laws later] that allows for complaints regarding superstition and black magic. The law benefits the society as a whole," said Hamid, a member of the MANS.
According to him, 700 cases have been filed under the Act out of which 15 to 20 cases convicted the accused. Moreover, a growing number of people in Karnataka and even Assam have voiced complaints regarding such atrocities of late.
"The most important point is that common people are using this law," he said.
The anti-black magic Act declared the forced ingestion of human excreta, encouragement of human sacrifice, accusation of demon-incarnations, psychic surgery, the prevention of medical treatment due to black magic remedies as some of the many non-bailable offences that would lead to six months to seven years prison sentence as well as a Rs. 5,000 to Rs. 50,000 fine.
These clauses were drafted by Dabholkar himself. Yet, according to his son, he never really believed that legislature alone could change the evils prevalent in society, especially god-persons, self-styled ascetics, who claimed to perform medical miracles. However, he insisted on legislation nonetheless.
Elaborating on his father's argument, Hamid pointed out that this isn't an either-or situation. The battle against social evils requires both social and legal awareness. To illustrate his point, he recounted the incident of godman Nitin Maharaj whose 'tomato prasad' supposedly cured grave medical illnesses. Authorities succeeded in filing a lawsuit against these false claims thanks to the existence of the anti-superstition law.
Dr Dabholkar believed that the fight against blind faith wasn't merely a decade-long but a century-long battle. In keeping with this long battle, he was also careful to pass on the distinction of religion from superstition to his supporters.
"We do not believe in the rationalist or atheist thought that religion should be rejected to fight social evils. There are many organisations, communities, who work for social benefit in the name of religion," said Hamid.
Hamid asserted that the MANS believed and endorsed the freedom to religion assured to every citizen by the Indian Constitution.
"Our organisation is concerned about the crimes that take place in the name of religion. Visiting a place of worship is different from a person claiming he has supernatural healing abilities. Exploitation is the key difference," said Hamid, voicing his father's sentiment who fought against fraudulent practices rather than religion itself.
Talking about his father at home, Hamid said he remembered his father's constant optimism regarding his endeavours. Activism was not an alien topic in their household and in all these discussions the doctor's voice never hinted dismay or defeat.
"A few days before my father's death, an interviewer asked him why he didn't ask for protection. My father said that his hope was that the agitation would continue even if he was murdered. So, I think he would have been quite satisfied with how things have turned out in recent years," he said.
Doctor's wish came true. Even today, the MANS is viewed with hostility by right-wing groups who threatened Dabholkar when he was alive. However, in trying to end his life and instil fear in the minds of similar thinkers, the attackers ended up emboldening the rationalists and conscientious thinkers of the state.
"I think, today, my father's murderers must have understood the gravity of the statement 'maanus marun vichar sampavta yet nahi. [You can kill a person but you can't kill an idea]" he said.
Related:
HJS dubs Narendra Dabholkar 'Urban Naxal'
"Scientific thinking requires independence of thought"
6 Years After Narendra Dhabolkar's Assassination, Masterminds Remain Free
'I Shot at Narendra Dabholkar Twice': Sharad Kalaskar Confesses