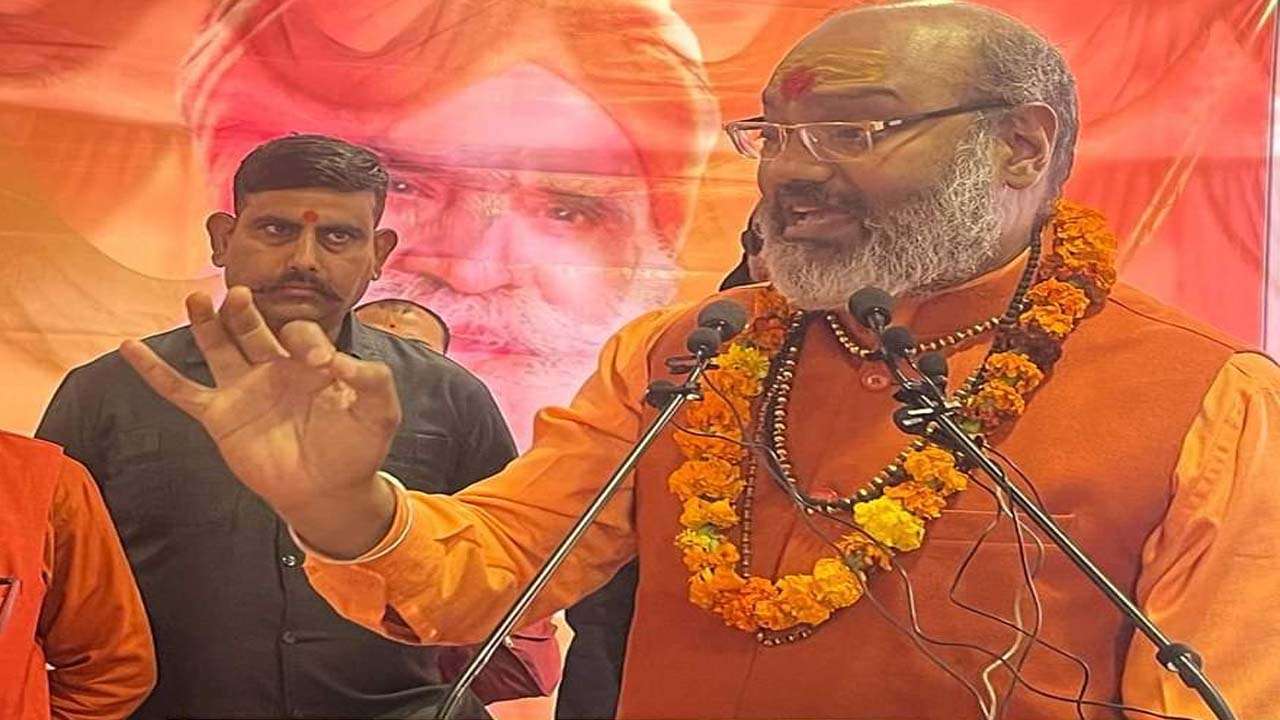 Serial hate speech maker Yati Narsinghanand, who was at the forefront of the Dharma Sansad organised in Haridwar in December 2021, has been arrested for "objectionable remarks on women". However, he has not been arrested for calling for a "genocide of Muslims" at the the Dharma Sansad or religious assembly, that turned into a hate conclave calling for mass violence against Muslims in India.
According to NDTV, the police confirmed that Narsinghanand was arrested on Saturday evening for "derogatory comments against women, not the Haridwar hate speech case right now." The report quoted an unnamed official as saying, "He will be remanded for the hate speech case too, the procedure is on. We will include the hate speech case details also in the remand application." However, The Hindu reports that the Uttarakhand State Director General of Police (DGP) Ashok Kumar said that Narsinghanand was arrested in two separate cases – one related to misogyny and the other related to the Dharm Sansad Hate Speech. He said, "The accused was served notice under Section 41(A) of the CrPC on January 14. When he did not honour the notice, he was arrested in both the cases." He added, "We sought his judicial remand from court and he has been sent to 14-days judicial custody."
Uttarakhand Police have made only one arrest so far in the Haridwar hate speech case before this – that of Narsinghanand's 'disciple' Jitendra Narayan Singh Tyagi a.k.a Wasim Rizvi after the Supreme Court issued a notice. When Yati got to know of Tyagi's arrest, he said to the police, "Tum sab maroge… apne baccho ko bhi…(All of you will die, your children too…')". This despite him being aware that he was being recorded on camera. He then condemned Tyagi's arrest with a dharna (sit in protest).
On Saturday evening, Narsinghanand was arrested in a case relating to misogyny, based on a complaint filed earlier this month for his objectionable and derogatory remarks against women of other religions, reported NDTV, adding that the FIR also invokes hate speech charges, in addition to charges of insulting women, but "does not pertain to the hate speeches at the Dharma Sansad in Haridwar."
According to Haridwar police station SHO Rakinder Singh Kathait, Narsinghanand has been booked under Sections 295 (A) (deliberate and malicious acts intended to outrage religious feelings of any class by insulting its religion or religious beliefs) and 509 (word, gesture or act intended to insult the modesty of a woman) of the Indian Penal Code and sent to Roshnabad Jail. Haridwar Superintendent of Police (City) Swatantra Kumar said that Uttarakhand Police picked up Yati Narsinghanand from his dharna site in Haridwar on Saturday, and brought him to a police station.
Narsinghanand, the serial hate offender is the controversial priest of Dasna temple in Ghaziabad, and had organised the 'Dharma Sansad' event in Haridwar from December 17 to 19 where the alleged hate speeches against Muslims were delivered.
Co-accused Annapurna aka Puja Shakun Pandey defends misogyny
Meanwhile, Haridwar hate speech co-accused Annapurna aka Puja Shakun Pandey, lashed out at the women who filed the complaint against Narsinghanand. She said they were a blemish on womanhood itself, and that they should be ashamed of accusing Narsinghanand. She claimed he was always protecting Hindu women and daughters. In 2019 Uttar Pradesh Police had arrested Pooja Shakun Pandey, a Hindu Mahasabha national secretary and her husband from Tappal in Aligarh. She was mired in controversy after her video of recreating the assassination of Mahatma Gandhi on his 71st death anniversary went viral on social media.
Now the Uttarakhand police has sent notices of appearance in the Haridwar hate speech case, and Annapurna aka Pooja Shakun Pandey, is among those named.
Plea in SC against Narsinghanand
Activist Shachi Nelli has sent a plea to the Attorney General of India seeking his consent to initiate contempt proceedings against Yati Narsinghanand after a video of the derogatory remarks he made against the Supreme Court and the Constitution was shared on social media. In the video, Narsinghanand can be seen saying in an interview that he does not trust the Supreme Court nor the Constitution of India. He reportedly said, "This Constitution will eat up 100 crore Hindus. Whoever trusts this Constitution will get killed. Whoever trusts the system, the politicians, Supreme Court, the police, the army will die like a dog."
Haridwar FIRs name more than 10 for hate speech
At the Haridwar conclave, several speakers including so-called religious leaders and hardline fundamentalists exhorted mobs to engage in targeted violence, and called for a genocide of the minority community. At the Delhi event, Sudarshan News editor-in-chief administered an oath to a group of people to "die for and kill" to make India a "Hindu rashtra" or a Hindu nation. Two FIRs are lodged in Haridwar against more than ten people, including Tyagi, Dharamdas Maharaj, Annapurna Maa, Narsinghanand and Sagar Sindhuraj Maharaj. A special investigation team is probing the case.
The Supreme Court had issued notice in the petition seeking SIT probe into the religious conclaves that took place in December 2021 in Haridwar and Delhi. At these conclaves, pernicious calls for genocide were made against the minority community posing a threat to communal harmony. The notice is returnable in 10 days. The petition was filed by former Patna High Court judge Anjana Prakash and journalist Qurban Ali. Senior Counsel Kapil Sibal appeared for them before the bench led by Chief Justice of India NV Ramana and also comprising Justices Surya Kant and Hima Kohli. One of the main contentions raised before the bench was that the Uttarakhand Police have not made any arrests in the case and the Delhi Police has not even registered an FIR.
The rising concern over a repeat of the deplorable and pernicious 'Dharam Sansad' of Haridwar, Uttarakhand prompted CJP to write to the Director General of Police, Uttarakahnd urging him to direct that all the accused in the Dharam Sansad case be arrested. The case saw very slow progress with only two sections of the Indian Penal Code invoked in the FIR, and even accused were included in the FIRs one by one at a rather slow pace. This has brought into question the manner in which Haridwar police is handling the case. CJP approached the National Commission of Minorities in this regard seeking action and monitoring of investigation by the Uttarakhand Police in this regard.
Related:
Most vicious attacks on SC: Plea seeks contempt against Yati Narsighanand for derogatory remarks
All of you will die, your children too: Narsinghanand tells Haridwar cops as they arrest Jitendra Tyagi