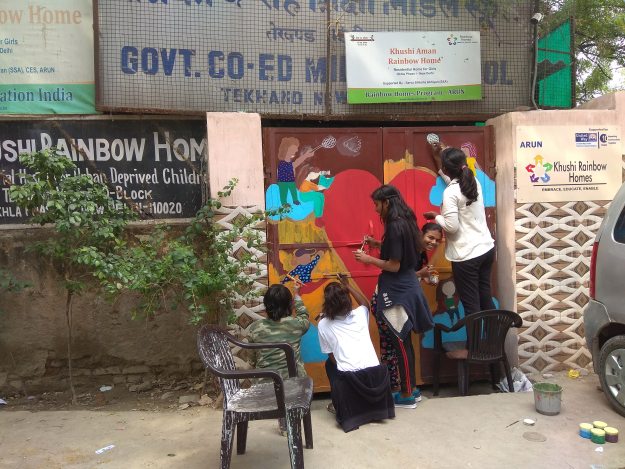 When the nation is coming together to protest the unabated rapes and murders of Dalit children, teenagers, and the government's apathy, and often targeting the victims, activists, and media, particularly in Uttar Pradesh, the continued nationwide witchhunt against anti-CAA-NRC-NPR activists seems to have diversified towards focussing on minors it appears.
Social activist Harsh Mander on Thursday shared that the National Commission for Protection of Child Rights (NCPCR) had conducted a "surprise raid" on two children's welfare homes with which he had once been associated. Strangely, the raiding party, according to Mander, who has been quoted in the media, asked the welfare home workers if the 'children had participated in the anti-CAA protests'. The women-led protests which began in December were largely women of all ages, who were then joined by men, and a few of the protesting mothers, sometimes brought their children along. However the NCPCR, according to reports has decided that the children who they 'assume' may be living in welfare homes that give shelter to mostly abandoned kids.
Harsh Mander, shared that the NCPCR conducted a surprise 'raid' on two children's homes in Delhi with which he had been associated in the past, the homes named Ummeed Aman Ghar and Khushi Rainbow Home, were raided on October 1. According to Mander, who issued a detailed statement, the raid "was led by chairperson of the NCPCR himself."
However, the Indian Express reported that the NCPCR chairperson Priyank Kanoongo said "he wasn't aware the homes were associated with Mander". Kanoongo states that it was "only after reading his statement that I have got to know about it. There are more than 7,000 such homes, and we had gone to them as part of our routine audits," he said. The IE asked if the NCPCR officials had asked about children's participation in anti-CAA protests, as alleged by Mander, Kanoongo said, "I can only tell you once I have the report in front of me." Kanoongo dismissed Mander's allegations saying, "He can say whatever he wants"
But Mander has put on record and stated that the raid had "four central focuses" and the most important was if "the children participated in anti-CAA protests". The second was about his association with the homes and the last one was if there was any "foreign funding". Mader has said that "Ummeed is entirely funded from Indian donors. Khushi also is largely supported by Indian donors, but has some foreign donors as well." He added that the "fourth question was if we had given shelter to any Rohingya children. My colleagues said… we don't focus on the identity of any child; the only thing important for us is that she or he is homeless and in need of care and protection."
This is the complete text of Harsh Mander' statement issued on October 1, 2020.

I learnt today that the National Commission for the Protection of Child Rights (NCPCR) descended on a surprise 'raid' on two children's homes in Delhi with which I have been associated in the past, Ummeed Aman Ghar and Khushi Rainbow Home, this morning on 1 October. This was led by the Chairperson of the NCPCR himself.

A brief context may be useful. After I left the IAS, I felt that one of the things I must try to do was to find humane highly scalable public systems of protection for homeless street children. Their neglect by public policy for more than half a century I regarded as an unconscionable public crime. My colleagues and I developed the idea for homeless children to share existing school spaces, where they would study with other children in the day and sleep in safety at night. These were open, voluntary, non-custodial stay homes for children without homes and families, with high standards of comprehensive care, and high focus on child participation. This was accepted as a model by Sarva Shiksha Abhiyan policy framework in 2011, it is continued even in Samagra Shiksha Abhiyan in 2018. This idea has been replicated over the last 13 years by dedicated people and organisations in various cities in our country, reached out to over 10000 children, presently taking care of 5000 former street children.

I am no longer formally associated with these homes. But I have close bonds of great love with the children especially in Delhi, who call me Harsh Papa. I visit them when I can, to assure myself about their welfare, speak to them about the world and leading a good life, and sing songs together.

The NCPCR team in its "raids" on the two homes had four central focuses. The most important was whether the children participated in the anti-CAA protests. The second focus was about my association with the homes. The children spoke about the occasional visits to meet them. The third focus was on foreign funding. As it happens, Ummeed is entirely funded from Indian donors. Khushi also is largely supported by Indian donors, but has some foreign donors as well. The fourth question was whether we had given shelter to any Rohingya children. My colleagues said that for us, we don't focus on the identity of any child; the only thing important for us is that she or he is homeless and in need of care and protection.

It is no secret that the Union government, using various official agencies which fall under its control, has launched a massive campaign against those who participated in the peaceful non-violent protests against the CAA/NRC/NPR from December 2019 to March 2020. It has been made amply clear by the actions of the state machinery that I am one of those targeted.

In its affidavits to the High Court and Supreme Court, and in a number of its charge-sheets, the Delhi Police has charged me with the fantastical allegation that I was part of a group that fomented hate under the 'facade of peace', referring to my address to anguished students in Jamia Millia Islamia University on December 16, and that I committed contempt of the Supreme Court by criticising its failures to defend minority rights and freedoms. The full recording of this address, and indeed all my speeches and public writings make apparent that instead I spoke about the centrality of love and the Constitution, the importance of non-violence, and that the soul of the freedom struggle and the constitution was the idea of a humane and inclusive nation of equal citizenship for people of all faiths, castes and genders.

This morning of 1 October it was evident that the government was using one more of its agencies, the National Commission for the Protection of Child Rights (NCPCR) to advance its campaign against the peaceful protesters and dissenters, to defame me. I have no idea about the spin that the NCPCR may give to their investigation. The NCPCR is India's apex body for child rights, and is well within its rights to enquire about the welfare of children in any context. But the timing, mode and questions raised by them are unconventional and raise doubts about the motivation of the agency, whether it will be just one more willing tool for the witch-hunt that is ongoing against independent dissenters in India today.

It is apparent that the objective behind this hydra-headed witch-hunt of wild police charges and defamatory innuendos to damage reputations and shut down organizations – using a range of official agencies -is to intimidate and discredit dissenters who are committed to the defence of the constitution into silence. My former colleagues are deeply committed to standing by the most vulnerable homeless child whatever it may take. I am convinced that our republic is passing through one of its darkest times, dominated by the politics of hate and the crushing of freedoms. Therefore it is my foremost duty, as also the duty of all those who love this country and its people, to not be silenced, to continue to resist, to continue to speak out and organize for love, fraternity and justice.

Harsh Mander

1 October 2020
SabrangIndia has reported extensively on the continued harassment and vilification of all activists opposing the controversial Citizenship Amendment Act (CAA) and the National Register of Citizens (NRC) by the various government agencies and departments. By the time the protests rolled into the New Year, politicians from the ruling party and the media aligned to right wing ideologies had vilified minorities and degraded their fight, calling them to be traitors. In February 2020, orchestrated violence against the minorities, took place in the capital, with the police allegedly complicit in the attacks, according to fact finding reports. This violence, which was clearly provoked after RW leaders incited public sentiment through hate speech, was soon connected by the authorities to speeches made by civil rights activists. One of those targeted then was Harsh Mander, leader of Karwan-e-Mohabbat. Mander was accused of denigrating the Supreme Court of India and inciting violence. A case was filed against him with the Solicitor General of India, Tushar Mehta, presenting clipped versions of his speech to the Supreme Court.
Many, including former civil servants spoke up in his defence. However, in early March this year, the Supreme Court refused to proceed with hearing his petition to file FIRs in hate speech cases, until he clarified if he had made statements against the court. NDTV reported Chief Justice SA Bobde as saying, "You made statements against the Supreme Court. We will not hear you now… If this is what Harsh Mander feels about the Supreme Court, then we will have to decide on that first."
Mander has been a thorn in the regime's side for many years, as SabrangIndia has reported earlier. He spearheaded a petition against the inhuman conditions in Assam's infamous detention camps, he also filed a petition in the Delhi High Court to seek directions to the police to file FIRs against BJP leaders Kapil Mishra, Anurag Thakur and Parvesh Verma. He is also one of the petitioners against the CAA along with Aruna Roy, Nikhil De, Irfan Habib and many others. This latest move against Mander is not new, and unfortunately, as the pattern of targeting activists has shown, it may not be the last.
Related:
I should have remembered Gandhians have lost favour with this regime: Julio Ribeiro
Why do investigations into the Delhi riots appear to be a conspiracy in itself?
Ex-civil servants decry vilification of Harsh Mander for speech during anti-CAA protests