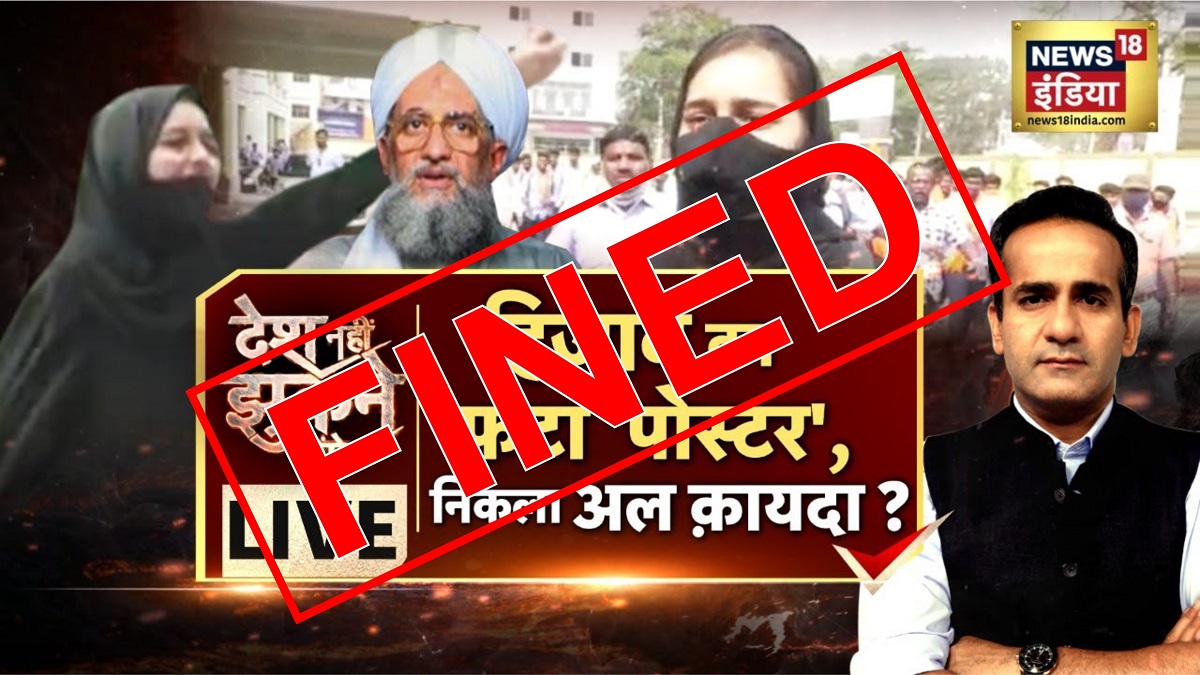 In a speaking order passed today, October 26, 2022, the NBDSA has rapped the knuckles of controversial television anchor, Aman Chopra and fined his channel Rs 50,000 for repeat violations of the guidelines related to television reporting. The NBDSA complaint, was filed by Indrajeet (he/him), a Tech Ethics and Safety professional in April 2022. The complaint with the News Broadcasting and Digital Standards Authority (NBDSA) against a severely harmful News 18 India debate programme on the Hijab ban in Karnataka, hosted by a recidivist hatemonger Aman Chopra. The show, still available is titled, Hijab Controversy| Desh Nahin Jhukne Denge with Aman Chopra | Hindi Debate Live.
The complaint argued that the programme attempted to link protesting Muslim girl-students and their supporters with a terrorist organization. The anchor and the panelists promoted dangerous stereotypes against the Muslim community.
On October 26, Justice Sikri passed a speaking order directing that:
The programme violated principles related to impartiality, neutrality, fairness, good taste and decency under the Specific Guidelines Covering Reportage, apart from the Code of Ethics and Broadcasting Standards.

The anchor failed to abide by Bombay HC's Nitesh Navalakah case guidelines and SC's guidelines on the role of a news anchor in a panel discussion to maintain balance, prevent the discussion from drifting, and muting panelists who fly off the tangent.

NBDSA advised News 18 to train Aman Chopra on how to conduct debates on sensitive matters.

Considering the repeat nature of violations, NBDSA imposed a fine of Rs.50,000 on the channel.

NBDSA warned News 18 India stating that if it commits future violations, it may summon Aman Chopra before the NBDSA committee.

NBDSA ordered the channel to delete the programme from all digital spaces within 7 days.

The programme is available here
Indrajeet argued the case before NBDSA on September 30, 2022 and brought to its attention that News 18 India and its employee, Aman Chopra, are repeat offenders who routinely prompte anti-Muslim hate speech. I urged NBDSA to take stringent and effective measures against News 18 India in order to put an end to this severely harmful practice. My written complaint and submissions are available in the attached document (Pages 2-5).
This complainant has previously argued several cases before the NBDSA such as misinformation against the Farmer's protest, media trial of Umar Khalid, anti-Muslim UP Population Control programme, transphobic reports by Telugu broadcasters, insensitive reporting on the death of Sushant Singh Rajput, and many more.
The full order is available here, pages 7-8.
Additionally, the attachment includes NBDSA's decision in another case (pages 15-16) that Indrajeet also filed against News 18 for it's anti-Muslim coverage of the Jahangirpuri demolition drive in April 2022, also hosted by Aman Chopra. NBDSA found the reportage to be in violation of its Code of Ethics and expressed strong disapproval against the programme. It ordered the removal of the recording from all digital spaces.
Related:
NBDSA acts on CJP's complaint, directs News18 to take down fake news video about bombing in WB school