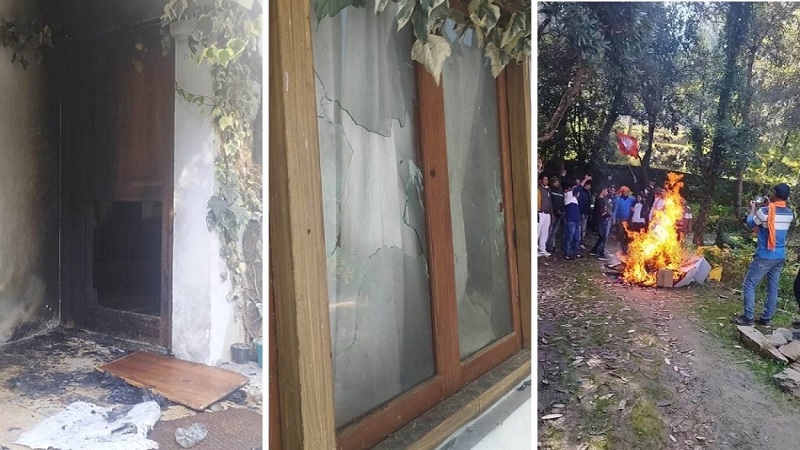 The National Commission for Minorities (NCM) has sought an expedited action taken report (ATR) from the Chief Secretary of Tripura, in its letter dated November 18, 2021. This is in connection with a complaint filed by CJP against the alleged vandalisation of mosques, houses, shops in Tripura by right-wing groups.
Vide a complaint dated October 29, 2021, CJP had written to NCM in this matter detailing how several news reports suggested that mosques, houses and shops belonging to Muslims in Tripura have been vandalised, attacked and ransacked in retaliation to the anti-Hindu attacks in Bangladesh. The details of the 5 affected districts, namely, Unakoti, north Tripura, West Tripura, Sepahijala and Gomati were given.
In its complaint, CJP has also annexed videos found on social media which showed grocery and ration shops being burnt, a destroyed mosque property and some videos of mobs chanting inflammatory and derogatory anti-Muslim slogans.
Our complaint has also referred to the Tripura Police's claim that it has provided "protection to mosques in sensitive areas" and has also warned against posting provocative messages on social media, and added "that the situation is under control." They Took to Twitter on October 27 to state, "During yesterday's protest rally in Panisagar, North Tripura, no masjid was burnt and the pictures being shared of burning or damaged masjid or collection of sticks etc are all fake and are not from Tripura. They may be from some countries."
Since there are two sides to the story, we have urged the Hon'ble Commission to take cognisance of these scattered incidents and investigate these alleged attacks and targeted vandalisation. CJP had urged the commission to check the veracity of such allegations, and conduct a full-fledged investigation under section 9 of the National Commission for Minorities Act, 1992.
Accordingly, the NCM took expeditious action and sought a report from the Chief Secretary Tripura on November 8, 2021; however, since that letter did not draw any response from the state administration, this letter was sent on November 18, 2021 as a reminder and urging the administration to expedite and send a report within 15 days.

Related:
Anti-Muslim violence flares in Tripura, CJP writes to Minorities Commission
Tripura HC takes suo motu cognisance of anti-Muslim violence in the state