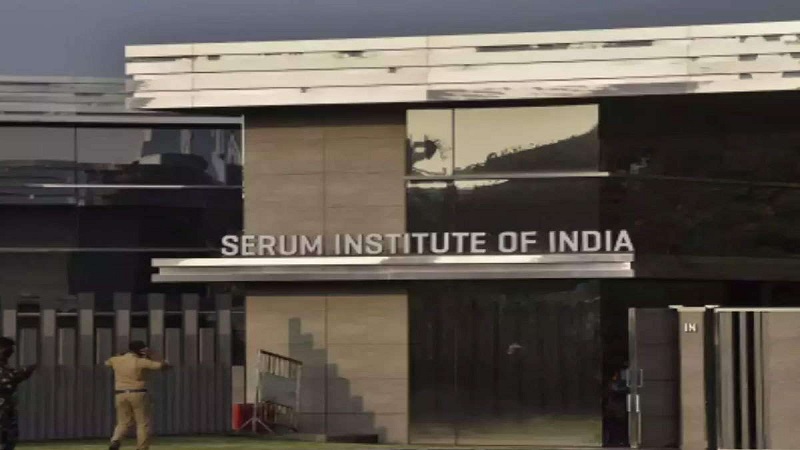 Image Courtesy:economictimes.indiatimes.com
In wake of scathing criticism with respect to export of vaccines despite shortages in India, Serum Institute of India (SII) that is manufacturing the Oxford-AstraZeneca Covishield vaccine in India, has offered an explanation.
In a press statement issued on Tuesday night, SII CEO Adar Poonawala said, "In the past few days, there has been intense discussion on the decision of our Government and Indian vaccine manufacturers including SII to export vaccines." SII goes on to explain the current vaccine shortage by taking one through the timeline since January when the nationwide vaccination campaign was kickstarted, saying that at that time "we had a large stockpile of vaccine doses" and that "most people including health experts believed that India was turning the tide on the pandemic."
Explaining that international cooperation leading to technology access was the reason behind vaccine exports, SII says, "Cooperation between countries also forms the basis for us getting access to technology and aid for healthcare."
It is noteworthy that India was part of the World Health Organization (WHO)-led international alliance called COVAX, where in exchange for the technology to manufacture the Oxford-AstraZeneca vaccine, it was obligated to contribute a certain number of doses to the international community so that they could be distributed among other developing nations. However, vaccine exports as a part of this obligation were temporarily halted when the second surge of Covid-19 infections proved to be deadlier and spreading faster than the original outbreak. Vaccines were then prioritized for use in India to control the spread of the more lethal domestic variant that was spreading fast.
SII reiterated, "We have never exported vaccines at the cost of the people of India."
The entire press statement may be viewed here:
Important Information pic.twitter.com/M1R1P6rqUp

— SerumInstituteIndia (@SerumInstIndia) May 18, 2021
At present, Covaxin developed by Bharat Biotech is the only indigenously developed vaccine against Covid that is being administered to people in India. SII has been manufacturing Covishield, a vaccine developed jointly by the Oxford University and AstraZeneca. But there are certain obligations that come with this exchange of technology including contributing to COVAX's pool from where vaccines are supplied to member nations of the developing world.
However, this brings us to two important subjects:
India's obligations under COVAX vis-à-vis moral obligations of wealthier nations

sharing of technology and waiver of Intellectual Property Rights (IPR) related to manufacture of vaccines developed by international pharmaceutical companies
Obligations under COVAX and role of wealthy nations
COVAX is an alliance that attempts to bridge vaccine equity gaps between the developed and the developing world. But as India is a part of it, it has to contribute to the COVAX pool despite the suffering of its own people. While India has manufacturing capacity, it also has a large population, and limited resources given how India is still a developing country. Meanwhile, it is alleged that countries like Canada, US and UK ordered an excess number of vaccines.
According to data from Duke Global Health Innovation Center, quoted by the BBC in a report, Canada has reportedly ordered vaccines five times that of its population! Meanwhile, the UK has ordered 3.6 times the number of vaccines required, EU 2.7 times and the US twice as much. In fact, the US has finished vaccinating frontline workers, elderly people, persons with comorbidities and adults. It is now turning to vaccinating children and teenagers.
Thus, it appears that wealthier nations bought up more than enough vaccines to inoculate their populations earlier in the game, leaving developing nations at the mercy of vaccine manufacturers and humanitarian organisations.
WHO recognises this unfair advantage enjoyed by wealthier countries and recently urged them to donate vaccines to developing nations. In a bid to bring about greater vaccine equity, Dr. Tedros Adhanom Ghebreyesus, Director General of the WHO recently appealed, "In a handful of rich countries, which bought up the majority of the vaccine supply, lower risk groups are now being vaccinated. I understand why some countries want to vaccinate their children and adolescents. But right now, I urge them to reconsider and to instead donate vaccines to COVAX. Because in low and lower-middle income countries, vaccine supply has not been enough to even immunise health and care workers, and hospitals are being inundated with people that need lifesaving care urgently."
Meanwhile, according to the Ministry of External Affairs, India has given as many as 663.698 lakh doses of vaccines to 95 countries including Bangladesh, Myanmar, Nepal, Bhutan, Sri Lanka, Morocco, Afghanistan, Mongolia, Ghana, Angola, Gambia and Syria. This also includes 1 lakh vaccines to UN Health Workers.
Meanwhile, pressure is still mounting on SII to honour its obligations to COVAX, even as the domestic market remains under-served and in urgent need amidst a raging pandemic.
Manufacturing vaccines domestically
There are two elements that need to be viewed here:
IPR related issues that are preventing manufacturing of vaccines developed by international pharma companies and other nations

Absence of R&D to develop vaccines from the scratch domestically
International pharma companies say that they spend millions of dollars, as well as time developing a vaccine. Sharing the formulation freely so that developing countries can manufacture it, disincentivises the large investments they make into Research and Development (R&D).
But recently, the Biden-Harris administration expressed support for waiving Trade Related aspects of Intellectual Property Rights (TRIPS) for Covid-19 vaccines. US Trade Representative Katherine Tai shared her country's stand amidst World Trade Organisation (WTO) discussions on easing global trade rules to enable vaccine access to the developing world, saying, "The Administration believes strongly in intellectual property protections, but in service of ending this pandemic, supports the waiver of those protections for COVID-19 vaccines."
India and South Africa had originally proposed the IPR waiver in October 2020. If the waiver was granted, it would allow countries who are WTO members to choose to neither grant nor enforce patents and other IP related to all Covid-19 drugs, vaccines, diagnostics, and other technologies, including masks and ventilators, for the duration of the pandemic. This would provide countries with the policy space needed to collaborate in R&D, manufacturing, scaling up, and supplying Covid-19 tools. The proposed waiver would be applicable only to Covid-19. It does not suggest a waiver from all TRIPS obligations, nor does it suggest a waiver beyond what is needed for COVID-19 prevention, containment and treatment.
In November 2020, Eswatini, Kenya, Mozambique and Pakistan also backed this landmark proposal. But Australia, Brazil, Canada, EU, Japan, Norway, Switzerland, UK and US were opposed to it at that time.
When it comes to developing the vaccine from the scratch in India, investments need to be made by the government in creating R&D facilities. This has to be done on a large scale in the public sector, as that is the only way to make such vaccines affordable to common people. While private players should also be encouraged to participate in the process via public-private partnerships in R&D projects, the entire process should not be left to just the private sector as they have their own concerns with respect to costs and profits. Instead, such facilities should be developed in government run medical colleges and proper funding should be allocated to it in the annual budget. This is the only way to achieve vaccine self-sufficiency. At present the total allocation to healthcare stands at Rs 2.23 lakh crore, but only Rs 2,663 crore out of this goes towards health research.

Related:
Covid-19: Shortage of vaccines begins to pinch
Adar Poonawalla is in Britain 'on business', but is that the only reason?
SII provides 3 lakh doses, vaccination for 18-44 age group to begin in Maharashtra