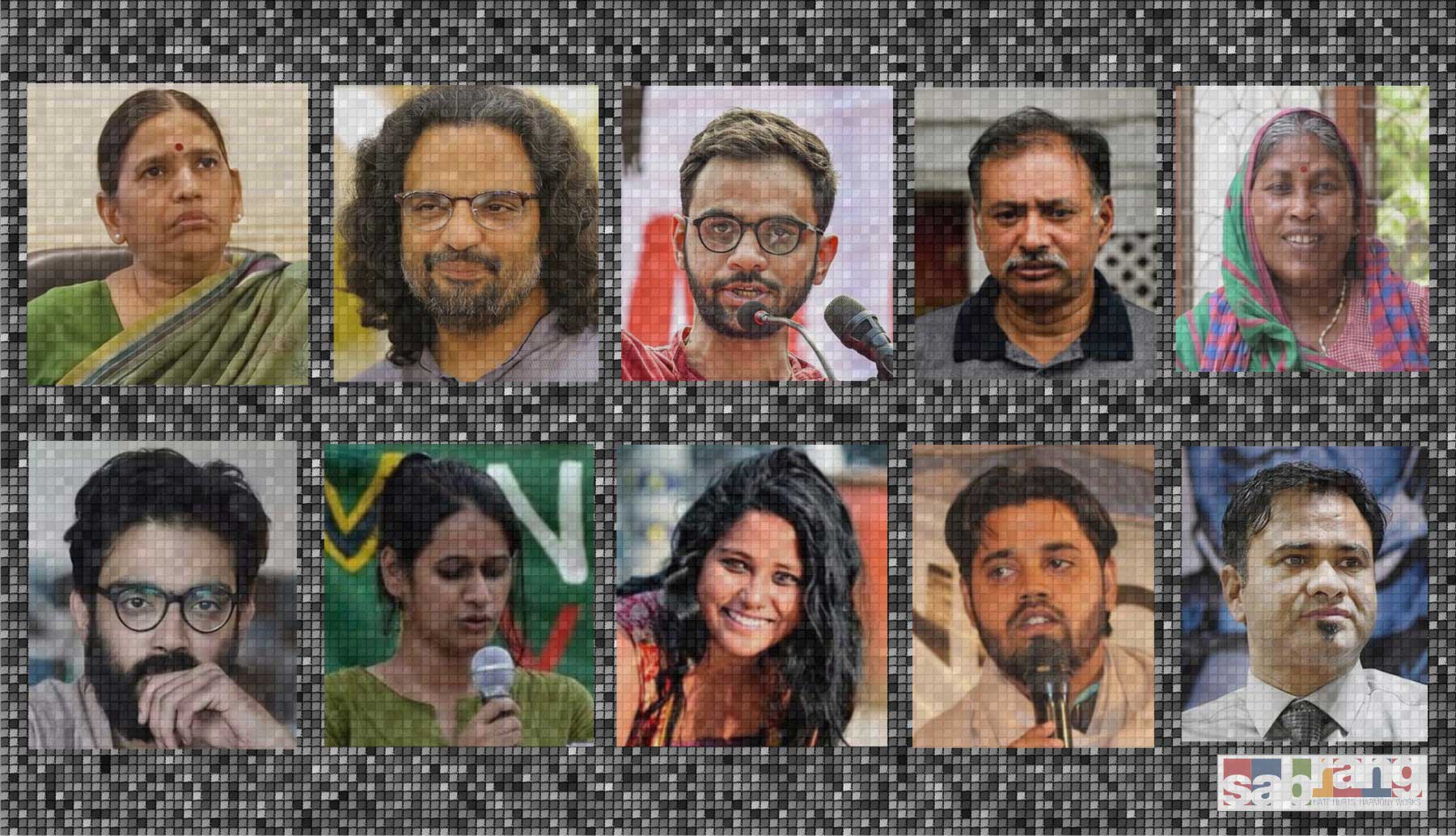 Scores of Human Rights Defenders, students and citizen activists, were subjected to targeted attacks, online vilification, lawsuits and even jail, but stayed true to their path. Today we hail those who grew stronger despite the blows. There are hundreds who are unnamed, here are a few who made headlines worldwide in 2021.
Sudha Bharadwaj: Trade unionist and human rights defender Sudha Bharadwaj finally walked out of the Byculla women's jail on December 9, 2021, after conditions of her bail were finalised on December 8, 2021. She had been granted default bail in the Bhima Koregaon case by the Bombay High Court on December 1, 2021. Bharadwaj, who has been fighting for the rights of workers and women, was falsely implicated in the Bhima Koregaon case. She was among the 16 activists and human rights defenders arrested in connection with the case. Those who have not been given bail in the case include Varavara Rao, Gautam Naulakha, Anand Teltumbde, Shoma Sen, Sudhir Dhawale, Mahesh Raut, Vernon Gonsalves, Arun Ferreira, Rona Wilson, Surendra Gadling, Hany Babu and Kabir Kala Manch members Jyoti Jagtap, Sagar Gorkhe and Ramesh Gaichor.
Rona Wilson: Activist Rona Wilson's phone was infected with Pegasus spyware, as revealed in a recent forensic report by the US-based Arsenal Consulting. It made public findings that "two backups of an Apple iPhone belonging to Wilson had digital traces showing infection by the Pegasus surveillance tool". Bhima Koregaon accused Wilson remains in jail, the last time he was granted an interim bail was by the Special National Investigation Agency (NIA) Court's Judge DE Kothalikar, from September 13 to September 27 for Wilson to attend the memorial; mass scheduled on September 16, 2021 for his father Jacob Wilson, who breathed his last on August 18.
Umar Khalid: Activist Dr. Umar Khalid remains in jail as a Delhi court continues to hear his bail arguments. Dr. Umar Khalid, who has been implicated in the North East Delhi violence case of 2020, is represented by senior counsel, Trideep Pais and has already called out the regime for their well orchestrated attack on him, "Your (Delhi Police) wish to paint everyone in the same brush crumbles when you look at your chargesheet. Script is nicely tied up. Can we paint these people with one brush. Like it looks like a film script." Advocate Pias probably said it best in his memorable submission on November 3, "Protest was secular, chargesheet is communal", referring to the anti-Citizenship Amendment Act (CAA) protests and Khalid's role in them. Even from behind bars, Dr Khalid's name trends on social media on a daily basis, given how he rose from being a student leader to being one of the most well known human rights activists in recent times, and remains an inspiration to his colleagues.
Sanjay Tickoo: An activist who hails from the Kashmiri Pandit community, and continues to live in Kashmir, and bravely raises his voice for those targeted. Recently, anguished at the series of attacks on minorities and Muslims by terrorists in the Valley, Kashmiri Pandit leader Sanjay Tickoo told Sabrangindia that his repeated pleas with LG Manoj Sinha to enhance security for Pandit families had gone unanswered. Following a spate of killings on October 5, today October 7, two teachers, one Sikh, one Pandit were gunned down by militants in the Eidgah area of Srinagar after identities were demanded and they were singled out. Taking to social media, Tickoo wrote: "Welcome back to 1990". Tickoo had earlier in 2020 led not one, but two hunger strikes, demanding justice for the minority Kashmiri Pandit community that is still forced to live in refugee camps amidst poverty and squalor, in the absence of implementation of various socio-economic schemes to which the community is entitled under the law.
Sokalo Gond: Adivasi and forest rights leader Sokalo Gond has survived police and administrative harassment many times as an indegenous activist. She was elected President of All India Union For Forest Working People (AIUFWP) on December 3, 2021. She has been on the forefront of challenging the ruling regime, police, landlords, so that Adivasis and forest dwellers, as well as forest workers have equal access to their rights and are given equal access to education, health, and the right to earn. Sokalo Gond and fellow activist Nivada Rana had moved the Supreme Court against its 2019 order calling for the 'eviction' of millions of Adivasis and forest-dwelling communities. While the apex court order was based on the Indian Forest Act 1927, Sokalo and Nivada opposed the same as an abuse of their constitutional rights. Gond and Rana's petition was backed by CJP and AIUFWP. Sokalo Gond was among the women forest rights defenders from Lilasi village, who stood up against police brutality in May 2018. She was illegally detained and kept behind bars along with Kismatiya Gond, for months until a sustained campaign by Citizens for Justice and Peace (CJP) helped their release.
Sharjeel Imam: Even as Delhi court denied bail to Jawaharlal Nehru University (JNU) scholar, Sharjeel Imam in connection with the Sedition case registered against him in December 2019, where it was alleged that his speech made during the protests against the Citizenship Amendment Bill (CAB at that time) led to the Delhi violence in 2020, it said that his speech did not instigate rioters during the Delhi Violence of 2020, and also that the evidence against him in the riots matter, is 'scanty and sketchy' and as far as allegations against him for offences like being part of an unlawful assembly, attempt to murder, criminal conspiracy, rioting with deadly weapons, voluntarily causing grievous hurt are concerned. The court said, "The evidence in support of the allegations (rioters got instigated by the speech dated 13.12.2019 of applicant/accused and thereafter they indulged in the acts of rioting, mischief, attacking the police party etc), is scanty and sketchy." The court noted that there was no eye witness to this effect, and that there is no evidence presented by the Delhi Police to suggest that co-accused persons got instigated and committed the alleged act of rioting upon hearing Imam's speech.
Natasha Narwal, Devangana Kalita, Asif Tanha: The three scholars and activists accused in Delhi violence conspiracy case accused were granted bail by the Delhi High Court on June 15, but were not released by the Police immediately on flimsy grounds of "address verification". A few days later Natasha Narwal, Devangana Kalita, and Asif Tanha finally walked out from the confines of Delhi's Tihar Jail. Asif, Natasha and Devangana are permanent residents of Jharkhand, Rohtak and Assam respectively. Using this to their advantage, the Delhi Police contended that additional time would be required by the investigating agency in filing the verification report as their personnel would have to travel to these states. However, they walked out, and continue to speak up for the marginalised.
Doctor Kafeel Khan: Pediatrician and human rights activist Dr Kafeel Khan was sacked by the Uttar Pradesh state government recently, and has said that he will challenge it in court. According to Dr Khan this action of the government of UP comes even after he got a "clean chit from a court". In 2017, Dr Kafeel Khan was accused of being responsible for the death of several children on the intervening night of August 10 and 11, 2017. These tragic deaths were reportedly caused because the state-run BRD Medical College Hospital ran out of oxygen on the fateful night. The Allahabad High Court had even stayed the Uttar Pradesh government's decision of suspending Dr. Kafeel Khan, for the second time in 2019, for allegedly misbehaving with the staff at Bahraich District Hospital.
Related:
A 2020 report on Victims of Vilification: Anti-CAA protesters in Uttar Pradesh
A 2020 Report of Victims of Incarceration: Student activists harassed, arrested
A 2020 Report of 10 Worst Victims of apathy: Dalits, Adivasis
A 2020 Report of Victims of apathy: People of Assam
2020 List of Honour: 10 Anti-CAA-NPR-NRC protesters vilified in Delhi