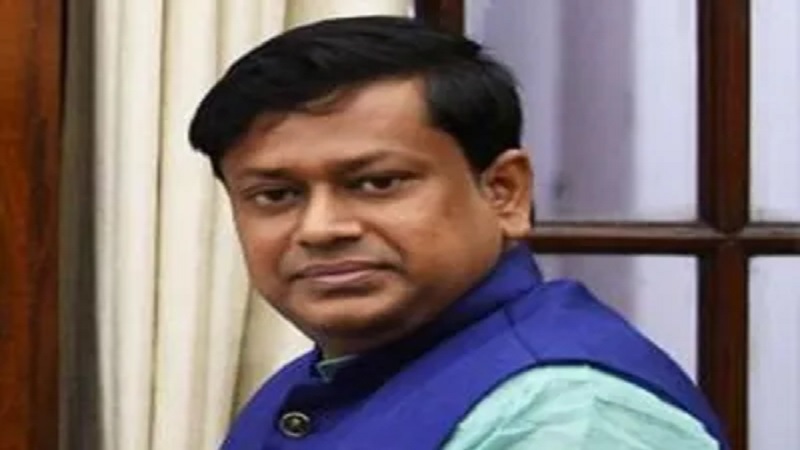 Image Courtesy:timesnownews.com
Trinamool Congress (TMC) has been growing from strength to strength in West Bengal, and with the latest desertion by Babul Supriyo, it was only a matter of time before the Bharatiya Janata Party (BJP) attempted some form of course correction, or at least assigned the blame and punished someone senior for it. Consequently, Dilip Ghosh was sacked as state BJP chief on Monday evening, and replaced by Sukanta Majumdar.
Majumdar joined the Rashtriya Swayamsevak Sangh (RSS) as a youth and perhaps this earned him the patronage of the party leadership. The fact that he has a PhD in Botany and is relatively young at 42 years of age, might have added to his perceived appeal among young educated voters. But his very first address showcased that he is just a political novice.
Majumdar took charge as President of the West Bengal BJP in Kolkata on Tuesday and promptly made a series of hateful statements about the minority community in the state in his very first address in this position. The Telegraph quoted him as saying, "The Trinamool Congress is using the people of a certain community to attack Hindus in Bengal."
What Majumdar perhaps fails to understand is that it wasn't the dearth of communal diatribe that caused his predecessor to lose his post, but his inability to respect the aspirations of the party's old and loyal members. Ghosh had ruffled feathers by prioritising TMC turncoats over BJP old hands during the Assembly elections earlier this year, which demoralised the cadres. The result, TMC registered a landslide victory and the BJP were given a sound drubbing in many of their strong bastions.
Many fear that Majumdar, who has little or no connect with party men outside his own constituency of Balurghat, may be doomed to repeat his predecessor's mistake. The party needs a leader who can motivate the cadres and hold on to leaders, but Majumdar is a relative novice on that front. And naiveté might explain the short cut he is taking to establish himself as a leader by using communally polarising speech in a state that has remained resolute and proud in its respect for pluralism and diversity. After the high profile exits of Mukul Roy and Babul Supriyo, is Majumdar really the man the BJP needs at the helm in West Bengal?
Related:
Another BJP leader deserts its ship, Babul Supriyo joins TMC: West Bengal
RSS grows in West Bengal, but no match for Didi's outreach during Covid
How does Dilip Ghosh get away with so much misogyny?
Battleground Bengal: EC bars Dilip Ghosh from campaigning for 24 hours