Communal riots erupted in at least five towns in West Bengal during Durga Puja processions which coincided with Moharram this year. As worrisome as its spread across several districts was the intensity of the violence. Trinamool Congress (TMC) leader and chief minister Mamata Bannerjee was quick to condemn the violence, calling "communal terrorism". But Suvojit Bagchi, the bureau chief of The Hindu in Kolkata who visited one of the trouble spots, Hazinagar, uncovered the disturbing fact that many who are TMC cadre during the day turn into rabid VHP activists at night.
As Bagchi points out, communal conflagrations do not occur suddenly. It takes time, it takes planning. It has multiple reasons which unfold over weeks, months and years. What has changed in the state which has had a long history of being riot-free under successive Left Front governments? Individuals with specific interests work as a catalyst, while political parties use such individuals.
Sabrang India spoke to Bagchi who sees clear signs of a new communal equation emerging in West Bengal.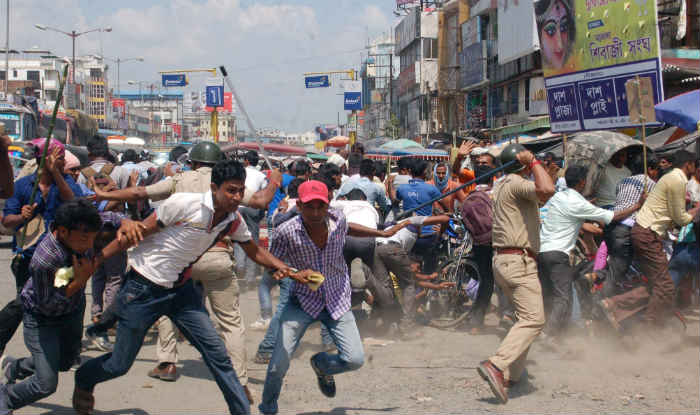 Representational Picture. Image credit: India.com
SabrangIndia (SI): How many places were affected by recent communal tension?
Suvojit Bagchi (SB): Difficult to say. Received phone calls from many towns and villages and seen many reports on social media and video blogging sites. But I will refrain from naming the places as I have not visited the areas. However, I spoke to people who could be trusted and they have confirmed severe communal tension in four places– Chandannagore from Hooghly district, Kharagpaur in West Medinipur, Hazinagar in North 24 Paraganas and Chachal in Malda districts .
SI: What is the scale and nature of damage?
SB: Again I will not conjecture on the nature and scale of damage as long as I have not visited or met the people in the area. It is particularly important as the state government has said that a section of the media is publishing "distorted reports." So we need to visit these places. Two weeks after the flare up from October 11-15, I have managed to visit only one of the places twice – Hazinagar in North 24 Paraganas.
SI: What have you witnessed there?
SB: Much of it is published in The Hindu. But there are many angles to it which can be explored in further detail as you know a communal clash cannot occur suddenly, like a road accident. It takes time, it takes planning. It has multiple reasons – which unfold over weeks, months and years. Individuals with specific interests work as a catalyst, while political parties use such individuals. However, political parties may also fan tension between communities for very particular political requirements. So multiple issues come to play and you can only touch the surface in a two-day visit.
One factor was interesting in Hazinagar. The list of rioters provided to me by the leaders of Trinamool Congress features many local level leaders or even municipal councillors of the TMC. They are TMC in the morning and organise programmes for the Viswa Hindu Parishad (VHP) at night. Prabhat Khabar – a leading Hindi daily – published a small story in its October 3 edition naming many such local leaders and councillors of TMC who organised Hanuman Chalisa distribution programme for the VHP recently. This tiny information says a lot about today's Bengal… that the civic body councillors are overtly engaging with an outfit which has a very clear agenda. This perhaps tells us how the politics of Bengal is changing and (changing) fast.
SI: You named one such person… Pradeep Pashi.
SB: I did. I was very keen to meet him as well but could not so far. This gentleman was close to CPI-M at one point of time. Now he is publicly with the TMC and he led the riots. Everybody in the area confirmed that Pashi led the scuffle in many areas. Now all the parties – especially CPI-M and TMC – tell me that he is an "anti social." But Pashi was always an anti-social who engaged with the ruling parties whenever it suited him. Actually there is nothing surprising as that is how it works in the country. Now he realises that it suits him to be with TMC in the day and to lead a riot at night for right-wing outfits… he is doing that. His name, however, was not mentioned in the report of the Hindi daily.
SI: Are you suggesting that TMC led the riots?
SB: I won't say that. TMC means Mamata Banerjee and it also means that they do have a secular credential. They have addressed many issues which have given some relief to the minorities. Many boys and girls of the Muslim community told me that they felt "empowered" as they are not unnecessarily hounded by the state and experience small pleasures like visiting shopping malls. I'm not saying that it did not happen in CPI-M's time – but a section of the Muslims, if not the entire community, loves the chief minister, which is not a bad thing in today's India.
Perhaps they also liked Jyoti Basu and often say – especially these days – that they did not have any communal tension during Basu's time. TMC is aware that they have a solid Muslim vote base and thus they can't afford to antagonise them either.
But TMC also did things which gave confusing signals. For example, one may ask why it is so important for the top leadership to so actively engage with anything that is religious – for all the communities – constantly mixing religion with affairs of State or politics. Why is that important? Now, if the State continuously engages with everything that is religious then the people perhaps start thinking that they can do anything in the name of religion and get away with it.
In Bengal the State perhaps needs to de-link itself with all religion a bit while ensuring law and order especially during the time of festivals. But it is challenging because the rise of BJP at the national level has changed many things in Bengal.
SI: How?
SB: I was talking to Piyush Ghosal. He was CPI-M's zonal committee member, worked in the same area – Hazinagar – for many years and knows the area very well. He said something interesting. He said – which I quoted in The Hindu – that there was communal tension earlier too, during their time. In fact, in the 1990s a Koran was set on fire in Hazinagar and it was a very difficult time. But CPI-M could diffuse it as the organisation was remarkably powerful. All the MPs and MLAs and councillors belonged to them. Much like it is now for the TMC – they have 22 of the 23-member board in the local municipality. But many of them – as I said earlier – work for VHP or other Hindu outfits. CPI-M had an organisation, which did not have leaders with dual identity, and thus they could control sensitive situations quickly. TMC has an issue with its organisation.
But the other advantage (of CPI-M) is also significant. Historically they did not ever experience a buoyant BJP in the state, in the backdrop of a very strong BJP at the national level. This rise of BJP has impressed millions in India and there is no reason to think that the Bengali middle-class is not part of it. There is another issue.
There are many in the state who have come from East Pakistan and later Bangladesh. Like my family during Partition. Many of these people are covertly communal. They are Bengalis, they were part of CPI-M and even their top leaders, but they never publicly expressed any anti-Muslim bias. Because they knew that the party does not approve it. So the Bengalis, especially those who came from Bangladesh, had two opposing identities. They were communists and they were the people directly affected by Partition. The size of this population is huge. I do not know the percentage but I will not be surprised if these people (with roots in East Pakistan/Bangladesh) make up 35-40 percent of all Bengal's electors, three to four out of nearly 10 crore people. I'm not saying majority have an issue with the minority but perhaps the majority has a problem.
Now, this Bengali community and the Bengali Hindus in general have engaged in this year's communal tension. I quote Piyush Ghosal, from
The Hindu
report: "There were serious crises during our (CPI-M's) time but now it is more complex as it is not restricted to non-Bengali Hindus and Muslims. The Bengali Hindus and Muslims have also got polarised. A new communal equation is evolving in West Bengal.
SI: What about the violence in other parts?
SB: Major violence occurred due to nearly the same reason related to Durga immersion or Moharram procession. But then I have not visited those areas and would not comment till I visit the areas.
SI: You have named one Abdul Gani Khan, against whom there were allegations of engaging in large scale violence.
SB: Yes. There are allegations against some of the Muslim community men who attacked Hindu houses. But in Hazinagar, I have witnessed, it was not triggered by the Muslims. Certain groups wanted to take out a procession through a road in Muslim community area which was an issue for last two years. Earlier the communities had an unwritten understanding that a procession would not be taken out through that road while the Muslims were not allowed to slaughter cows in the area. Now this understanding was violated initially by the Hindu groups. It is very evident. The Hindu leaders said that there was "no such agreement", while the Muslims say that there was. Independent sources say that there was an "unwritten understanding."
I have been accused of giving the point of view of the Muslims. This is not correct. If I could be convinced that Muslims triggered it, or that Muslims started slaughtering animals first, I would have written so. But honestly Muslims who are in a minority in Hazinagar won't have the gumption to slaughter cow in an area surrounded by Hindus. Even now they would not do that or even think of doing that, though cow slaughter is not banned in the state. Moreover, many times over last two years Hindu groups tried to take out procession through the area which heightened the tension. The Hindu groups only told me so.
However, there was an element of aggressive Muslim element in the area and – interestingly – they also belong to Trinamool Congress.
SI: What does it mean for TMC?
SB: Many things. On one hand they need to first find out more about these elements with dual identity – TMC in morning and rabid Hindu at night – and fix it. It's not like being both TMC and Congress or even TMC and CPI-M. TMC is in power, or for that matter any political party is in power in Bengal owing to its large Muslim vote base which I think exists. So, if that Muslim vote base is affected due to the activities of a 'rabid Hindu-TMC' mix, they have much reason to worry. Even if a section of it moves to Leftist-bloc it would lead to a triangular fight, affecting TMC.
Secondly, there is a Bengali-non Bengali polarisation on religious lines which Ghosal indicated. Any polarisation is bad. It is worse for Bengal as the state's business community is represented largely by the non-Bengali community who are in the state for hundreds of years. I do not think that it would be reasonable to have a Marathi-non Marathi kind of a politics in Bengal. It won't help anyone and the state would suffer. It is another fault line which TMC needs to address and its difficult.
Thirdly, a friend said that the other day that BJP's rise could be "permanent" in Bengal. Largely owing to frustration related to many things. TMC needs to engage more with people to address these general frustrations. They are not getting alienated from the people but they are not doing very well either on many fronts.
SI: But will this polarisaton only harm the TMC? Can it gain as well?
SB: That's the trickiest question. Communal flare-up occurs due to "multiple factors." I have returned to Bengal (been here for the past 2 years) after being away for 12 years. I have witnessed a controlled communal practice and it has helped TMC. For example, the 2014 Lok Sabha election. Both TMC and the BJP turned very hostile against each other. Mamata Banerjee and the PM targeted each other personally. And we found that TMC got 34 of 42 Lok Sabha seats and BJP got unprecedented votes – 17 percent, a record. Extreme politics on both sides helps both BJP and the TMC marginalising the middle-of-the-road voices. This is more helpful for the TMC as BJP is yet to be a major force in the state. But if BJP grows another five percent, with concentration of votes in parts of the districts, TMC will have reason to press the panic button. In fact they already have pressed, if I am not misinterpreting the situation.
Chief minister has called the flare up "communal terrorism". Moreover, she has asked her cadre to unite against communal forces in the state. Perhaps she is also aware that TMC cadres are partly leading this riot. Whatever it is, it's evident that TMC leadership is not very happy about the recent flare up.
SI: Is there any Bengali middle class, Bengali intelligentsia, resistance against such events?
SB: Not that I know of. However, a CPI-ML team has come up with a fact-finding report which I'm yet to see. I can see some activity of the Hindu right and the Left on social media, though.