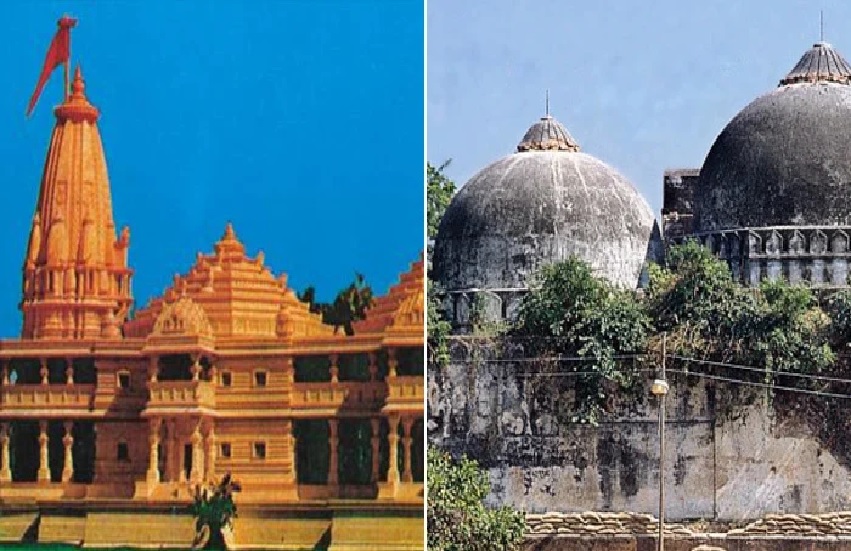 How can the fire in your house Burn the neighbour's house Without engulfing your own? – Basavanna
Such homilies of philosophers do not come in the way of the architects of the Rashtra (nation). Repeated and rational warnings, of the self-defeating potential of outward driven hate that eventually turns on itself, have not stopped its triumphal march. August 5, is a day that will mark this for history.
While a vast majority of Indians (except possibly the inviolable 20 per cent who's wealth sets them apart) suffer chronic anxiety over job loss, dwindling of income and opportunity not to mention the all pervasive health risks of (not just) the Covid-19 pandemic but a failed health infrastructure that is allowing Indians to simply die because of a criminal failure to respond, the government of India is on a suicidal expenditure blitz at Ayodhya.
Though transparency in book keeping is not the particular strength of this regime — as the affaire a la PM Cares Fund has revealed– in November 2019 we were told that Rs 447 crores (US $ 63 million was allocated to acquire 61 hectares of land in Mirpur, Ayodhya for the vast complex. So far, we have no news of whether or not the controversial 2019 Supreme Court directive that requires Muslims to be 'compensated' by land for a Mosque opposite or somewhere near where the Babri Masjid once stood, has been honoured. This Rs 447 crores of official allocation of funds (at the least) is quite apart from the Rs 1,400 crores galvanized by the Ramjanmabhoomi movement in the 1990s (see report of the Liberhans commission that gave us so much but much too late!) carefully appropriated by the sangh coffers. There are other specials on offer today.
The Indian Express' front-page headline is telling, Ayodhya Breaks Ground Today, as it describes the grandeur around the 'event' over which the prime minister of India will preside. For the past one week television channels and anchors floating in temple vista designed dream sets have told a nation of 63 crore hungry and jobless migrant labour that 1,00,000 ladoos will be distributed at the site, and that the holy waters from 1500 spots of 10 Indian rivers and soil from 2,000 'holy' spots will anoint the ceremony.
The Ram temple built on a demolished mosque, an act of crime committed in modern India, may even become a pilgrimage site for generations. The question before us, people, communities, society and the nation is, that will the bloodletting that allowed this rite of passage stop? Can the Hindu faith, deeply scarred by the blood and gore of this journey, be redeemed?
The sense of revenge, tit for tat, is justified in settling historical 'wrongs.' Wrongs not meticulously and historically authenticated but those that lurk in minds through meticulously imparted perceptions and histories. KM Munshi's Jai Somnath (a book published in the 1920s that ran into several editions) contributed exponentially to creating mass 'Hindu hurt' around the razed Somnath temple even though, as historian Romila Thapar, showed us in the DD Kosambi lectures delivered in 1999, that it was only after British enthusiasm to resurrect this past and bring back the gates of the temple (!) that discourses around such 'hurt' actually began. Before this, decades/generations after Mohammad Ghazni's raiding of the temple (other dynasts have also targeted this temple for its treasures) the panchkula of the temple had in fact awarded a part of the temple premises to one Nuruddin Firoj (an Arab trader who sailed the seas in his doab between two shores for business) for a Mosque to worship. The fact that LK Advani's rath yatra was flagged off in 1989 from the Somnath temple before it wound itself across the country, felling harmony and co-existence in its funereal wake, is not merely symbolic. The campaign then and now has never been just about a temple in the name of the Lord. It has been a sustained effort by the 1920s born Rashtriya Swayamsevak Sangh (RSS) to capture the Indian state, shed its constitutional mandate and impose a caste exclusivist theocratic nation. Somnath was important and symbolic because it stands for all that is taught history in RSS' neighborhood shakhas: a glorious. Ancient 'Hindu' past (rarified, Brahminised and vegetarian) Hindu enslavement under 'Muslim' rule (sati, dowry and all ills were caused because of Islamic enslavement). The Constitution and Republic, modern and inclusive have just no place in this project. The assassination of Gandhi (January 30, 1948) is crucial to this onward march not because he advocated fair share of resources be given (from the treasury) to newly created Pakistan but because he was (in his own fashion, Ambedkarite suspicions notwithstanding) repelled by Untouchability and caste exclusion and fundamentally committed to Hindu-Muslim unity and brotherhood.
The history of memory and the historiography of communalism, both, play a part. Perceived Hindu hurt is today on full display as a proud, weaponised faith with a militarized Lord Rama as its icon. Sita, is the feminist interloper of much-loved Hindu lore. My mother, a Sita, (Setalvad), religious after a fashion was so devastated by the demolition of the Babri Masjid, that she spent weeks in December 1992 –while I covered the brute violence for Business India magazine—writing to over 100 Muslims of her acquaintance, expressing personal anguish that her faith had been demeaned in such a way at Faizabad). Ram's Sita brought a kingdom to its knees by refusing a chastity test has vanished from the story telling as has the popular north Indian greeting, Jai Siya Ram.' Manipulated histories of past Muslim aggression when prejudicially applied to all rulers born Muslim are perversions while honest historical inquiries will reveal rigidity in governance over different phases of our history.
The question for modern Indians is, will reason, empathy and constitutional inclusion continue to govern us? Or will we, just as Erdagon-ruled Turkey is presently doing, herald a dark and medieval past? Ironic is it not that 22 days before the Bhoomi Pujan at Ayodhya took place, 16th century's Hagia Sophia. one of the most enduring symbols of eastern Christendom, converted by force into mosque, under the Ottomans when they took Constantinople in 1453 and which was declared a museum under the secularising zeal of Mustafa Kemal, has (surprise of surprises?) by a decision of the Court which re-visited and nullified the 1935 decree, converted it into a Mosque. A similar judicial rescue of the executive is the Indian case where the land of a centuries old mosque was given for constructing a temple (November 2019). Erdagon's Turkey that has taken over a historic Christian place of worship houses 2,500 political prisoners in its jails for not fault except they resist an autocratic regime.
The similarities run stark and deep.
Kan Kan me Vyape Hai Ram, Mat Bhadkao Danga lekar unka naam (Ram exists in every pore of our being/existence; don't provoke riots in his name). This was a powerful slogan for a pamphlet authored by the Sampradayikta Virodhi Andolan (SVA) in the tense ridden days prior to the Babri Masjid demolition. Prem se kahon hum insaan hai, was our answer –on stickers–to the agro slogan Garv se kaho ham Hindu Hai we distributed in several thousands in and around Bombay. Both slogans came in for the usual cultural dissection and debate, not least because the first was appealing to the Sanatani Hindu believer and not taking a hard, secular position. Both worked, somewhat if in a limited way puncturing the discourse that prevailed. The fact that mainstream politics from the centre or left was unable to use some of these creative articulations speaks of a state being irrevocably pushed and pulled towards an extreme. An extremity of exclusion.
Newsroom and the Rashtra
The heady days of the 1980s and 1990s saw the print media as an honest chronicler of the time, calling out the march of hate, for what it was, and is. Today we see the transformation of India into a rashtra manifest in most newsrooms where a toxicity of language and aggression of approach is colouring both the independence and integrity of reportage and comment. Not for the post 2014 Bharat studios, the subtleties of a calm, vigorous, intense and contested debate or discussion. We saw a few of those stellar markers in the early days of private television in India, where not just news hour debates but programmes, modeled on the US parliamentary debate (Star TV/NDTV) actually brought in protagonists holding different views to enable an informed discussion. Today but for a few exceptions (Ravish Kumar, Srineevas Jain both of NDTV) Indian commercial television has been selling the temple site as place of worship cum tourism for over a week now! Worse even, in March 2020 TV channels were responsible for systemic hate-letting against India's minorities especially as they unleash hysterical, unverified programming on the 'Tabliqui Jamaat being a super spreader of Covid-19' inviting comment on how such provocative pogrammes could actually be analysed as 'Journalism as Genocide.' That, channels like the India Today, could be party to such programming is testimony to the toxicity that has invaded India's newsrooms. (https://twitter.com/suchitrav/status/1249090556741013504?lang=en)
On Rahul Kanwal and "Journalism as Genocide". https://t.co/VlOFsJMsAI

— Suchitra Vijayan (@suchitrav) April 11, 2020
August 5, 2020, for the English language newspapers, it seems 'safer' to editorialise on the restoration of democratic rights in Jammu and Kashmir rather than question the antecedents and build-up of the event at Ayodhya. Zee News, TV 18 (that claims a 700 million viewership), ABP News all bring us the Bhoomi Pujan (ritual prayer) Updates this morning. Among the newspapers, both Indian Express and The Hindu have refrained from any editorial comment. The Hindustan Times has been more forthright, Ayodhya is a sign of Hindu faith; make it a site of secularism too says its lead edit also urging that, 'the contentious history leading up to the temple cannot be erased. The fact that Muslims have abided by the rule of law and accepted the SC verdict in the spirit of closure is laudable — but cannot take away from the insecurity they have felt at the political mobilisation around the issue. The fact that the Babri masjid was demolished, and this was illegal according to the same SC verdict that allowed the temple, cannot be denied either. It is, therefore, incumbent on Mr Modi to not only mark the day as one of celebration for the devout, but also a day of sobriety, reaching out to those on the other side of the divide." The Telegraph has no editorial on the issue and has relegated coverage to the inner pages, Deccan Chronicle has similarly downplayed the event while the all pervasive Times of India(TOI) has, predictably, concentrated on Modi-fying the victory on the front page, "'Back in Ayodhya after 29 years, PM to lay first Ram tempe brick today."

Quite a come down from the halcyon days of the 1990s.
[[1989-1990: LK Advani led the rath yatra from Somnath in Gujarat through Maharashtra, Madhya Pradesh, Delhi, and Purulia in West Bengal until its culmination. News reports of the period portray the then BJP president in a defiant and angry mode, as he challenges the law and order machinery to dare act against him. These reports also warn of the fast-deteriorating ground reality around the trail of the rath yatra that caused deep polarisation and brutal and violent communal outbursts.

Trail of Violence
In a long report, The Telegraph (Insight) dated October 14, 1990, was scathing in its comment. The newspaper has likened Advani's rath with 'Chariots of Fire.'
"…The extent to which communal passions have been heightened is evident simply by taking a look at what is happening in UP today: even before Mr Advani's rath has entered the state, the death toll in communal clashes has gone up to 44. And with the BJP chief about to enter UP, there is apprehension that this figure might shoot up…When the rath moved into Maharashtra from Surat, the armed Bajrang Dal activists were less prominent — but the speeches of the BJP leaders were as full of venom… ""
Everywhere that Advani's rath went, bloodshed followed. Within days of him passing through Solapur, on October 3, communal clashes claimed 20 lives in Kolar, Chennapatna and Ramanagram and another 12 a few days later in Davangere. In nearby Mandya and Hasan places of worship of the minority were desecrated.

Madhya Pradesh, Rajasthan, all affected
The sinister message of the sangh parivar was clear. Browbeating Muslims to choose the masculine Rama over the thuggish Babur as he wound himself through 13 of Madhya Pradesh's 45 districts in Central India, Advani was re-fashioning Indian nationhood, even as the institutions of the republic impotently watched.
'Stop rath yatra, government told', read a headline in The Hindustan Times, October 7, 1990. An article in The Sunday Observer, dated October 14, 1990 titled, 'The Communal Flare-up' was authored by none less than Sudheendra Kulkarni, then assistant editor with the paper. Kulkarni later rose to become officer on special duty to Prime Minister Atal Behari Vajpayee. The article tracked the spread of communal tensions accompanying the bloody route of the yatra: Tumkur, Mandya, Kodagu or Coorg, Chitradurga, Mysore, Mangalore, Shimoga, parts of Bangalore city itself and even Dharwar in North Karnataka all reported instances of mounting tensions and even minor clashes.
The cruelties were more than minor: an entire hamlet of Muslim farmers near Chennapatna was burnt down, in Kolar district, too, Muslim houses in several villages have been reported to have been attacked by unknown outsiders; in Bah Malkheda, a village in the north-eastern district of Bidar (which borders Maharashtra and Andhra Pradesh), seven persons, including a woman and a child, were roasted alive, in a clash that was set off by nothing more than a minor altercation between two drunken youths! The harvesting of hatred had well and truly started.
An editorial in The Times of India, dated October 5, 1990 called 'Playing With Fire' really sums it up:"If the BJP president is congratulating himself on the success of his rath yatra – and going by his recent utterances in Maharashtra he seems to be doing just that — the rest of the country has reason to be greatly worried. For, with the conclusion of the Gujarat chapter of the programme, it should be plain that Mr Advani's campaign is leaving a trail of destruction in it's wake. Communal riots have already broken out in Baroda and Banaskantha. It is difficult not to see the connection between the rath yatra and the Ram Jyoti campaigns on the one hand and the heightening of communal tensions in different parts of the country on the other… Indeed the collection of lethal weapons, particularly of trishuls, gory ceremonies and performance of other rituals designed to create a spirit of militancy… it would be something of a surprise if violence did not follow it.
"By taking the lead in the campaign whose divisive and destructive potential is just going to unfold …he has considerably lowered his political stature. His inflammatory speeches, his indulgent wielding of glittering Sudarshan Chakras in public and his endorsement of the most bigoted among the militants threaten to identify him with the likes of Acharya Giriraj Kishore of the VHP… If Mr Advani is concerned about the unity and integrity of the country and stands for the defence of law and order, he should reconsider his course."

1992: Did the Violence stop after the 400-year-old Mosque had been pulled down in full public view?
Here are some of the newspaper headlines from the period:
'Over 200 killed in nationwide frenzy', reads The Indian Express, December 8, 1992;

'Anarchic situation in Ayodhya,' is the headline of The Hindu, December 8, 1992;

'SC hints at trial of BJP leaders,' said The Pioneer of December 8, 1992;

'Violence toll crosses 500," was the headline in The Indian Express, December 9, 1992;

"Violence Unabated, toll mounts to 700", The Economic Times, December 10, 1992; and,

"Shoot at sight in Calcutta: Toll mounts to 950, The Economic Times, December 11, 1992.

The Frontline on January 1, 1993 in its story headlined 'Wounds all over — The violent aftermath' said: "It may well go down in history as the worst round of widespread violence the country has seen since Partition: over a thousand people were killed in the week following the Black Sunday. The states of Maharashtra and Gujarat were burning and bleeding with more than 200 of their people consumed by the communal fury in less than a week…. Madhya Pradesh, Rajasthan, Assam and Karnataka were also reeling under the impact of riots. Surprisingly, while West Bengal remained by and large peaceful initially, a belated bout of violence broke out in Calcutta and adjoining districts."
[[This has been excerpted from the author's detailed testimony before the Liberhans Commission of Inqiury]]
Post 1992 India
Twenty-eight years after the act that pulled down a 400-year-old Mosque, an act that has been instrumental in re-fashioning Indian state and society, has the targeted violence stopped? Has the bloodthirst been quenched? Genocidal Pogroms (Gujarat 2002, Muzaffarnagar 2013), Lynchings and an entrenched Institutionalised Bias against India's minorities provide the answer. In its march towards and lust for political power, can or will the bloodletting ever stop?
Living Rooms, Homes and Hearts repel and welcome the Rashtra
In the three decades and more since the movement to demolish the Babri Masjid gained sway and captured the hearts of a vast number of Indians, the metaphor of the construction of a Ram Temple exactly at the spot where the mosque once stood, meant different things to many, as did December 6, 1992. For a large section of Indians, swayed by the heady mix of ritual-worship, religion, hate and politics this was a homecoming that spelled both comfort of hegeomony and superiority of race especially after years of 'enslavement.' In the 1980s and 1990s these were whispered conversations within homes, by 2002 (Gujarat) there was brazen denial of deaths and destruction. By 2013 (Muzaffarnagar) technology had taken over and today –be it Gujarat, Maharashtra, Bengal or Tamil Nadu—it is the filial and professional Whatsapp groups that are sources of the misinformation, suspicion and hate-letting. Trolls trained by the BJP's IT cell, target and decimate opponents online. Politically friendly website and 'news portals' and 'Youtubers' add grist to the mill: who is the enemy, who needs to be targeted, who vilified. The fact that the ruling party brazenly declared its funding of such means and methods of dissemination, unchecked by the Election Commission, tells us how far along we have fallen.
Chabutras (platforms), village courtyards, homes, living rooms is where the battles for nation building are won and lost. We are being told we have lost because we failed to penetrate the ring circles of hate, a mix of poisoned folklore that 'othered' the Muslim (be it through the use of the marigold flower in rituals, the re-married widow for her assertion of sexuality or the demonizing of Christmas celebrations and the cake).
Advani's comments to a group of journalists, following the 'success' of his bloodied yatra are telling, "Even I/we did not know how deep the anti-Muslim antipathy really ran/went." Herein lies the success of the Rashtra's tale: the juggernaut had caught on to something that was there, albeit covered and hidden: a deep-rooted antipathy between religions, each other, as Indians. Many Muslims who had moved away from ghettos were pushed back there after the violence of the 1980s and 1990s. A monocultured nation rests on deeply divided neighbourhoods and cities. Is it any wonder that a VHP activist, way back in 1991, shared a map of Ahmedabad with me; one side saffron, the other green. That year, a man was brutally done to his death from his second-floor home in Narangpura, pushed off, killed. He was a Muslim who had dared move out of the old city areas to a more 'cosmopolitan' part of the city. A few months later, the two women who had had committed murder (an act of 'valour' in purging the neighbourhood) were publicly felicitated during Navratri, the traditional ten-day celebrations that precede Diwali (triumph of 'good' over 'evil').
Can what has been lost to hatred and bloodletting now be regained?

Classrooms is where the battle really lies
Post 1992 a scarred Bombay taught us much. Unlike post Gujarat violence in 2002[i] (where the state brutally scuttled any scope for reconciliation or dialogue) there was scope for healing and some recompense though real, substantive justice to the perpetrators eluded us. Classrooms within Bombay schools had been scarred with the violence, the tales of loss, the fabricated histories. Teachers bluntly asked children who returned home after weeks in camps. "Why have you not gone to Pakistan?" That is when the KHOJ journey began, dissecting worlds, interrogating the insider outsider metaphor, entering the world of the child and ensuring that we tech our young to question. Learning should be not about rote, not about non-contestation but about inquiry. Questions about justice, fear, insecurity, violence, prejudice.
Can we Indians read out Preamble every day (We the People of India… equality of status and of opportunity… justice social economic and political) and ask our young learners not to ask, why justice and our courts is a reality for so few, and denied to so many? Why caste still persists? Why only one section of our population, one caste cleans our filth, our sewers, our streets? Why the arrival of a girl child is not celebrated as it should be, with joy and good cheer as is the birth of a boy? Why our prisons house more than 60 per cent of people who maybe should not be there at all? Why violence is used within our homes, on wives, daughters, son and children? Why gendered violence is not spoken about, still a taboo? Why a country and a nation that arose as one after the ghastly Jyoti (Nirbhaya) mass rape and murder (2016) is relatively silent when a boy and a man are lynched to death, bit by bit?
We began publishing Communalism Combat in August 1993. End of that year, which marked the one year of the post-Babri Masjid demolition violence, December 1993, we penned these notings in that month's issue:
"The year began with unprecedented bestiality. The gang-rape under floodlight of dozens of Muslim women in Surat last December (December 7-8, 1992)- a few Hindu sisters unfortunate enough to inhabit the same locality were also not spared – led by local Congress and BJP leaders set the agenda for the coming months.
"In several incidents of post-demolition violence, women and children were the first target. What marked the difference this time was women participating in and even leading assaults against women from the "other" community.
"In Bombay, middle-class Maharashtrian women at the height of the January riots exhorted their men, 12-year-old sons included, to loot and burn Muslim shops. In another part of the metro, a woman thrashed, relentlessly, a Muslim woman seven months pregnant forcing her into premature labour." (CC, December 1993, Cover Story Lest We Forget)
The signals have been there, for close to three decades, for all to see. Newsrooms, Living spaces Classrooms have merely mirrored these brute on ground realities. For some of us today the impulse remains: to reclaim –in a further enriched and deepened form –the Constitution and Nation from the clutches of the Rashtra. Where the battle for a composite nationhood and diverse cultures steps out of the Hindu-Muslim, religious-secular paradigm and explores issues of control of land and resources, decentralized power and production. Rights and Dignities for all Indians.
But, for any desire to reclaim these spaces needs to come from an all-encompassing citizenry even detached 'professionals.' If the battle is to be fought to win, no one can afford to be a mere chronicler of the times any more, that too from supposedly 'dispassionate sidelines.'

Post Script:
The Covid 19 Pandemic meanwhile has been a leveler. India's Covid-19 tally has risen to 18 lakhs the daily case count surpassed 57,000 on successive days. Apart from powerful politicians,
over in Ayodhya, 15 policemen and a priest had contracted the coronavirus and by August 3, the number rose by five. Hence, only five people will be on the dais including RSS chief Mohan Bhagwat, chief minister Yogi Adityanath and the PM today at the Ram temple site.
---
[i] Ironically the justice route in Gujarat was more successfully as CJP secured 172 convictions of powerful perpetrators, 124 of whom to life imprisonment, though some of these were reversed later