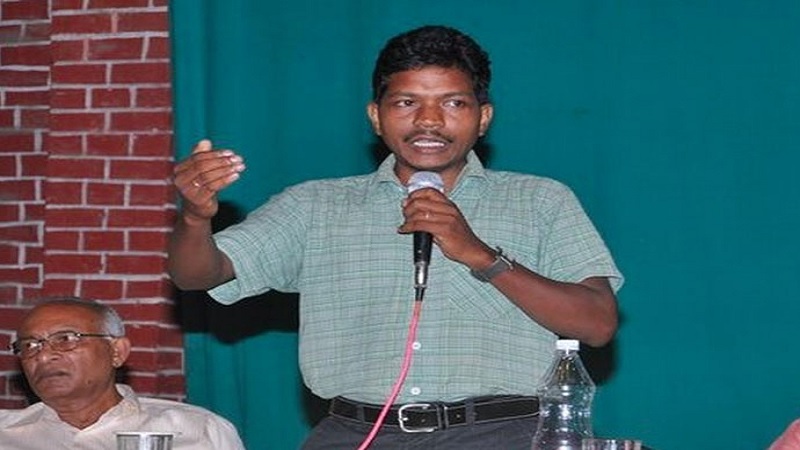 Image Courtesy:countercurrents.org
The National Human Rights Commission (NHRC) has held that the act of offloading the well-known tribal rights activist and author from Jharkhand, Gladson Dungdung from an early morning Air India flight to London in 2016, violated his human rights.
The order read, "The inaction on this behalf on the part of the public servants has resulted in violation of human rights of the victim. In these circumstances, an amount of Rs.25,000 as monetary relief is recommended to be paid to the victim for violation of his human tights by the public servants."
The Commission directed that the Secretary, Ministry of Home Affairs (MHA) must ensure that the amount as recommended by it is paid to the activist within a period of eight weeks and a compliance report is also sent to the Commission. Accordingly, NHRC closed the case.
NHRC had received a complaint from Activist Henry Tiphagne in 2016 alleging that Dungdung was offloaded on grounds that his passport had been impounded since 2013 and was intimated that it will be sent to Regional Passport Office (RPO), Ranchi for verification. But Tiphagne contended that Dungdung had already received his passport in 2014 following which he also travelled to Denmark and London for conferences.
Once NHRC intervened, it was revealed that the Chief Passport Officer received a report that stated that Dungdung's passport was impounded on the recommendation of the local police authorities in Jharkhand. Since, there was no criminal case pending against him, RPO Ranchi withdrew its order and returned his passport. But the Bureau of Immigration argued that they never received any letter from the authority confirming the withdrawal circular So, they relied on the earlier impounding circular and stopped Dungdung at the New Delhi airport.
The Commission responded that due to the mere negligence of the authorities, activist Dungdung's baggage was offloaded and he was deplaned on his way to London. Further, in 2019, the Inspector General of Police, Ranchi furnished that he was issued a passport without police verification. Pursuant to the enquiry by the Special Branch, they discovered that he was allegedly involved in activities that were against the Government's "Anti- Naxal Policies", and "public and government interest". Hence, his passport was impounded after a huge gap of 33 months but no information about this had been sent to the SSP, Ranchi, Jharkhand.
The commission said, "There was a delay of 33 months on the part of the Passport authorities to communicate their order of revocation to the BOI…Due diligence and further verification at that point could have easily averted this unfortunate incident and avoided the inconvenience caused by offloading the passenger from the flight."
The complaint was filed by Henri Tiphagne, the National Working Secretary of Human Rights Defenders Alert-India.
The order may be read here:
Related:
MEA Curtails Freedom of Movement: Tribal Rights Activist Gladson Dungdung Offloaded at Delhi Airport
Kaimur firing: HRDA appeals to NHRC for urgent action