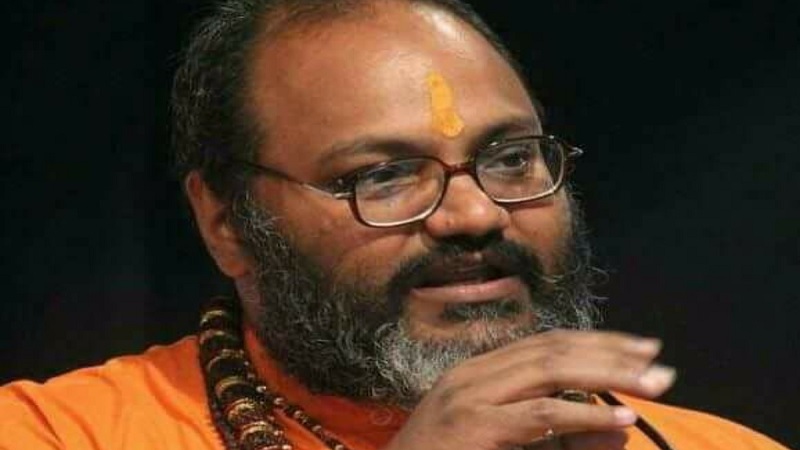 Image Courtesy:thenewsminute.com
The National Human Rights Commission (NHRC) has registered a case against Narsinghanand Saraswati for his hate speech against Islam made in April this year. The action comes after a complaint was filed by Haji Mohd. Sameer Boghani, president of the Madariya Sufi Foundation against Saraswati. Saraswati the priest of a temple in Dasna, Uttar Pradesh, has been projecting himself as a 'Hindutva Leader' and has regularly been making objectionable and communal remarks at many public fora which are then amplified on social media platforms.
After Saraswati made one of the most volatile statements against Islam, Boghani wrote to the NHRC in April calling its attention to the hate speech. He received an acknowledgement soon, however the case against Saraswati was registered on July 19, as an email, and sms alert confirmed.
The Mumbai-based non government organisation named Madariya Sufi Foundation has been actively working to promote peace and communal harmony, and is based on Sufi principles of inclusion. Boghani told SabrangIndia that he was "concerned and worried how the venomous hate speech by self proclaimed Hindutva Leader, Yati Narsinghanand Saraswati was being normalised. Words like 'jihadi' are being generalised normalised and used to refer to Muslims." Bhogani said Saraswati had made "highly objectionable, religious sensitive remarks thru social media platforms, mainstream media channels on our beloved respected Prophet Muhammed (pbuh), Holy Quran & including Islamic religion and its practices."
According to Bhogani, such hate speech is a "criminal conspiracy" that is aimed to "create unrest in the country." He highlighted that the Law Commission Report, 2017 has also stated that "Hate Speech has the potential of provoking individuals or society to commit acts of terrorism, genocide, ethnic cleansing etc. If left unchecked, hate speech can severely affect the right to life of every individual." Bhogani had appealed to the NHRC to "direct investigation agencies to take cognisance of such hate propagandists, rumor mongering speeches/statements that can have catastrophic impacts offline". He had also written to the Ministry of Home Affairs, and sought that Narsinghanad Saraswati be arrested. After months, the NHRC has finally sent its confirmation that a case has been indeed registered.
Saraswati's communal hate speech has also been called out by Citizens for Justice and Peace (CJP). Yati Narasinghanad Sarasawati is a known serial hate offender, who openly supports acts of genocide and violence against Indian Muslims and strives to create an India sans Muslims. CJP has often documented his offensive statements and tactics to garner support for such a mindset. The CJP in its detailed complaint to the Ministry of Minority Affairs and Ministry of Electronics and Information Technology dated March 10, 2021, listed a series of his unverified and provocative information about Islam, claiming Muslims are 'Jihadis' (militants) aspiring to dominate Hindustan, and how through his speeches that circulate online, he continues to appeal to all Hindus to protect their Dharam (religion), daughters and women as there is a Muslim jihadi everywhere, who is killing Hindus in every region of the world. CJP appealed to the Ministries to take action against him and recognise his methods of mobilising the majority community against Islam by using discriminatory terminology like Jihadis, appealing time and again to Hindus to "fight" and "sacrifice" for the sake of their religion to protect their Hindu Rashtra (nation).
The CJP also approached the Ministry of Electronics and Information Technology (MEITy) and the Ministry of Minority Affairs (MMA) with a complaint against Yati Narsinghanand Saraswati, who has been making offensive and discriminatory speech online, selectively targeting the Muslim community. The complaint to MEITY and MMA states how he has constantly vilified the Muslim community and lists down the violation of several sections of the Information Technology Rules, and Indian Penal Code by allowing such content to be easily available online.
"Why are such hate mongers being left free, is there special protection they enjoy? Some action against them needs to be taken," said Bhogani, hoping that the fact that a case has been registered by NHRC, perhaps for the first time against Yati Narsinghanand Saraswati.
Related:
2021: A half-yearly round up of CJP's Hate Hatao Project
CJP approaches NCPCR and NCM against assault on minor for entering temple
Yati Narsinghanand Saraswati: The loudest hate monger against Muslims?