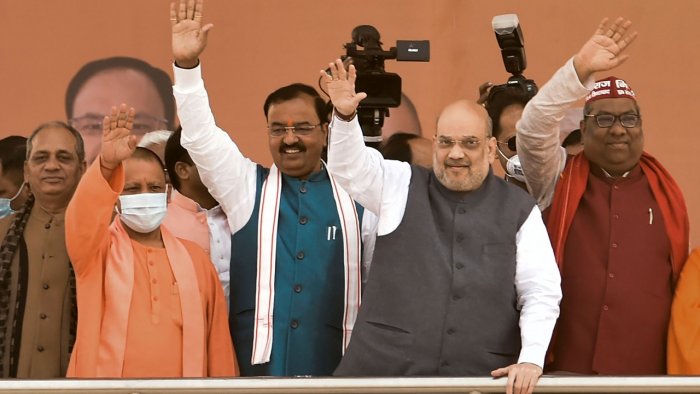 Image: PTI
Uttar Pradesh elections are a study in caste and religion based politicking. However, this time, the resentment from communities which have often been sidelined by policy makers, and targeted by so called "upper caste" groups, have begun to show their anger when politicians come seeking votes. A few days ago, Union Home Minister Amit Shah's rally in Lucknow to show the Bharatiya Janata Party (BJP) "solidarity" with the Nishad Party, which represents the community, was a case in point.
According to news reports, a large number of people from the Nishad community had come to the rally called by their leader Sanjay Nishad. The community reportedly "expected" Amit Shah to make a formal announcement on reservation for Nishads. However, when no such announcement was made by the Home Minister, those attending got angry and many told the local media that they "will not vote for BJP". Soon as the rally ended, a group got angrier and were seen venting it out on the plastic chairs laid out on the ground.
According to a report in Bhasker, in the morning there was much enthusiasm from the community that came to listen to UP CM Adityanath and Home Minister Amit Shah along with Nishad community leaders. All hopes were pinned on an announcement granting reservation, or at least promising it. However, "As the day progressed, Nishad supporters became disheartened" stated the news report, adding that many openly spoke out against the BJP and expressed "deep resentment towards the BJP". Some told the media that if there was no reservation, then there would be no vote.
When CM Adityanath started addressing the rally, "voices of protest" rose from the crowds. According to news reports, there were also slogans of protest on the teacher recruitment issue as the candidates have been agitating for months accusing the government of ignoring the reservation rules. The security forces removed those protesters from the spot. Meanwhile, after listening to the address of the Home Minister, the Nishad supporters soon realised that no announcement regarding the reservation was likely and began protesting.
BJP has planned "200 caste-specific rallies" for UP Assembly Election 2022
Amit Shah's rally with Nishad party chief Sanjay Nishad and another rally – Nishad Samaj Jan Sabha – according to an India Today report, was planned by the BJP after "a survey conducted by its new ally." The Bharatiya Janata Party (BJP) has reportedly planned about "200 caste-specific rallies going into the Uttar Pradesh Assembly election 2022" stated the news report.
The Nishads are a a riverine and fishermen community, and make up a "sizeable share among the Scheduled Caste or Dalit voters in Uttar Pradesh" as they are estimated to form 14 per cent of UP's Scheduled Caste (SC) population. According to reports, concentrated in Purvanchal or eastern Uttar Pradesh they are an influential force in about 150-160 assembly seats across 18-20 districts in eastern and central Uttar Pradesh. The BJP is actively hoping to woo the Dalit voters and the Nishad community is the strength it needs, and so announced its alliance with the Nirbal Indian Shoshit Humara Aam Dal, and Apna Dal (Sonelal). In fact, Apna Dal (Sonelal) leader Anupriya Patel was made a Union Minister.
According to reports, former Uttarakhand governor Baby Rani Maurya (a Jatav) may be asked to contest against Bahujan Samaj Party chief, ex CM Mayawati (also a Jatav), showcasing the community hold over half the Dalit votes in Uttar Pradesh. It is reported, as OBC communities are over 40 percent of total voters in Uttar Pradesh, the BJP has planned 75 rallies and meetings to woo them. Perhaps a counter strategy to the resolve expressed by farmers, especially those from western Uttar Pradesh, who have just returned home after a more than year long protest in Delhi with the resolve that they will not vote for BJP again.
Related:
UP adivasis lament the slow grant of forest ownership rights under FRA
Impressive gov't employment scheme data does not reflect true depth of job crisis
Lakhimpur Kheri killings were planned: SIT
UP's healthcare hub facade built by regime's friends in the news media?