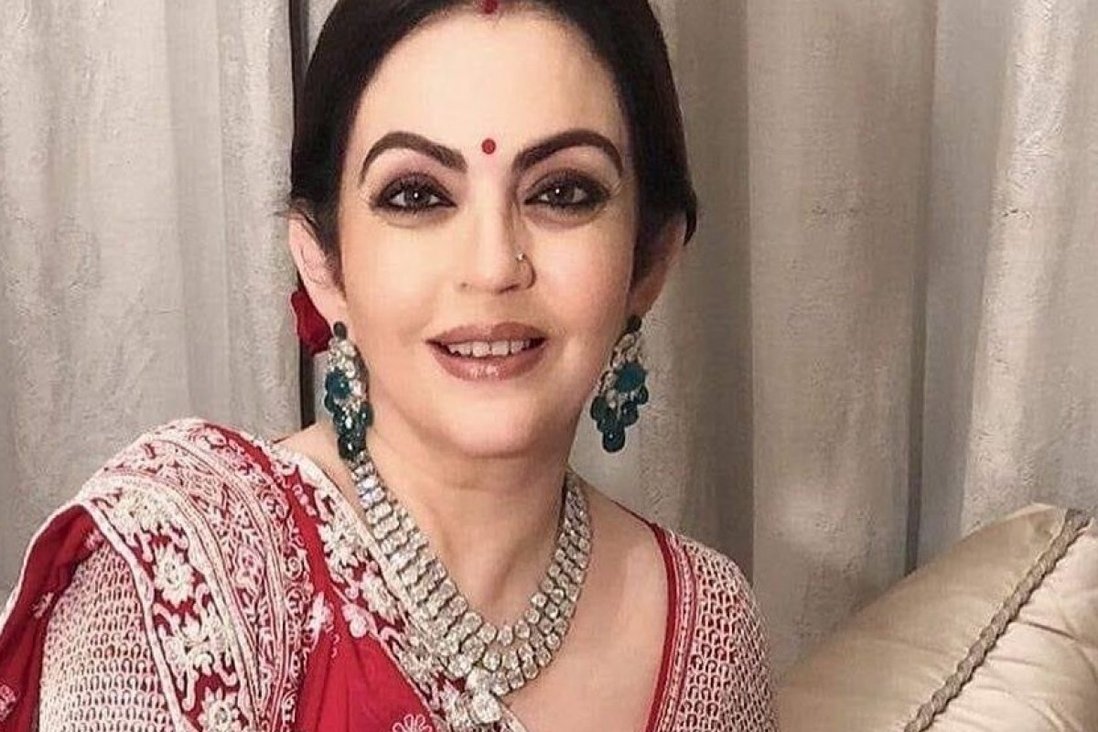 Banaras Hindu University's (BHU) Women studies and Development center has invited Nita Ambani, wife of industrialist Mukesh Ambani, to be a visiting professor. Nita Ambani heads the Reliance foundation, and is also an executive director of Reliance Industries founded by her father-in-law Dhirubhai Ambani.
According to news reports, Nita Ambani has given verbal consent to the proposal by Banaras Hindu University's Women studies and Development center. It was reported that the BHU's Social science dept had sent the proposal on March 12 and offered her the position so she could "improve the living standard of women from Banaras and the Poorvanchal region." The BHU has reportedly chosen Nita Ambani because she is a woman entrepreneur and her Reliance foundation will encourage and train women entrepreneurs in Eastern UP.
The Free Press Journal reported that Prof Kaushal Kishore, a senior faculty member said that Ambani was the best person to teach girl students considering her vast experience in the fields of business as well social activities. He said, "As per the new policy of the Central government, our aim is to link studies with entrepreneurial skills. Neeta Ambani ji fits the slot."
Women's center's coordinator Prof. Nidhi Sharma said, "According to the New Education Policy, linking students to employment is also an objective of educational institutions, which can be achieved through Nita Ambani's business experiences." According to media reports, Prof. Kaushal Mishra, Dean of Social Sciences Dept. added that Nita Ambani was invited to join the dept as visiting professor so that BHU researchers could also benefit from her work and experience.
It has been reported that the BHU is preparing a "roadmap to empower women of the Purvanchal region" and hopes to take this forward by associating itself with Reliance Foundation.
Neeta Ambani graduated with a B.Com degree from Mumbai University, holds a Diploma in Early Childhood Education; and in 2014 was made the executive director of Reliance Industries. She started the Reliance Foundation year 2010. Her bio-data on the foundation's website states that she is "a board member of Reliance Industries and East India Hotels, and leads the cricket team, Mumbai Indians, in the Indian Premier League. She is also the Founder and Chairperson of Dhirubhai Ambani International School, one of India's best international schools. In 2015, Nita Ambani founded an organization called Football Sports Development Limited, which focuses on developing sports in India through grassroots programs."
Lifestyle magazine GQ reported that Nita Ambani who is on the Board of Reliance Industries Limited and EIH Limited (The Oberoi Group) has founded and run five business, philanthropic & educational ventures. These include Reliance Foundation; Mumbai Indians (co-owner), a franchise cricket team of the Indian Premier League (IPL); Football Sports Development Limited; Dhirubhai Ambani International School; and Her Circle, her her latest venture that is a "social media and networking platform dedicated to creating multimedia content and opportunities for Indian women." It was launched on March 8.
Related:
BHU administration agrees to open central library, students prevail!
IIT entrance exams amidst Covid-19?
University Campus or Cantonment?
Varuna Shastri Bridge now the only place of protest in Varanasi: DM