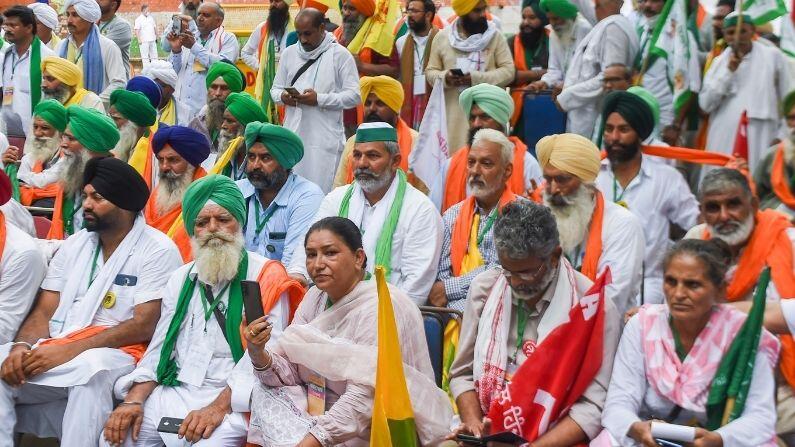 August 9, 2021, was a truly memorable day. The vibrancy and determination of the Left movement was on full display throughout India. Lakhs of people were mobilised by Left class and mass fronts AIKS, CITU, AIAWU, AIDWA, DYFI, SFI, and also by other progressive forces, in hundreds of districts in 25 states across India on the slogan of 'Save India' from Corporate Hindutva, comprising the bankrupt BJP-RSS regime and its unholy alliance with the rapacious corporate lobby. 79 years ago on the same day in 1942, the country had reverberated on the slogan of 'Quit India' given by Mahatma Gandhi against the hated British imperialist rulers.
The massive action evoked memories of the August 9 nationwide Jail Bharo struggle three years ago in 2018, at the joint call of the CITU, AIKS and AIAWU. Over seven lakh people had then courted arrest. This was immediately followed by the massive two lakh strong Delhi rally to Parliament by these three class organisations on September 5, 2018. Red flags dominated the capital that day.
Unprecedented protest
From Jammu and Kashmir, Punjab, Haryana, Himachal Pradesh, Uttarakhand, Uttar Pradesh and Delhi to the North, to Kerala, Tamilnadu, Karnataka, Andhra Pradesh and Telangana to the South; from Tripura, Assam, West Bengal, Bihar, Jharkhand and Odisha to the East, to Rajasthan, Gujarat and Maharashtra to the West; and Madhya Pradesh and Chhattisgarh in the centre; there were huge protest actions everywhere. They took myriad forms of Jail Bharo, Chakka Jaam, gherao of government offices, rallies, demonstrations and dharnas.
Along with workers, peasants and agricultural labourers, women, youth and students hailing from all religions, castes and creeds thronged these massive protests. They squarely attacked the abysmal failure of the corporate-backed fascistic and communal Modi government on all fronts. Hundreds of photos of the August 9 actions are still pouring in from all over the country.
Major demands of the struggle
The major demands of this struggle were the repeal of the three anti-people Farm Laws and the four anti-worker Labour Codes; withdrawal of the Electricity Amendment Bill; central law to guarantee procurement at an MSP of C2+50% for all crops; end to privatisation and disinvestment of the public sector and selling off the country to corporates; immediate slashing of the massive and continuing price hikes of diesel, petrol, gas, cooking oil and all other essential commodities; increase the budget allocation on MGNREGA to ensure minimum 200 days work at Rs 600 per day; enact Urban Employment Guarantee Scheme; compensate job and wage losses during the pandemic; register all migrant and unorganised sector workers; address loss of jobs and livelihood issues and create more jobs; fill up all vacancies in government and public sector immediately; ensure minimum wages and social security and pension to all workers; cash transfer of Rs 7500 per month for all non income tax paying families; 10 kg free food grains per person per month for the entire period of the pandemic; ensure immediate free and universal vaccination to all with priority to frontline workers; ramp up vaccine production and bring the distribution under government regulation to ensure universal free vaccination within a definite time frame; scrap the pro corporate vaccination policy; allocate 6 per cent of GDP for health sector; strengthen the public health system and the health infrastructure to ensure adequate hospital beds, oxygen and other medical facilities to meet the Covid surge; strengthen public health infrastructure including recruiting the necessary health personnel; ensure that non-Covid patients get effective treatment in government hospitals; ensure availability of protective gear, equipments, wage rise etc for all health and frontline workers and those engaged in pandemic-management work including ASHAs and Anganwadi employees along with comprehensive insurance coverage for them all; withdraw draconian EDSO; and scrap new education policy and ensure good education to all students in the pandemic.
AIKS-led Tamin Nadu farmers reach Delhi
A powerful team of more than 1,000 famers hailing from Tamil Nadu, including women farmers, under the banner of the AIKS, holding red flags and raising slogans reached New Delhi on August 5. They had travelled a distance of nearly 3,000 Km by train to reach Delhi. At Delhi they were stopped on their way to Parliament by the police, where they held a public meeting. The protest was organised by the Tamilnadu state unit of the AIKS, to strengthen the all India struggle against the three Farm Laws and for a central law to guarantee a fair MSP.
Their state specific issues were also raised and a delegation submitted a memorandum to the President of India through his office. AIKS General Secretary Hannan Mollah, AIKS Vice President K Balakrishnan, General Secretary of Tamil Nadu Vivasayigal Sangam (AIKS Tamil Nadu) P Shanmugam, President V Subramani, Treasurer K Perumal and President of the All India Sugarcane Farmers Federation D Raveendran were part of the delegation.
The public meeting was addressed by AIKS General Secretary Hannan Mollah, President Ashok Dhawale, Vice President K Balakrishnan, MP from Madurai S Venkatesan, MP from Coimbatore P R Natarajan, MP from Rajya Sabha Dr V Sivadasan, AIKS Joint Secretaries Vijoo Krishnan, N K Shukla and Badal Saroj, Finance Secretary P Krishnaprasad, AIAWU General Secretary B Venkat, Joint Secretary Vikram Singh, CITU Secretary Karumalaiyan, and the above TN leaders.
The AIKS team from Tami Nadu stayed for a week at the protest site at the Singhu border and joined hands with the farmers from Punjab and Haryana who are there for the last eight and a half months. On August 9, an impressive human chain and rally of peasants with the slogan of 'Save India' was organised by the AIKS with hundreds of red flags at the Singhu border.
Kisan Sansad concludes, No Confidence in Modi regime
On its 13th and concluding day on August 9, the all-women Kisan Parliament passed a unanimous resolution expressing no confidence in the BJP led government. This special session gave a clarion call to the people to oust the corporates from agriculture (Corporates Kheti Chhodo) and asked the BJP government to quit (Modi Sarkar Gaddi Chhodo) as it has failed the people by pursuing anti-farmer, anti-worker, anti-people, pro-corporate, authoritarian and communal policies ever since it came to power in 2014.
The no-confidence motion was tabled in the House on August 6 and it was debated for two days. It was based on the fact that the farmers' demands were not being met, despite more than eight months of peaceful protests by lakhs of farmers across the country. Speakers launched a scathing attack on the BJP government which has lost the confidence of the people. During the pandemic it bulldozed the anti-farmer and anti-worker laws through Parliament. As many as 90 women speakers expressed their views on the motion.
The No Confidence motion pointed out that the Modi government had created a hoax of doubling farmers' incomes, and had done nothing concrete towards this. The motion also mentioned that the BJP and the Prime Minister have reneged on their MSP related promises time and time again, including on making a C2+50% MSP a reality for all farmers. The Government has also cheated farmers on the much-hyped Pradhan Mantri Fasal Bima Yojana, where government expenditure increased, farmers coverage decreased and corporations' superprofits escalated. On the import-export front, India's exports have declined while imports have increased. When it comes to government support to farmers during natural calamities, it has been a massive failure.
Several issues of serious concern of ordinary citizens were also raised during the debate on the No Confidence Motion – these included unaffordable and unjustified hike in fuel prices affecting all ordinary citizens of the country, collapse of an under-invested and unprepared healthcare system in the Covid pandemic, unconscionable spying on citizens and elected leaders by the government putting our democracy into jeopardy, serious human rights violations in the name of sedition and other archaic, false charges on defenders of democracy in the country, foisting anti-worker laws in the country to protect big capital, and several anti-farmer measures by the government. Kisan Parliamentarians raised numerous issues concerning their livelihoods and violation of democratic values and basic human rights, while participating in the debate.
The Mahila Kisan Sansad on August 9 also deliberated on the issues of women farmers in India. August 9 was International Indigenous People's Day too. Adivasi farmers are an important group of farmers in India, and the MSP legal guarantee demand of the farmers' movement seeks to secure guaranteed MSP for forest produce also, in addition to other commodities. Adivasis in India are also waging struggles to uphold resource rights over various natural resources including land and forests. The Kisan Sansad fully supported all their struggles.
Some additional suggestions in the resolution on MSP, passed on July 5, were placed before the House and unanimously passed. The House also resolved to adjourn the Kisan Parliament sine die in view of the preparations for the next SKM programmes i.e. 15th August Independence Day to be celebrated as Kisan Majdoor Azaadi Sangram Divas and Mission UP-Uttarakhand.
The house also passed a resolution hailing the performance of our players in the Tokyo Olympic Games by winning Gold, Silver and Bronze Medals for the country.
Adopts a MSP resolution
Earlier, on August 4 and 5, the Kisan Sansad discussed the current situation with regard to cost of production calculations by the Government of India wherein several costs are being suppressed. The Kisan Sansad strongly condemned the fact that wrong cost concepts are being used by the Modi government, in a deceitful manner, for MSP declaration. Instead of using a C2+50% formula, the Government is using the A2+FL (Family Labour) formula, flouting the recommendation of the Swaminathan Commission. There are many agricultural commodities which do not have any MSP declared, while the MSP that is declared is meaningless without mechanisms for guaranteeing such an MSP to every farmer.
The Kisan Sansad passed a resolution directing the Government of India to immediately table a Bill that will fully address the current injustice in terms of cost calculations, MSP formula and guaranteed MSP operationalisation. Such a statute should cover all agricultural commodities and all farmers. It also asked for implementation of the many progressive recommendations of the Swaminathan Commission. The operative part of the resolution of August 5 was as follows:
A. The Government of India is directed to introduce a Bill that incorporates the following essential elements immediately and the Indian Parliament is directed to pass the same:-
– which will confer remunerative prices of at least 50% over comprehensive cost of production C2 as recommended by the National Farmers Commission, in addition to some agricultural commodities getting MSP at more than C2+50% to address skewed cropping patterns;
– which will also address cost components that are being miscalculated and suppressed at this point of time, as well as improve the surveys which arrive at cost estimations as per Ramesh Chand Committee report;
– that such a statute incorporate institutional architecture required for making remunerative MSP a reality for all farmers;
B. the Government of India and state governments where required, are directed to implement immediately progressive recommendations in the National Farmers' Commission reports (Swaminathan Commission) related to operationalisation of the definition of 'Farmer', prevention of acquisition of agricultural land, on provision of pensions to all farmers, on providing universal, effective and adequate crop insurance and disaster compensation to all farmers for all kinds of risks etc.
Opposition MPs visit Kisan Sansad
On August 6, MPs of different Opposition political parties visited the Kisan Sansad. They watched and listened to the proceedings of the Kisan Sansad in a specially arranged Visitors' Gallery. These MPs said in their media bytes that they are extending their full support to the protesting farmers on their demands. MPs belonging to various parties like Congress, DMK, RJD, CPI(M), CPI, RSP, Shiv Sena, TMC, IUML etc. visited the Kisan Sansad. The Speaker of the Kisan Sansad thanked the Opposition MPs of India's Parliament for their support.
On the other hand, the Kisan Sansad also noted that parties like BJD, TRS, YSRCP, AIADMK, TDP and JD(U) have been participating against farmers in Parliamentary debates on various Bills. SKM warned them against their anti-people positions.
Independence Day on August 15 will be marked as Kisan Mazdoor Azaadi Sangram Diwas, and SKM has given a call to all its constituents to mark the day with tiranga marches. On that day, tractor/motorcycle/cycle/cart marches will be taken out to tehsil/block/district headquarters, or to the nearest kisan morchas by farmers and workers. All vehicles will fly the National Flag.
*The writer is all India president of the All India Kisan Sabha.
Related:
Kisan Sansad urges Parliament to dismiss the AQM Bill