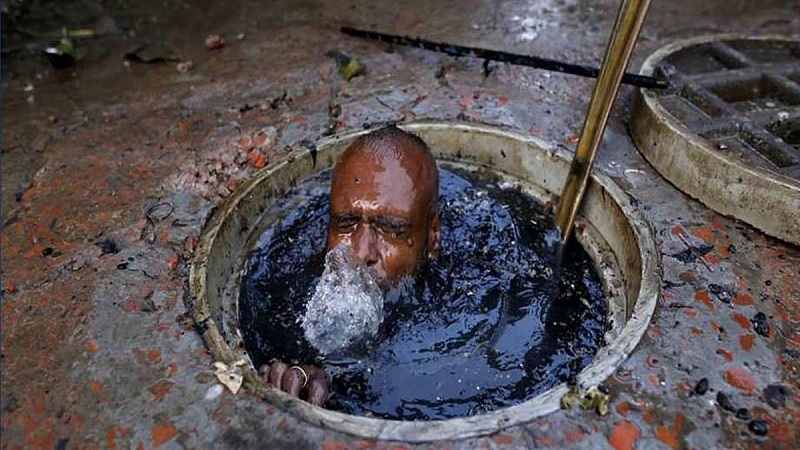 Representation Image | thestatesman.com
Dalit rights activist and Safai Karmachari Andolan (SKA) founder Bezwada Wilson has shot down Union Minister Ramdas Athawale's claim that no deaths have taken place due to manual scavenging, reported UCA News on March 18, 2022. Dubbing it an insensitive statement, Bezwada said a Minister of Athawale's position should not make such irresponsible remarks.
On March 15, Member of Parliament Dushyant Singh asked Athawale about the state-wise number of deaths due to manual scavenging in the last five years, along with the number of family members who received compensation after the deaths.
To Wilson's shock, the Social Justice and Empowerment Minister's response before the Parliament was that not a single manual scavenging death was reported during this time. The 325 deaths he cited were dubbed as 'accidental deaths' during hazardous cleaning of sewer and septic tanks. Wilson called this reply "an insult to the families of manual scavengers"
According to Wilson, at least three people have died while cleaning a septic tank in Mumbai in March alone! Further, he said SKA found at least 45 deaths due to manual scavenging in 2021 alone, with Karnataka accounting for at least five deaths. Calling Athawale's speech "misleading and incomplete", Wilson said the government's failure to acknowledge casualties was "disheartening."
Data offered by the Centre
With regards to compensation, Athawale said that affected families are provided ₹ 10 lakh in accordance with the Supreme Court's judgment in 2014. However, the information annexed showed that only 276 families received compensation during the last five years despite 325 such deaths. This leaves out 49 families or affected dependent groups.
Of the states and union territories listed, only Bihar, Chhattisgarh, Chandigarh, Karnataka, Kerala, Madhya Pradesh, Odisha, Tamil Nadu and Telangana compensated affected families with the appropriate ₹ 10 lakh. The rest of the regions either provided less than the aforementioned amount or haven't compensated families at all as of yet. Overall, 31 families did not receive full compensation.
For example, Uttar Pradesh that recorded 52 deaths, the highest figure in the given data, compensated only 27 families with the full amount and gave less than ₹ 10 lakh to 17 families. This still leaves out eight families deserving compensation by the government's own record.
Similarly, Delhi with 42 recorded deaths fully compensated only 37 families. The status of compensation for the rest of the families is unknown. A similar story persists in Maharashtra with 30 deaths but only 11 fully compensated. In the case of these two regions, the remaining families and dependents were not even provided any fiscal payment at all. Only Punjab accounted for all recorded deaths (16) and compensation by providing the full amount to 10 families and partial payment to six families.
Haryana recorded 33 deaths, fully paid 23 families and partially paid six families. Rajasthan and West Bengal with 13 such deaths each fully compensated 11 and eight families respectively and partially paid one family each. Meanwhile, Goa, Tripura and Uttarakhand claimed to have zero deaths due to manual scavenging.
Aside from deaths, Singh also asked about measures for rehabilitation of manual scavenger families after the loss of a family member, government action against contractors and names of states that have banned manual scavenging.
To all this, Athawale listed various government schemes and mentioned that manual scavenging is a banned activity all over India as per the Prohibition of Employment as Manual Scavengers and their Rehabilitation Act, 2013.
Related:
Protection of Manual Scavengers under the law: The real picture
Dalit man forced to enter and clean sewer in Gujarat
Dalits and Adivasis suffered violence and discrimination even in 2021
Varanasi: Sanitation worker dies after being trapped in sewer line for 18 hrs!