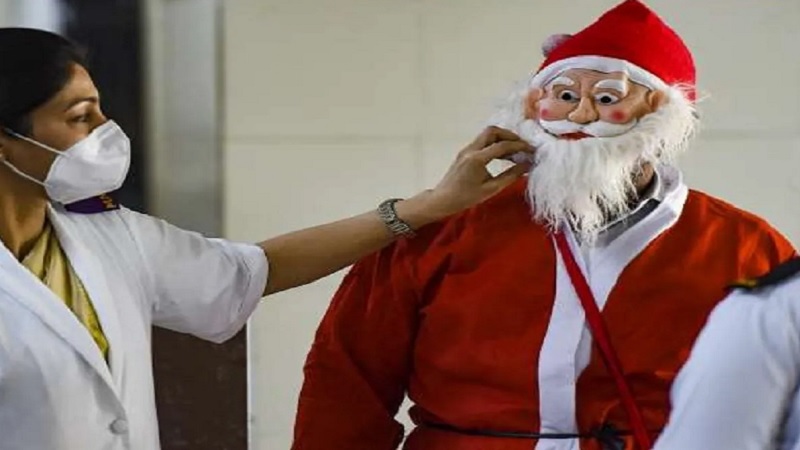 Image Courtesy:timesnownews.com
As the world readies for Christmas and looks forward to the New Year, the Delhi Disaster Management Authority (DDMA) has put a damper on all public celebrations. The DDMA, on Wednesday issued an order "banning all cultural events and gatherings for Christmas and New Year celebrations in the national capital". The DDMA has cited "rising cases of Omicron variant" of Covid-19 as the reason, and instructed the District Magistrates (DM) to and Deputy Commissioners of Police (DCPs) to "ensure that no cultural event/gatherings/congregation/take place for celebrating Christmas or New Year in NCT of Delhi."
According to DDMA's order dated December 15, "All social, political, sports, entertainment, cultural and religious events are prohibited and no gatherings can be held." The authority, in its latest order, stated that there had been rampant violation of Covid norms on several occasions and the necessary restrictions are not being followed. It was instructed that "all District Magistrates as well as all District DCPs shall conduct surprise checks/ raids in their respective areas and shall take strict penal action against defaulters…"
Why wait till Christmas?
However, the timing to wait till Christmas must be noted. Just a month ago, Delhi Chief Minister Arvind Kejriwal on November 04, 2021, performed the Lakshmi Puja on Diwali at the Thyagraj Stadium along with his Cabinet colleagues. The event was telecast live and it can be seen that the CM has himself not worn a mask, nor is there ample physical distancing on the stage where the Diwali puja was held. The Delhi government had performed a similar puja last year as well for the biggest Hindu festival celebrated in India and abroad. Delhi of course has a mixed population of all religions, however the government has now chosen to organise its second Diwali puja using public funds, but put a ban on Christmas gathering when it could have issued Covid-19 appropriate instructions on the number of people allowed at Church worship at a time. Most churches have self regulated and held Mass/ or the main congregational prayer online or televised it on private broadcast television and social media channels. It will be for the second year that Christmas mass may not be held inside a church.
The "auspicious" wedding season in north India is also ebbing after weeks of celebrations, and the DDMA has allowed restaurants, bars, and auditoriums to function at 50 percent capacity, and put a ceiling of 200 people in wedding gatherings.
According to reports, Delhi's Omicron tally is around 57 cases at the moment, followed by Maharashtra (54), Telangana (24) and Karnataka (19). The Omicron variant of Covid-19, believed to be one of the most infectious strains of the virus, has now spread to over 70 countries across the world including South Africa, India, UK and other densely populated countries. And though this variant has not proved to be as deadly as its predecessors like the Delta variant, experts are urging people to exercise caution with many countries now asking citizens to get a third booster shot.
The DDMA has directed officials to strengthen the enforcement machinery and deploy "sufficient number of enforcement teams on field for keeping utmost vigil at public places…" Officials have been told to conduct surveys and identify areas that have the potential of becoming hotspots of Covid-19 and the Omicron variant. It also told the Residents Welfare Associations (RWAs) of various areas to enforce Covid-19 prevention methods.
"Since, wearing of mask is the most important weapon in fight against Covid-19, RWAs and MTAs should be advised not to allow their residents, shopkeepers and customers without mask in their respective areas/public places," ordered the DDMA.
?Delhi Health Bulletin – 22nd December 2021? #delhiFightsCorona pic.twitter.com/FpBSpre2Y1

— CMO Delhi (@CMODelhi) December 22, 2021
Delhi Chief Minister Arvind Kejriwal who is also the Aam Aadmi Party (AAP) national convener is hoping to be elected to power in Goa Assembly. He recently promised Goans free pilgrimages to religious sites, "If AAP comes to power, we will arrange for free darshan of Lord Ram in Ayodhya. Christian brothers and sisters will be taken to Velankanni and Muslims to Ajmer Sharif. Many people also have faith in Sai Baba, and will arrange trips to Shirdi for them."
Related:
Covid-19: Omicron poses new challenges, spreads to 77 countries
Challenges of 'hyper-nationalism' highlighted in Vatican's Diwali message
AAP's Diwali Pujan – the power to presume