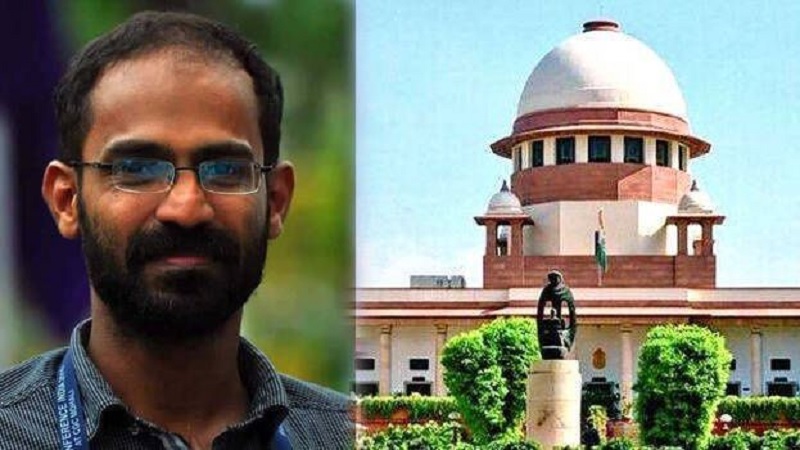 Image Courtesy:m.dailyhunt.in
The Supreme Court on Friday heard the submissions made by The Solicitor General of India, Tushar Mehta for the state of Uttar Pradesh.
As per LiveLaw reports, SG Tushar Mehta submitted that the respondent State had no objection to Siddique meeting his lawyers. "There was no objection and there is no objection", he said. He outright denied the allegations that Siddique Kappan was denied access to a lawyer.
In addition to this, the Bench of Chief Justice SA Bobde expressed his displeasure in the manner earlier judicial proceedings were reported in the media in this case. According to Bar and Bench, CJI Bobde termed the media reportage claiming that court had denied relief to Kappan "unfair".
SG Tushar Mehta also opined that the reporting was inaccurate and such reports need to be clarified.
"There was very unfair reporting about an earlier order. It was said that we denied you relief", remarked CJI SA Bobde. However, Senior Advocate Kapil Sibal, appearing for the petitioner Kerala Union of Working Journalists (KUWJ), submitted that "he had nothing to do with it" and "unfair reporting happens everyday."
The case is now listed for next week.
Background
In the previous hearing, on November 16, the Bench headed by CJI Bobde, Justices AS Bopanna and V Ramasubramanian had adjourned the matter to November 20 and issued a notice to the State Government of Uttar Pradesh to file its response in the habeas corpus plea filed for release of Siddique Kappan.
During the brief hearing, CJI Bobde had remarked, "We are trying to discourage Article 32 petitions" and told Senior Advocate Sibal that he might be asked to approach the High Court as they were not inclined to encourage Article 32 petitions.
"Why did you not approach the High Court?', CJI Bobde had asked Mr. Sibal on November 16. Mr. Sibal had submitted that as Kappan was not allowed to meet anyone in jail, he could not go to the High Court. Thereafter, the court sought a response from the Uttar Pradesh Government and adjourned the matter to November 20.
Siddique Kappan, a freelance journalist was arrested on his way to Hathras on October 5 for carrying suspicious literature and booked under sections of UAPA and IPC, alleging promotion of enmity between different religions and funding a terrorist act.
Subsequently, KUWJ had moved a habeas corpus petition in the Supreme Court against his arrest, deeming it constitutional. An intervention application was also moved by the petitioner union seeking directions from the top court to permit Siddique to speak to his lawyers and family members.
SabrangIndia reported yesterday, November 19 that he was finally allowed to speak to his lawyer for five minutes after 49 days in Mathura jail.
Related:
Freedom of Press in UP: Journalists killed, attacked, arrested, not allowed to talk to lawyer
We are trying to discourage Article 32 petitions: Chief Justice of India
Hathras arrest: Union moves SC to allow journalist to talk to family, lawyers