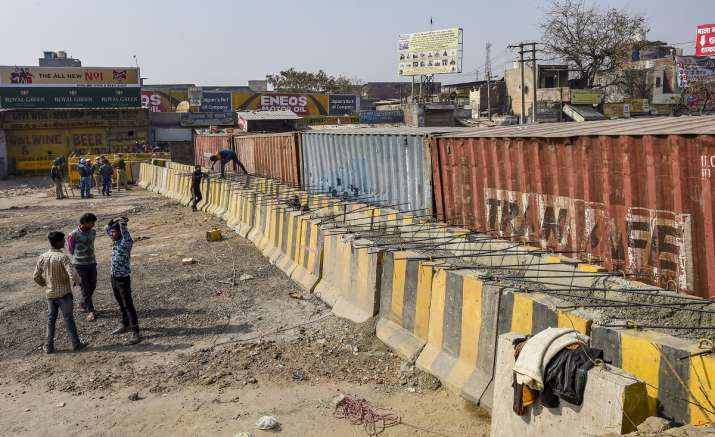 In the ongoing Budget Session 2021, the Ministry of Home Affairs (MHA) was asked to answer about the the various spots at the Delhi Borders where roads have been dug up and barbed wire fencing has been put in place, due to security reasons in view of the farmers agitation.
Rajya Sabha Member from NCT of Delhi, Narain Dass Gupta asked whether it is a fact that nails were fixed on the road at the farmers' protest site near the Delhi-Uttar Pradesh border and whether such an action on domestic ground against Indian citizens is permitted under any statute?
The Minister of State, G Kishan Reddy, provided the same answer for both questions. His written statement read: "Delhi Police has informed that no road has been dug up at Delhi borders in view of farmers' agitation." However, he stated that the Samyukt Kisan Morcha broke the barricades, in violation of permission granted for taking out the Kisan Tractor Parade on a mutually accepted route on January 26.
He said that, "They proceeded towards Central Delhi despite being stopped at other barricades inside the city and broke those barricades as well." Taking into consideration "the manner in which the protesting farmers used tractors as weapons for breaking the barricades and injuring policemen", he informed the Rajya Sabha that barricades at the borders of Delhi were strengthened to prevent any possible repeat of the conduct displayed on Republic Day.
The Centre was also asked to provide details about the cases that have been registered against the persons who have allegedly misused the platform of the protesting rally in the name of Farm Laws. To this, the MHA responded saying, "Delhi Police has informed that 38 cases have been registered against the persons (including foreigners) who violated various legal provisions (including cybercrime) recently in Delhi, while protesting in the name of Farm Laws."
Reddy has also said that there is adequate deployment of police personnels at the border to provide alternative routes to the general public and ensure smooth movement of traffic at the borders.
As per a SabrangIndia report, the Ministry of Agriculture and Farmers Welfare has also refused to provide any compensation to families of farmers who have died during the on-going agitation. In response to the question on why tear gas and lathi charge was inflicted upon farmers, the MHA tried to justify the same by stating that "large convoys of protesting farmers in tractor trolleys tried to furiously force their way and go past Police barricades to enter Delhi".
The answers may be read here:
Related:
Gov't will not compensate families of farmers who died during protests: MHA
No protesting farmer summoned by NIA: MHA to RS
Farmer's death on R Day: Delhi HC seeks status report from Police
Farmer Navreet Singh's death not due to gun-shot injury: Police to Delhi HC