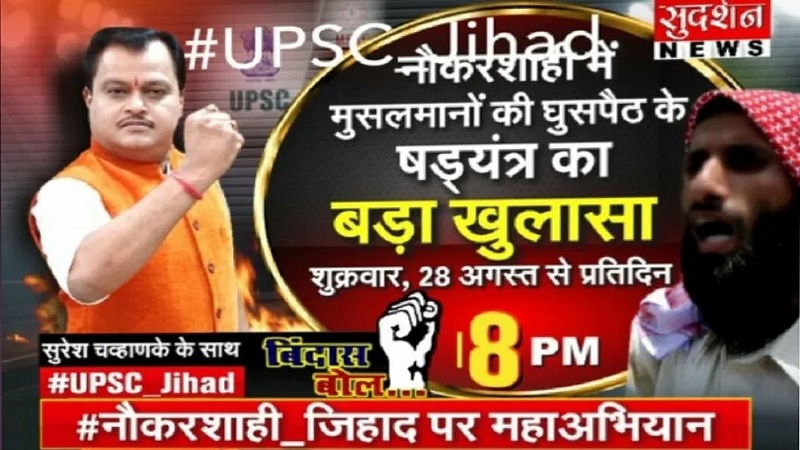 The Delhi High Court has issued notice in a petition challenging the order from Ministry of Information and Broadcasting (I&B) allowing telecast of the show "Bindaas Bol" on Sudarshan News. The court, however, refused to stay the broadcast of the show.
The show invited much criticism only basis its promotional video that the show would be an 'expose' on "Muslamano ki Ghuspaith ke shadyantra ka bada khulasa (The conspiracy behind Muslim infiltration in UPSC – The Big Reveal). The Delhi High Court had previously (on August 28), granted a stay on the broadcast on the show; the same day that it was slated to be telecast at 8 P.M.
This petition has been filed through Advocate Shadab Farasat and alleges that the Centre had failed to exercise its powers under section 19 and 20 of Cable TV Act which enables the government to prohibit transmission of any show that is not in conformity with the programme code.
The petitioners have alleged the impugned order of I&B Ministry is a "non-speaking" order and is based on the assertion by Sudarshan News that the show does not amount to violation of the Programme Code.
The order states that if the show is found to be violative, action may be taken and directs Sudarshan News to ensure that the show does not violate any programme Code.
After the order came on September 9, Suresh Chavhanke, the Editor-in-Chief of the channel, declared that this show will be aired on Friday, September 11. He then went on to share the same communal toned promotional clip that he had done before, and ignited a massive controversy. Chavhanke had advertised the show as an 'expose' on Jamia Milia Islamia and the Muslim community, claiming that the success of Jamia Milia Islamia students in the Civil Services examination 2020 was "a conspiracy to infiltrate the civil service by Muslims".
The Delhi High Court, on August 28, (in another petition) had directed the Centre to decide on the complaints received against the proposed show. It had ordered a stay on the show's broadcast till the Centre took a decision in the matter.
The IE reported that Chavhanke through the show, wanted to ask, "how their (Muslim) numbers are increasing in civil services. It's because of them being given back door favour, option of choosing Islamist studies, Urdu language, etc. If my show is found unconstitutional or doesn't meet the standard of broadcast authority, then let there be action against me."
Meanwhile, the show will be telecast on September 11 at 8 P.M on Sudarshan News.
Related:
Centre allows Sudarshan News to air controversial #UPSCJihad show
CJP calls out Sudarshan News' hate agenda; moves NBSA
Delhi HC stays broadcast of Suresh Chavhanke's 'UPSC Jihad' show