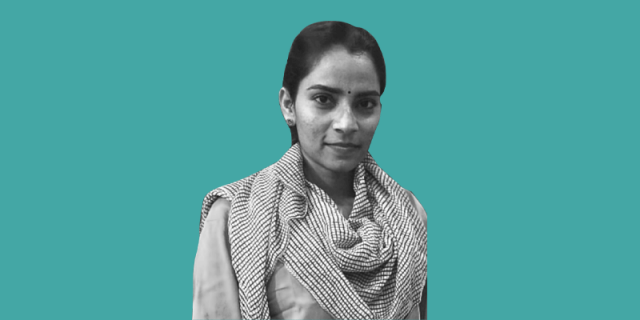 Last week Justice Arun Kumar Tyagi of the Punjab and Haryana High Court took suo motu cognisance of the alleged 'illegal confinement' of the 24-year-old labour activist Nodeep Kaur. Now Kaur, who has been lodged in Karnal Jail since her arrest on January 12, 2021, by the Haryana Police, has been granted bail by a sessions court in Sonepat on Monday February 15.
However, the 24-year-old Dalit labour rights activist of the Mazdoor Adhikar Sangathan, will still remain behind bars for now. This bail has been granted in connection with a case registered against her in January. This is the second of three cases in which she has been granted bail.
According to a news report in the Indian Express, Kaur's advocate Jatinder Kumar said bail had been granted "subject to furnishing of bail bonds of Rs 50,000", a similar amount had been demanded by a Sessions Court which had granted bail to Kaur in a case registered against her in December. Kaur is yet to be granted bail in the third case, which was also registered in January. Bail in this case had been rejected on February 2, by Sessions Court, Sonipat, Haryana as it held that the charges against her were serious. She has been charged under sections 148 (rioting), 149 (unlawful assembly), 332 (causing hurt to deter public servant from his duty), 353 (assault on public servant), 186 (Obstructing public servant), 384 (extortion), 379-B (snatching and use of force), and 307 (attempt to murder) of the Indian Penal Code.
Nodeep Kaur's lawyers are expected to approach the Punjab and Haryana High Court soon seeking bail for the Dalit labour rights activist who has now been in jail for a month. A lawyer was finally allowed to meet her last week, even as jail authorities have now allowed her sister or mother to meet her. Her sister Rajveer Kaur told SabrangIndia she will keep trying. The jail authorities had told her that as Covid protocols were in place family meetings were not allowed anymore. "I managed to speak to her whenever she was allowed a short phone call, every 4-5 days," said Rajveer.
Lawyer, Harinder Singh Bains, who is among the scores who have volunteered legal help to the activists arrested from Singhu border, said he managed to meet Nodeep, a few days ago for around 20 minutes, "Nodeep said she had confidence in the judicial system, and answered my questions related to the case and signed the vakalatnama," Bains told SabrangIndia, adding that the jail authorities have been citing Covid protocols as issued by the government a reason to keep jail inmates from meeting their lawyers and families. "Shiv Kumar (a co accused with Nodeep Kaur) is now kept in Covid quarantine under judicial custody and has not been allowed to meet even a lawyer," added a lawyer who is trying to still get a vakalatnama signed. "The vakalatnama can be signed even without meeting the inmate, so it is not clear why they have not been done yet. Jail authorities it seems are using the Covid-19 procol at their own convenience," he added.
According to lawyer Bains, it was surprising when they were recently informed that there was a third FIR against Nodeep filed on December 28, 2020 at Kundli. "She did not know of this older FIR, till her arrest on January 12, and informed me when we recently met in jail," said the lawyer. Now she has three FIRs filed against her, Fir No. 25, 26, (filed in January 2021) and FIR number 649 (filed in December 2020).
According to the IE's latest report, Kaur's lawyers have said that "Bail bonds have not been furnished yet as there is still one FIR whose bail application is pending before the High Court, so even if we furnish the bail bond in this, she cannot be released until bail is granted in the remaining case as well. That is why we have kept the bail pending and as soon as we get orders from the High Court in that case, we will furnish the bail bonds together."
Meanwhile, the National Herald reported that Karnal Jail refused to grant permission to the Punjab State Women's Commission Chairperson Manisha Gulati, who wanted to meet Nodeep Kaur in the Karnal Jail. According to the report, the jail Superintendent denied the permission on Monday. "This morning the jail Superintendent of Karnal called up the office of Punjab State Women's Commission and said Gulati would have to get the approval of the Haryana government to meet Nodeep Kaur," a commission spokesperson told the media.
Related:
Nodeep Kaur's 'illegal confinement': Punjab and Haryana HC take suo motu cognisance
Karnal Jail cites Covid-protocol, prevents Nodeep from meeting family
Justice for Nodeep Kaur: Trade union activist turns 24 years behind bars