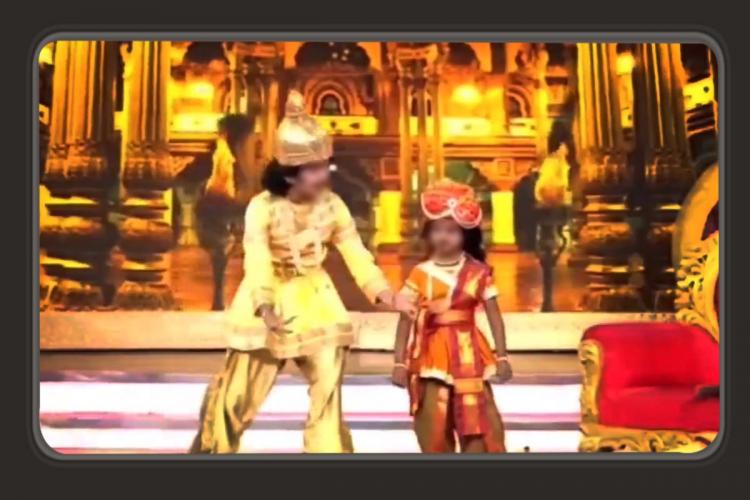 A notice has been issued to Zee Entertainment Enterprises (ZEE) by the Ministry of Information and Broadcasting (MIB) after the Tamil Nadu unit of Bharatiya Janata Party (BJP) filed a complaint alleging "obnoxious comments" had been made about Prime Minister Narendra Modi in a children's talent show. According to a report in The News Minute and other media, the notice was issued after CTR Nirmal Kumar, who heads BJP Tamil Nadu's information technology and social media cell, filed a complaint against the talent "Junior Super Star Season 4" that was aired on television channel Zee Tamil on January 15.
We urge @ZEECorporate to take actions & public apology from @ZeeTamil, Producer, program judges & person responsible for the false comments about @PMOIndia in "Junior super Stars" program. We also condemn for using kids for someone's political agenda.@annamalai_k @Murugan_MoS pic.twitter.com/tIznaBzogx

— CTR.Nirmal kumar (@CTR_Nirmalkumar) January 17, 2022
The BJP leadership of Tamil Nadu, are upset that the show has allegedly "belittled" PM Modi. The episode of a satire skit was performed by children. However BJP state president K Annamalai also raised the issue on Sunday night saying that "Union Minister of State for Information and Broadcasting L Murugan had assured necessary action on the matter." Soon enough a notice was issued to the channel.
Thank you Hon Min Shri @Murugan_MoS avl for standing for justice.

Let the process be fair to both parties. Let Children be not used for any propaganda. That's our wish!

We hold the media in highest esteem and @BJP4TamilNadu will continue to do that! pic.twitter.com/Gfvelkfxpd

— K.Annamalai (@annamalai_k) January 17, 2022
The BJP members and their supporters have claiming that certain scenes in the show "belittle the Prime Minister" based on a two minute-video clip of the episode aired on January 15, showed the child actors narrate the story about "a king who tried to demonetise the currency in a bid to eradicate black money but failed." The two children acting as a king and a minister reportedly talk about a fictional country 'Sindhiya'. In the video they are heard saying in Tamil that the war declared on black money by its leader ended in failure, this according to BJP members' allegations was referring to PM Modi. According to The News Minute the two child actors were "dressed as the king and minister from a popular Tamil historical political satire film Imsai Arasan 23am Pulikesi were seen making fun of the ruler of a country named Sindhiya."
The notice now issued states that ZEE "is requested to provide comments on the complaint to this Ministry within a period of 7 days, failing which further action will be taken." The kids in the satire go on to say dialogues that claim that "instead of eradicating black money, the 'king' merely wears jackets in different colours and roams around" and the plot also allegedly mocks a "disinvestment scheme and the rule of the king in the country", and the show's judges and others present in the audience are seen applauding.
The BJP has alleged that the show 'made fun' of the Prime Minister over the 2016 demonetisation exercise. According to TNM report Nirmal Kumar wrote a letter to the Chief Cluster Officer of Zee Enterprises Limited Siju Prabhakaran saying that the children, aged around 10, were 'deliberately' asked to make these comments against the Prime Minister, and accused the channel of not taking any action to curtail "blatant misinformation" being spread against the Prime Minister.
He claimed that when BJP contacted the show's judges, they reportedly said that "it was not their reaction to the performance" and that they were "shocked at the edit". The BJP issued an official press release, BJP on its displeasure over the show, "It is evident that the channel made no effort to curtail this blatant misinformation passed casually and that too through young children. In an effort to outrun their fellow participants, these children just do what it is told to them. What was being spoken is beyond their reasonable understanding and the guardians of these minors and channel have to be held legally and morally accountable for this act."
Remember the 2020 Sedition case against a school in Bidar, Karnataka?
The BJP members have been regular in their protest against political satire. Satirists such as Munnawar Farooqui, Vir Das, and Kunal Kamra have been targeted on a regular basis. However, targeting children is even more dangerous, in 2020, schoolchildren in Bidar, Karnataka were subjected to police interrogation after performing an, 'anti-CAA' themed play on January 21. A complaint against it was lodged on January 26 for offences punishable under following sections of IPC: Sections 504 [Intentional insult with intent to provoke breach of the peace], 505(2) [Statements creating or promoting enmity, hatred or ill-will between classes], 124A [sedition], 153A [Promoting enmity between different groups on grounds of religion, race, place of birth, residence, language, etc., and doing acts prejudicial to maintenance of harmony]. The young children were questioned by police for days. The complaint had stated that Shaheen Educational Institution attempted to bring disharmony between two communities and have given a wrong message to society through the drama and have tried to oppose the Laws intended to be brought in force. Shortly after the complaint, the school's Principal, Fareeda Begum and Nazbunnisa, mother of one of the children who took part in the play were arrested and were eventually granted bail in February. The District Court of Bidar, Karnataka had made a fundamental observation while granting anticipatory bail in the Bidar school sedition case stating that ingredients of section 124A of Indian Penal Code (IPC) which deals with the offence of sedition, are not made out in this case. The court also observed that the drama has not caused any disharmony in the society and that the dialogue in the play where the children have expressed that they will have to leave the country if they do not produce the documents does not amount to bringing about hatred or contempt or even to "excite disaffection towards government". The court also observed that "everybody has got the right to express disapprobation of the measures of the government with a view to obtain their alteration by lawful means".
These are words from the IPC itself while "expressing disapprobation of the meas­ures of the Government with a view to obtain their alteration by lawful means" did not "excite or attempt to excite hatred, contempt or disaffection" towards the government and hence it did not amount to sedition.
Sudarshan News crew had filmed school children chanting 'will kill to create Hindu Rashtra'
In the latest controversy, from TN Annamalai the State President of TN BJP and a former IPS officer had led the accusations against the show and the ministry had responded. However it is not yet known if the ministry has responded to the TV shows such as those aired by Suresh Chavhanke, CMD and editor-in-chief of Sudarshan News, he also recently tweeted a video where over two dozen boys and girls, many dressed in their school uniform of maroon blazer or sweater, maroon trousers and white shirt, some in casual wear, pledging to "fight, die and kill" to create a "Hindu Rashtra". The kids repeat what the man chants even as a few toddlers are seen in the front. The kids extended their right arm forward and in Hindi said, "We give our word, we pledge to fight, die and kill, if necessary, and be ready for any sacrifice till the last moment of our lives to make this country a Hindu Rashtra and take it forward at any cost. We shall not step back even for a moment. May our Gurudev, our Kul Devata (family god), our Gram Devata (village god), our ancestors and Bharat Mata give us strength and victory."
Related:
Did Sudarshan News trick school children into chanting 'will kill to create Hindu Rashtra'?
MP: Communal flare up after 10-year-old Muslim boy allegedly turns up at garbha venue
Hate Watch: Street play on "Love Jihad" gets Sudharshan TV excited