Since notebandi, the over 80,000 power loom workers from Malegaon has been hit very hard. Incomes have halved, as the power loom now works three days a week instead of six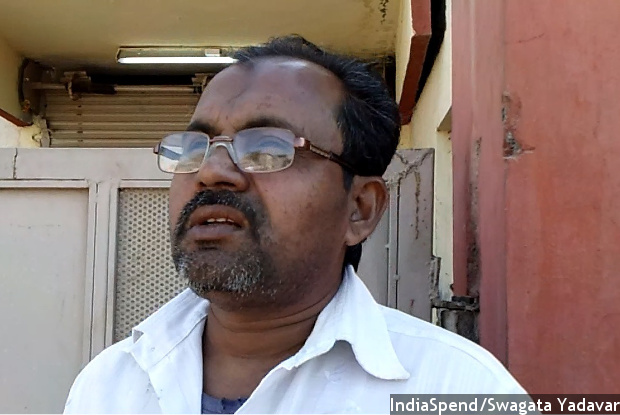 Malegaon (Maharashtra): Over the last two decades, the world has seen dramatic changes – people have moved from landlines to cellphones, from writing letters to using email – but little has changed for Nandan Pagare, a 41-year-old power loom worker. Pagare, who looked much older than his age, has been working in Malegaon's power loom industry, 270 km north of India's commercial capital, Mumbai, since he was 18 years old.
He has graduated to living in a pakka (or cement) house, in Sayni Bhadruk, a village 6 km from Malegaon, but still earns Rs 1,800 a week for spending half his day working in a large factory, whirring with 200 looms. Now, with looms working three times a week instead of six (Friday is the weekly off), Pagare earns half of what he used to. "We are careful with our expenses now. We spend only on the most urgent items," he said.
High electricity costs, international competition, and widespread violation of complex, unreformed labour laws (144 central and 160 state) – these were the issues the government never addressed in Maharashtra's northern textile town of Malegaon. Firms stayed small and the industry on an economic knife-edge. Now, the government's decision to withdraw Rs 14 lakh crore – 86% in value of India's currency in circulation – has dealt a hard blow to 80,000 workers, whose economy was defined by cash. Before notebandi, despite a growing downturn, the town soldiered on.
Source: Multi-Sectoral Development Plan for Malegaon Town by Tata Institute of Social Sciences; Households data, Census 2011; Poverty Estimates 2011-12, Planning Commission; Primary Census Abstract For Slum, Census 2011; Workers and work participation rate, Census 2011.
But when IndiaSpend visited Malegaon, the town's market – usually bustling with shopkeepers, hawkers and roadside eateries on a normal day – was desolate. There was silence in the lanes, where until November 2016, the loud buzz of power looms usually masked all other sounds.

Source: Census 2011
Since power loom is the largest industry in Malegaon, directly employing more than 20% of Malegaon's 386,000 adult population, a recession in the power loom industry affects the economy of Malegaon.
Textile industry struggles with international competition, high input prices
"The Malegaon power loom industry has been under pressure because of high cost of cotton, the main raw material; temporary shutting down of over 700 textile units in Rajasthan, where cloth made in Malegaon would be dyed; and international competition," said Iqbal Amarveer, 44, a third-generation power loom owner.
Amarveer doesn't believe his looms in Malegaon will last long enough for his children to take over the business.

Iqbal Amarveer, 44, a third-generation power loom owner, doesn't believe his looms in Malegaon will last long enough for his children to take over the business.
The textile industry is the second largest employer in India, after agriculture, employing more than 25 million workers, according to the 2015 annual report of the textile ministry. The textile industry, of which decentralised power looms and knitting are the largest components, contributes 2% of India's gross domestic product. Maharashtra, with over 1.1 million power looms, is one of the largest power loom hubs in the country.
Overall, the Indian textile industry is challenged by falling exports, low productivity and rising prices, IndiaSpend reported in July 2016.
"Textiles produced in Indian power looms are not competitive compared to Chinese and Bangladeshi textiles, which is why there is less demand and lower prices for Indian goods," said Dinesh Patole, the state government's labour officer for Nashik and Malegaon divisions.
Why looms work three times a week, instead of six
Most of Malegaon's 1.1 lakh power looms are micro, and small enterprises, each with nine to 12 power looms, according to the 2012 economic report on the Malegaon power loom industry, submitted to the Maharashtra Minority Commission. These looms, many of which are outdated, function in small garage-sized rooms with tin roofs.
In the weeks following demonetisation, power looms, known to work 16-18 hours in a day for six days a week, were working only three days a week – Saturday, Sunday and Monday – halving the wages of thousands of workers.
Most of the transactions in the power loom sector are in cash – power loom owners buy raw material in cash, disburse wages in cash, and sell in cash. While many owners tried to work on credit, they couldn't sustain the same level of production without cash for long, they told IndiaSpend.
"Payments are delayed since owners do not have new notes to give us," said Pagare. Many other workers were being paid in old notes, they told IndiaSpend on December 8, 2016. Many workers were fired as looms were working fewer days, or had remained shut for weeks, due to a cash crunch and fall in yarn prices.
Poor working conditions in factories, unaddressed by government
Even before the withdrawal of old Rs 500 and Rs 1,000 notes, the 100-year-old power loom industry in Malegaon, which earned more Rs 10 crore every day, was known for treating its workforce with apathy. The situation is worsened by India's complex labor laws, and the small size of the power loom businesses.
Pagare is treated as a casual worker, not regularly employed or entitled to benefits of a regular worker, in spite of being in the industry for over 23 years. He is paid weekly wages in cash, has not been registered under the Employment State Insurance Scheme, has no paid leave, and no health insurance. He is forced to change his job every couple of years to negotiate a raise as there are no hikes or promotions in the industry. Spending 12 hours working on the noisy power looms, without ear plugs, has taken a toll on his hearing, he said.

Even before the withdrawal of old Rs 500 and Rs 1,000 notes, the 100-year-old power loom industry in Malegaon was known for treating its workforce with apathy. Workers in Malegaon, on average, work twelve hours or more in a day. Most power looms do not have facilities for drinking water or even tea.
"The work is very strenuous and there is lot of running around to handle eight machines," said Pagare, adding he would have liked to to do another job but has few options as he is educated only until grade 4, and has no other expertise. Pagare is the sole earning member in his family of five.
"Power loom workers usually work 12-15 hours a day in poor conditions, without overtime or any protection, under the constant threat of losing their job," said Sunita Kulkarni, president of the Malegaon division of the Indian National Trade Union Congress, a trade union affiliated with the Indian National Congress. A survey by the Tata Institute of Social Sciences found that the average monthly income of a loom worker in 2011 was Rs 911.
"Most workers are illiterate and unaware of their rights. All they know is the power loom owner, their work and wages," she added.
There is widespread child labour in Malegaon, with children working in businesses from tea stalls to factories, said Patole, the government's labour officer. Amanveer, the handloom owner, said that in many cases children come to the looms with their parents, and want to be trained. "We do not make them work (in our factory)," he said.

Small factory size makes it difficult to upgrade technology, improve labour conditions
Businesses in Malegaon are small– 40% of looms have an investment of less than Rs 5 lakh, and 50% of looms have an investment of between Rs 5 lakh and Rs 10 lakh . Less than 10% of the owners access funding from banks, since many banks are unlikely to give loans to unregistered, or very small enterprises.
The small size of power loom factories in Malegaon makes it is difficult to upgrade machines and provide better facilities for employees. Less than 19% of the power looms have upgraded looms, called auto or shuttle-less looms, which would make the workplace safer and increase productivity, according to the 2012 report on the textile cluster of Malegaon.

The small size of power loom factories in Malegaon makes it is difficult to upgrade machines and provide better facilities for employees.
Further, as many as 83% loom owners said there is a shortage of labour in the industry, as few young workers are willing to work for low wages, according to the same report.
India's complex labour laws: 144 central laws, 160 state laws
India's labour laws are rigid and complex, with about 144 central government legislations, and 160 state legislations. "Although the regulations are meant to enhance the welfare of workers, they often have the opposite effect by encouraging firms to stay small and thus circumvent labour laws," according to one World Bank report. Restrictions on hiring and laying off workers, dealing with trade unions, and closure of plants incentivises firms to employ fewer workers and use capital-intensive approaches, according to this 2014 report.
For our continuing coverage of #notebandi see Currency Chaos.
(Yadavar is principal correspondent with IndiaSpend. Video produced in partnership with Video Volunteers, a global initiative that empowers disadvantaged communities with story and data-gathering skills, and trains them to use video as a tool to mobilise for change.)