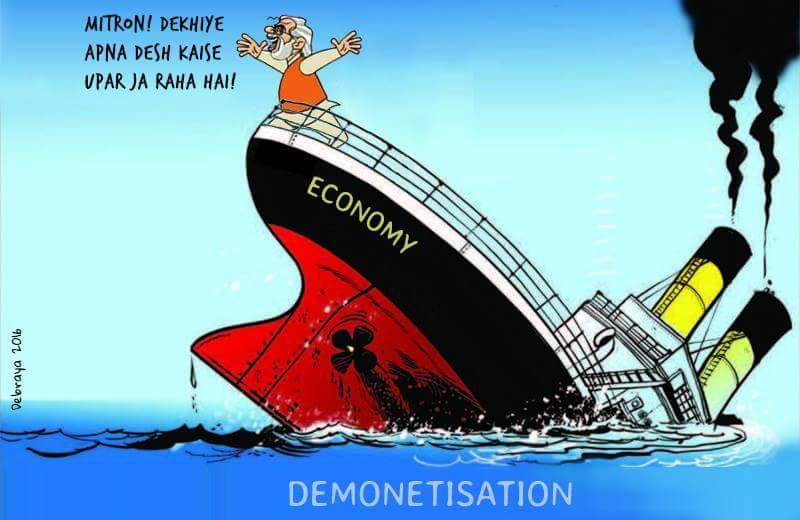 Image Courtesy: Debraya

Prime Minister Modi's demonetisation seems to be pushing India to the brink of recession. With the slow pace of remonetisation, day to day transactions have been severely affected, leading to a contraction in the economy. Despite Prime Minister's exhortations to go cashless, and shift fromcash to electronic transactions, the shift has not happened. RBI data on electronic payments show that contrary to Prime Minister's claim that even beggars are taking electronic alms, there has been no significant jump in electronic payments.
Rs. 14.8 lakh crore was taken out of circulation through demonetisation, not even half this amount has been put back into circulation so far. Additionally, much of the fresh currency that has been issued,is in the form of Rs. 2,000 notes.The public are unable to use these notes for day to day transactions, due to the shortage of smaller denominations,which are required to change the larger value notes.
Despite the shrill propaganda of the government asking people to go cashless and use Paytm, debit cards, credit cards etc., there has not been a substantial jump in the electronic payments to compensate for the withdrawal of the currency notes. RBI's own data on payments made through debit and credit cards at Points of sale (PoS), shows that such payments fell from Rs. 44 thousand crore in October to Rs. 35 thousand in November, which is a steep 20% fall. Not only payments through credit and debit cards have not picked up, butthey have actually fallen down. Transactions made through mobile wallets, like Paytm, have not compensated for this fall. The value of transactions through mobile wallets was only Rs. 1.3 thousand crore in November, or less than 3% of the debit and credit card amount for October. Even if we assume that there were no mobile wallet transactions in October, this amount isnot enough to compensate for a fall Rs. 9,000 crore in card payments at PoS.
There is an obvious fall in overall economic activityas a whole. People have reduced their spending. There can be very little doubt that Modi's demonetization has put the economy in recession.
According to McKinsey, 95% of all retail transactions in India take place in cash . Newsclick's analysis shows that the economy has been deprived of at leasthalf the cashin this period. Obviously, this will cut down transactions in the retail sector. It will also create inventory in the manufacturing sector, finally leading to layoffs and shutdowns in the manufacturing sector. This is particularly true for the small scale sector.If there are not enough sales bringing in revenue, small scale business unitsquickly go into losses.They are unable to paywages to their workersand areunable to get short term business loans from banks.
There are also other strong indications that the economy has indeed contracted. Purchasing Managers Index (PMI), which is a good measure of economic activity, has fallen for services steeply from 54.5 in October to 46.7 in November . Anything, below 50 of PMI, indicates a contraction.
Clearly, service sector, which is a lot more dependent on cash transactions, has been adversely affected.If service sector is affected, the manufacturing sector cannot remain immune either. This is indicated in the PMI for manufacturing, which has gone down from 54 to 52.3 between October and November. The impact on manufacturing is likely to be higher in December.
It was estimated that if the effect was limited only to the informal sector, this will push economic growth down to 4% in the Q3 (third quarter) of this year . Taking in to account the impact on other sectors, a more realistic estimate is that the economic growth in the Q3 could be as low as 1% or could even be negative .
The growth will not pick up in the next quarter as well. The shortage of cash is likely to continue for at least next threemore months, by some estimates, up to May, 2017.It is going to take time for small scale industries and small service providers to recover from their losses and get back to normal production; if they manage to do so at all. Considering all this, we are probably looking at a recessionary environment that may last longer than a single quarter. Instead of being the faster growing economy in 2016-17, we are looking at almost zero growth in the second half of this financial year.
Prime Minister Modi's demonetisation seems to be pushing India to the brink of recession.
Courtesy: Newsclick