This is being perceived as a big setback for BJP as Amit Shah forced to address 'empty' rally in Lucknow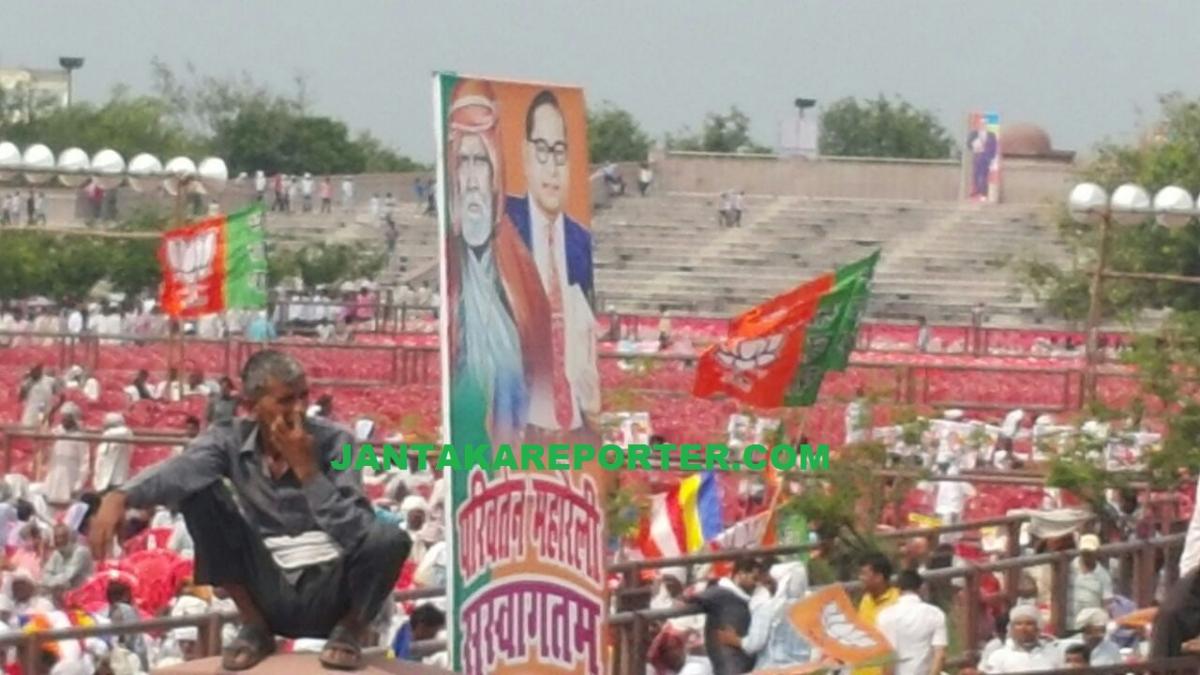 BJP President Amit Shah on Wednesday addressed a rally in Lucknow and shared the stage with the expelled Bahujan Samaj Party leader Swami Prasad Maurya. Much had been made by the 'mainstream national' media of the Maurya's desertion of the Bahujan Samaj Party (BSP) a few months ago. While Shah used the opportunity to hit out at successive BSP and Samajwadi Party governments in Uttar Pradesh over corruption, he did not have a cheering audience to hear. Empty chairs offered cold solace. He also alleged that people of the state were left empty handed while the leaders of the two parties 'flourished under their rule.'
Fully aware that the state's sizeable Dalit voters may turn against the saffron party due to recent attacks against them by Hindutva militants, Shah made a desperate pitch to woo them.
The choice of the venue was Rama Bai Ambedkar Rally Sthal, which parties have been using to flaunt their support ahead of any elections.
However, Amit Shah was left red-faced with an incredibly lukewarm response to the rally, which the supporters of both BJP and Maurya had worked hard to organise. Much to Shah's disappointment, barely 30,000-35,000 people turned up at a ground, which is known to accommodate as many as five lakh people. Mayawati, in her previous rallies, had addressed a full house here.
The ground looked deserted with hundreds of thousands of chairs remaining empty. Sources close to the organisers even told the local media that apprehending a damp squib, Shah had reportedly dropped the idea of coming to the rally. One organiser even said, "Last night we were told that Amit Shah ji has cancelled the plan because of reports of zero response from Dalit community. But it was too late for us as we had already plastered the rally venue with the huge cut-outs of PM (Narendra) Modi and Amit Shah. In the end, we succeeded in persuading him and he came to the venue with a chartered plane today."
Shah was forced to end his speech in four minutes in Gujarat after the Patel supporters vandalised furniture and protested against him in his Patidar rally in Surat earlier this month.
Uttar Pradesh goes to polls next year and today's snub by Dalits will cause a lot of anxiety among the top brass of the BJP , which had swept the state in 2014 Lok Sabha elections by winning 72 out of 80 seats. The BJP's failure to replicate the success in the assembly elections next year will be an indictment on the performance of the Centre's Modi government, which has been accused by its detractors, of poor governance and repeated U-turns. Dalits have been holding protests against the BJP and Modi government after the growing incidents of atrocities allegedly by members of Hindutva forces. Mayawati had been appealing for Dalit-Muslim unity at the massive rallies she has addressed in Agra, Allahabad, Azamgarh and Sahranpur.