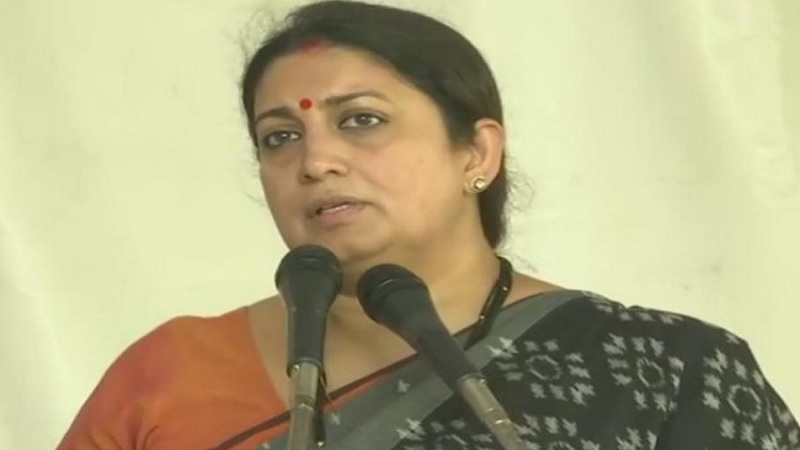 Image Courtesy:amarujala.com
Minister of Women and Child Development Smriti Irani on September 17 told the Parliament that the Ministry does not maintain data on the number of women who exited the anganwadi workforce after the coronavirus lockdown.
After the failings of the Ministry of Labour and Employment and the Ministry of Health and Family Welfare this is the third Central department to say that it does not maintain unorganised sector data.
"This Ministry does not maintain this data," was the curt reply of Minister Irani; a recurrent statement observed during this year's monsoon session.
Similarly, Irani also failed to correctly answer Member of Parliament (MP) Mallikarjun Kharge's query on the number of girls who dropped out of schools following the lockdown. The Union Minister said the Centre was making efforts to reduce the number of dropouts through Centrally-sponsored schemes such as Samagra Shiksha although she did not mention the exact figure of such dropouts.
"The Department of School Education has issued guidelines for States/UTs with regard to children of migrant labourers to prevent their drop-out," she said.
When asked about government measures to ensure more women participation in the workforce post-lockdown, Irani said that the government has advised the public including women to take all precautions for prevention from Covid-19, while pursuing professions. Activities like work-from-home, online teaching, tele-medicine consultations were encouraged.
Lastly, on increasing salaries of anganwadi workers/ ASHA workers, due to inflation, she said that the government that in addition to the monthly payment of Rs. 2,000 under the National Health Mission, the government had paid an additional incentive of Rs 1,000 per month in view of the ASHA workers significant contribution towards Covid-19 pandemic related work.
"States/UTs have been asked to ensure provision of safety tools like masks and sanitizers for ASHAs and under the recently launched Pradhan Mantri Garib Kalyan Package, Insurance Scheme has been introduced for all health workers, including ASHAs. This insurance scheme provides an insurance cover of Rs. 50 Lakhs in case of loss of life due to COVID 19 pandemic or else due to accident on account of Covid-19 related duty," said Irani.
MP Tiruchi Siva asked about state-wise and district-wise numbers of anganwadi centres and the vacancies therein as of August 2020. Sivas also asked for the number of centres set up between 2014-2019.
The Ministry data showed that as of June 30, as many as 13,83,875 anganwadi centres have been operational all over the country of the 13,99,697 centres sanctioned.
Ladakh, Jammu and Kashmir, West Bengal, Uttar Pradesh, Tripura, Rajasthan, Punjab, Odisha, Maharashtra, Kerala, Chhattisgarh, Bihar and Telangana had fewer operational centres than the number of sanctioned centres.
Uttar Pradesh had the highest number of vacancies at 19,807 positions out of 1,90,145 sanctioned positions. Nationally there were 79,971 vacant positions out of 13,99,697 sanctioned positions. Arunachal Pradesh, Mizoram, Nagaland, Sikkim, Andaman and Nicobar Islands, Chandigarh and Ladakh had zero vacancies.
In 2018-19, 13,72,872 anganwadi centres were operational in India out of the sanctioned number of 13,99,697 centres.
AU628 can be read here:
Related:
No data to check unemployment rate in last 12 months?
Strike 2: Centre now says no data on Covid-19 deaths of medical staff!
No data, so no compensation: Centre's shocking revelation on migrant labourer deaths!