The hearing process for the 3.62 million people who have submitted claim applications to be included in Assam's final National Register of Citizens (NRC) started on February 15. The people of Assam are facing many problems around this ongoing correction process. A particular hurdle is the lack of synchronicity between the online and offline process. This is especially a hurdle for the less educated or uneducated who are the real victims. People are simply unaware of what could become of them if their names are not included in the NRC.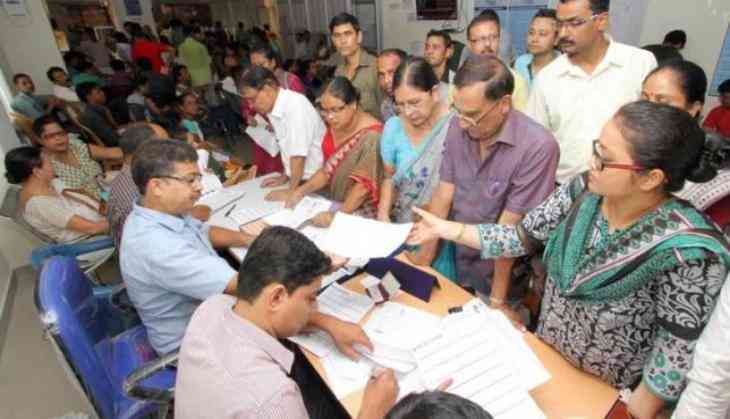 Image Courtesy: catchnews.com
However, with the continuous, rigorous initiative launched by Citizens for Justice and Peace (CJP) and some other organisations, various educated, conscious people have been helping the people of Assam. More than 500 Volunteer Motivators and Community Volunteers of CJP have been going door-to-door to help the uneducated, poor and distressed people of Assam in dealing with the problems they are facing in the correction and hearing processes of NRC.

Some problems in the NRC process are very basic, and properly disseminated information from the authority is critical. For example, a citizen from Kamrup (rural) district informed CJP's 24-hour helpline, that people were very afraid, as their names were already included in NRC draft, but they were also getting notices from the NRC authority.

CJP's state helpline centre deliberated, and concluded that this may have been happening for several reasons: firstly, someone may get such a notice only after an objection filed by someone against them. Secondly, the NRC authority has sent suo moto notice. It is part of 10% verification as ordered by Supreme Court of India. Thirdly, some people are calling for a family tree verification. One, or some names, that used same legacy data, have appeared in draft list of NRC that was published on July 31, 2018. Some other names did not appeared using same legacy data. In such cases one person who has submitted a claim application for the inclusion of their name may be identified as any other person who has used the same legacy data for the authentication of the claimant.

In some cases, one legacy was used by 1-20 inherents. The number of inherents of some bigger family even approach 100. If 99 people of that family tree have been included in draft list and one person is dropped, for the claim application of that one person, calling 99 people for hearing cannot be justified. It may be mentioned that though the NRC authority has made it mandatory for all family members to appear in a single notice, this prompted huge reaction all over Assam. Taking note of this, the NRC authority has allowed one person or some people to be present from a single ARN (Application Received Number i.e. single family). It has also become a huge burden for the poor and distressed people, due to their time and financial constraints. Often, a hearing is held 50-100 km away from the claim applicants, and the family tree members of the applicants are called from 100-200 km away. In some cases, hearings for verification are held even 500 km away from one or more legacy data user. So, many people try to skip such hearings. CJP Community Volunteers have been trying to convince them to attend the hearing through any means possible, so that their citizenship rights are not affected. In some cases, the volunteers have to involve community people to manage the traveling expenses for some very poor and distressed people. In many cases, CJP Community Volunteers or Volunteer Motivators have to accompany people themselves. Another problem some people have faced is changing districts; many are unable to travel to their nearest NRC Seva Kendra (NSK), let alone travel to another unknown district.

Many have also struggled with the documents required for the hearing process. These include the main claim form, notice, family tree, among others People are taking all these with them but, due to widespread illiteracy, are not always able to distinguish between the documents. So, CJP volunteers have had to sort out their documents before hearings, and accompany people to their hearings.

Another major problem is that some people are not receiving notices in time. Suppose someone gets a notice from the NRC authority that he must appear for a hearing hearing on a particular date. However, the notice arrived on or one day before the hearing. This could lead to his missing the hearing. In such cases, people may contact the Local Registrar of Citizens Registration (LRCR) to schedule a hearing for another date. It is important that the people of Assam are made aware of this.

One important problem is if someone used another person's legacy data, knowingly or unknowingly, both parties may get notices from the NRC authority. It is very important for both to then be present at the hearing. They must submit their documents presenting their own side as proof. If one party misses the hearing, the other may submit their own documents and it may be proved that their name should be included. In this context, the other party's name may be excluded from the draft. And it may also happen that both parties' names are excluded from the draft.

In the case of minors, if parents' names are already included in the draft, their child (below 14) will be included. They can submit a birth certificate, school certificate etc. However, if someone does not have these documents, their parents may claim this as an excuse by submitting a written affidavit to the LRCR to verify that the child is theirs, and that it is they who have submitted the same legacy data and same address.

These are the problems facing different sections among the people of Assam. It should be the responsibility and onus of the NRC Authority to communicate these requirements and ensure fair and complete inclusion. Duty to the tardy involvement of the NRC Authority, the process is further hampered. It is under these difficult circumstances that the CJP team has been working since October 2018.