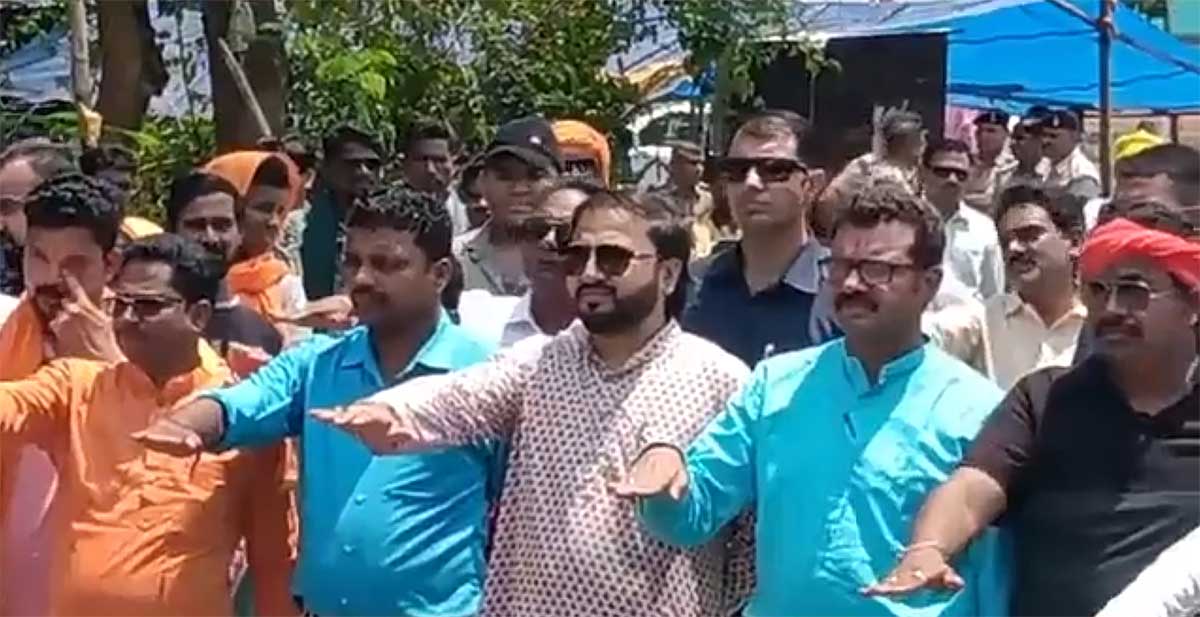 A video surfaced on Twitter on April 11 showing a crowd of about 100 people, men and women, taking an oath in Bastar Chhattisgarh, to economically boycott Muslims and Christians.
"Today I vow that I will not deal in trade with any non-Hindu be it Muslim or Christian; be it milk, fruit, mattress, grocery or any type of goods. I take an oath to economically boycott them completely. We pray to Lord Ram that he gives us strength to fulfil this oath" the oath was then concluded with chants of "Jai Shree Ram". The speaker, who introduced himself as Mukesh Chandak, addressing the crowd said that Hindu businesses should boldly display religious symbols like Swastika, Om etc so that people know that they belong to Hindus.
This is from #Bastar, #Chhattisgarh.

Local #Hindus took oath for economic boycott of #Muslims and #Christians.#Hindutva #HateSpeech pic.twitter.com/H0Vzd3PUb2

— Hate Detector ? (@HateDetectors) April 11, 2023
Economic boycott is one of the most pervasive means of religious persecution which hits the minorities where it would hurt anybody the most, their livelihoods. If a person is unable to earn their daily bread because the 'majority' community refuses to deal with them, employ them or carry out any trade with them, they will certainly be pushed towards poverty and the lowest rung of the society.
Last month, Sabrang India had done a piece on how economic boycott of Muslims could push them further beyond marginalisation. Pointing towards the real economic impact such boycotts have on the community, the article states that Muslim community has largely been on the precipice of poor economic outcomes, based on various studies. The Census 2011 data showed that almost a quarter of India's 370,000 beggars are Muslim. A report released in 2018 titled "Vision 2025- Socio-Economic Inequalities, Why does India's economic growth need an inclusive agenda" [authored by economist Amir Ullah Khan and historian Abdul Azim Akhtar], found that most Muslim asserted that their socio-economic condition had not improved in the last 10 years. As per the survey, in terms of monthly per capita expenditure, Muslims were at the lowest rung, below SCs and STs in urban areas and slightly above STs in rural areas, reported Times of India.
Such calls for economic boycott were also made in Gujarat in the aftermath of the 2002 pogrom. An archival article of Communalism Combat details how Muslim were discriminated against after the pogrom even a whole year later.
"Muslim women from over 40 households who used to work as agricultural labourers are not entertained, and youth who drove transport vehicles have had their businesses taken over. Hunger and deprivation continues to hit the 400 Muslim residents of Por, with over 70 young persons out of jobs. The total strength of this Patel dominated village is 5,000, of which Muslims number 1,100. Women were also involved in milching cattle, an occupation that is today unavailable to them as they do not have access to buffaloes that were either stolen or driven away. The mosque in Por, which was systematically pulled down using a bulldozer belonging to the municipal corporation, has however been re-built. While some of the village elders such as Nathubhai Nagar are trying to break the social boycott, others insist that for Muslims, the quid pro quo for leading a normal life will be their withdrawal of the pending criminal case where 35 villagers have been accused of rioting and arson. With the survivors adamant on getting justice, (senior advocate Allah Rakha is appearing for the victims), the deadlock, stealthily, continues."
Economic boycott is also manifested in temple fairs where non-hindus are not allowed to set up stalls. Such instances are rampant in many districts of Karnataka. In March last year, Bharatiya Janata Party (BJP) general secretary Chikkamagaravalli Thimme Gowda Raavu a.k.a CT Ravi had said, "Halal is an economic Jehad. It means that it is used like a Jehad so that Muslims should not do business with others. It has been imposed. When they think that Halal meat should be used, what is wrong in saying that it should not be used?"
A right wing leader emerging from Uttarakhand, Radha Semwal Dhoni had , last month, recorded a video where she pointed cameras at Muslim vendors and asked them their names and their Aadhar card as well. She claims that they represent themselves as Hindus and that they have come from Lucknow. In the video she says that the vendors lie and spit on the vegetables and sell these in her area (where she lives). She asks them, "why do you come here? Why don't you carry an Aadhar card? Do you want to sell us vegetables that have been spat on?" to this, one of the vendors says, "it's not true, we are not spitting on vegetables".
Articles 21, 14 and 15 are all guarantees that every person has the right to life, equality and non-discrimination. Article 19 ensures freedom of movement and the right to undertake economic activity. While Article 14 says that the State shall not deny to any person equality before the law or the equal protection of the laws within the territory of India, Article 15 prohibits discrimination on grounds only of religion, race, caste, sex, place of birth. Further under article 15(2), no citizen shall be subject to any restriction or condition with regards to access to shops or the used of roads and places of public resort maintained out of state funds or made for the use of general public, merely on the basis of religion, race, caste, sex, place of birth or any of them.
Despite such constitutional safeguards, people are giving such calls for economic boycotts against the minority communities. This is a brazen move to push the minorities to economic deprivation and social ostracization to a point where they will be compelled to live in poverty or flee the country fearing further deprivation and persecution; either of which is the worst outcome for the communities.
Related:
Marginalising the already marginalised: Economic Boycott Targeting Muslims
Are increasing calls for economic boycott of Muslims a sinister precursor to something worse?
Hate Watch: Indians reject #BoycottMuslims call