Some students were offended by a January 9 Facebook post on hate-speech and accused her of blasphemy against the Prophet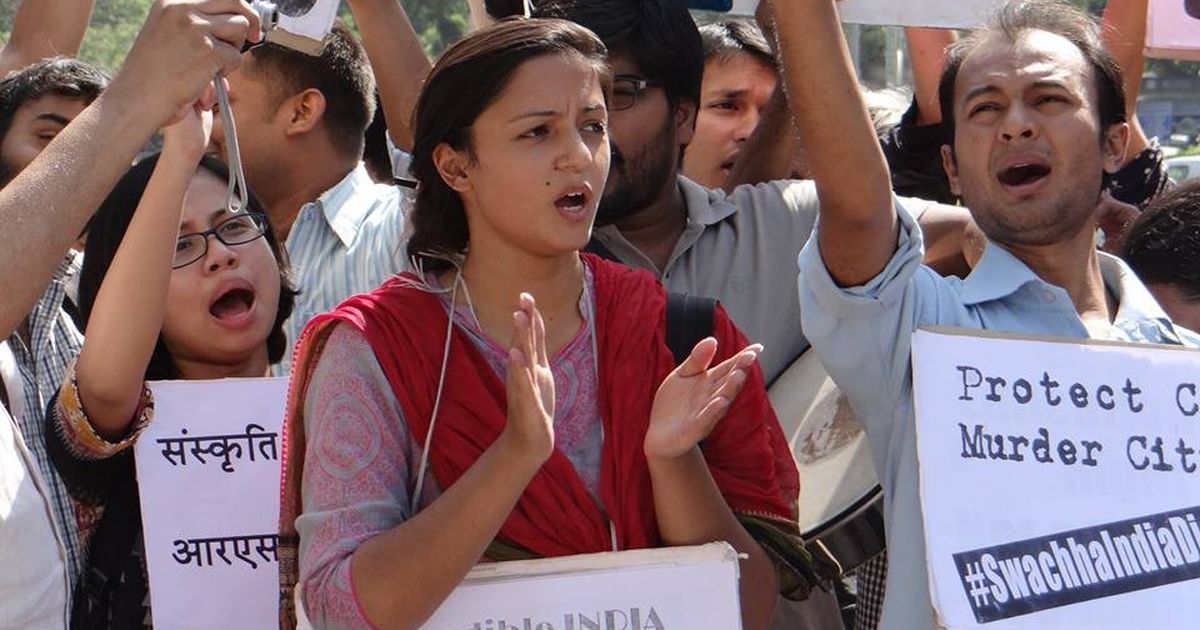 Image credit: Shehla Rashid via Facebook

Aligarh Muslim University students, who stood by their counterparts in Jawaharlal Nehru University through many crises over the past year, on Thursday slammed their door shut on former JNU students' union vice-president, Shehla Rashid Shora. Not only did the Aligarh university's students' union cancel a meeting of student leaders planned for Saturday that Shora and five others from JNU were slated to attend, it even filed a police complaint against her.
The reason it stated: Shora allegedly made objectionable remarks against Prophet Mohammad in a Facebook post. On January 9, she allegedly wrote "insulting things" about other religions too, the Aligharh students union said. Her post had "disturbed students" and could potentially "spoil [the campus] atmosphere". On social media, other Aligarh students accused her of blasphemy.

Hate speech and religion
Shora's post was on hate speech. The paragraph to which some AMU students took strong exception dealt with hate speech and insulting statements about religious figures. Some also took offence with an article she wrote in 2013 arguing that Prophet Mohammad was a feminist.

Students protest
The controversy boiled up over February 14 and 15, when Aligarh Muslim University Students' Union president, Faizul Hasan announced on his Facebook page that the union was organising an "all India students' leader meet" at the university and had signed on over a dozen leaders, six from JNU alone, to speak. The others invited from JNU were student leaders Kanhaiya Kumar, Umar Khalid, current president Mohit Kumar Pandey and another former president, Akbar Chaudhary.

The reactions poured in soon after with Facebook users posting sections from Shora's post. One called her "shaitaan" – devil – and another wrote, "I would slap her if she will say anything about religion." A student group called the Aligarh Muslim University Students' Front issued a handbill declaring her a "Gustaakh-e-Rasool" – "One who says something wrong about the Prophet," explained Ghazala Ahmad of the students' union. They described Shora's post as "blasphemous."

'Hurt Sentiments'
Shora was furious. She alleged on Facebook that "a very jealous person [was] trying to instigate students of AMU against [her]". She also pointed out that fuss over her alleged blasphemy would draw attention away from the issue she had wanted to discuss – the disappearance of JNU student, Najeeb Ahmed, from campus in October, after a scuffle with members of the Rashtriya Swayamsevak Sangh's student wing, the Akhil Bharatiya Vidyarthi Parishad.
"I will not defend myself, because anyone who is acting outraged has either not read the article, or is trying divert the issue from Najeeb," she wrote. "I refuse to allow myself to be targeted for giving scholarly opinion on hate speech." She was still going to Aligarh, she wrote.
But on Friday, she issued a statement announcing she had cancelled her visit because she feared, given the conditions on the Aligarh campus, that her presence "might create an unnecessary media spectacle and…divert the issue from Najeeb Ahmed's disappearance".
Khalid wrote a post in Shora's support saying:

'Hurt sentiments' are largely used by the dominant majority to silence and even kill the minority communities and it thrives on lies and rumour mongering….But what this case reveals is that some forces even within the persecuted minority deploy such tactics, when they see the possibilities of democratisation within.

Leaders' meet postponed
On Friday, the Aligarh students' union decided to postpone the programme.

Aligarh student leader Hasan's note accompanying the image of the handbill online left no doubt about what those "unavoidable circumstances" were. He wrote: "Our executive decision is for alma matter and our religion. We the student' Union is for whole AMU and its interest, we will boycott who blame on our religion and our beloved Prophet."
This decision also drew criticsm. One student argued that they could have just left Shora out instead of cancelling the entire event. Another wrote that her Facebook post "does not amount to blasphemy or a hate speech against Islam or Muslims." He suggested that the union "seek the support of Marxists, Ambedkarites etc. so that common problems of…marginalised sections of India are resolved conveniently".