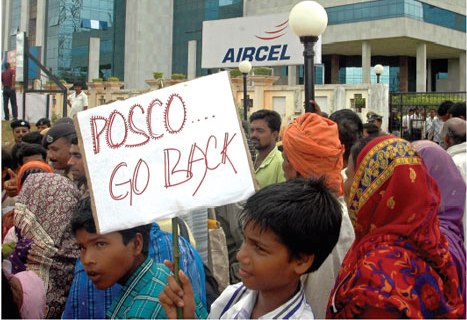 Report by Kahnu Nanda; Jagatsinghpur: Hundreds of Posco affected people including betel vein growers, anti project outfits, land losers from proposed project site villages from Erasama block on Wednesday observed black day commemorating 11th years of Posco Mou with Odisha government.
The protestors staged demonstration, protest meeting in front of collector office here, wore black batch and hoisted black flag and reiterated their sufferings and pains during Posco drive had been on its way in their regions.
The agitators termed Odisha government had made the MoU with South Korean steel major on 22 June 2005 without considering the ground realities of the proposed project site as result received stiff resistance of local residents so project remained non-starter after it had thrown to cold storage last year.
The losses sustained by local people following Posco bid would not be compensated either by Odisha government or by steel barren Posco, the agitators rued.
The anti Posco leaders claimed to fulfill their six charter of demands as compensation for betel vein losers, to with draw cases against project opponents, to give land to the land losers under Forest Rights Act , to retrieve betel veins demolished during land acquisition , to stop the boundary wall construction at project site and cancelled the Posco MoU forever. The agitators submitted a memorandum before collector then the agitation was called off.