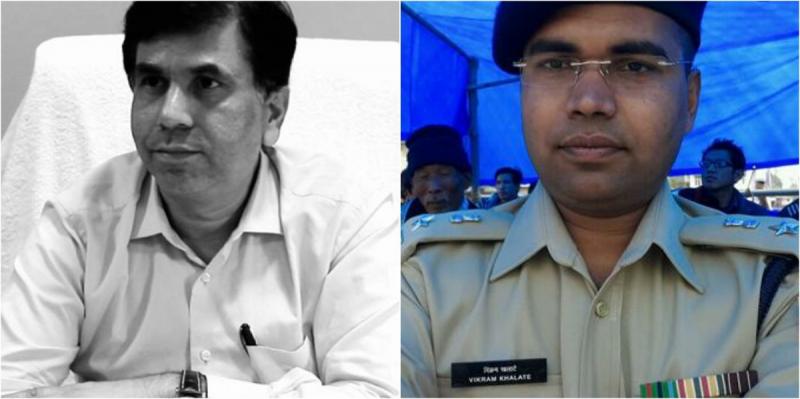 Image: The Wire

The Union Home Minister's Medal for Excellence in Investigation for the year 2020 has been awarded to 121 police personnel. This announcement was put on the public page of the Press Information Bureau (PIB) on August 12. The medal stated the PIB, "was constituted in 2018 with the objective to promote high professional standards of investigation of crime and to recognize such Excellence in Investigation by investigating officers. Among the personnel receiving these awards, 15 are from CBI, 10 each are from Madhya Pradesh and Maharashtra Police, 8 are from Uttar Pradesh Police, 7 each are from Kerala and West Bengal Police, and the remaining from the other States/UTs. These include twenty one (21) women police officers."
However, the list did not detail the specific cases for which the Home Minister's Medal for Excellence in Investigation was awarded. Later media reports brought to light that the awardees include senior police officers who are probing cases related to the Delhi communal violence and also those related to Bhima Koregaon.
Among the 121 recipients of the award, reported the news portal Scroll, are Deputy Commissioner of Police (Crime Branch) Rajesh Deo and Vikram Khalate, Superintendent of Police, NIA. It is noteworthy that Deo leads the Special Investigation Team (SIT) that is investigating the cases related to the communal violence that broke out in North East Delhi in February 2020.
SabrangIndia had reported then, that the investigation being given to Deo is seen as contentious because the Election Commission of India (ECI) had taken strict action against him a month before he was given this assignment. Deo had barred him from the Delhi Assembly Election duty, as he had then reportedly suggested that East Delhi resident Kapil Baisala who had fired in the air near Shaheen Bagh, the site of the anti – Citizenship Amendment Act (CAA) protests, had links with the Aam Aadmi Party (AAP). He had released photos to the media of a man resembling Baisala with AAP leaders and had also alleged that both, Kapil and his father Gajendra Singh, had joined the AAP last year.
The EC had then noted that Deo's statements, "referring to a political party", especially when investigations were "still going on", could "adversely" impact the free and fair elections, and removed him from election duties.
As reported by the media regularly, investigations into the North East Delhi violence have so far failed to identify the actual perpetrators of violence, despite multiple independent fact-finding reports unearthing several disturbing facts, especially those pertaining to information about the alleged religious and political affiliation of these perpetrators of violence. The only action taken is against known dissenters and activists. Several of them have been questioned if not arrested on trumped up charges, the key allegation against them being that of instigating the violence.
In fact, the Additional Sessions Judge Dharmender Rana had reprimanded the Delhi Police for its failure to get CCTV footage and pictures from photographers present at Jafrabad and Maujpur Metro stations, as essential evidence needed for the investigations. This was observed by the court while extending the judicial custody of Pinjra Tod activists Devangana Kalita and Natasha Narwal, and former Congress municipal councillor Ishrat Jahan till August 14. They are being investigated by the Delhi Police Special Cell in a UAPA case pertaining to the Delhi riots.
In a congratulatory tweet, home minister Amit Shah said, "A thorough investigation plays a pivotal role in delivering justice. I congratulate all the recipients of the 'Medal for Excellence in Investigation-2020'. This is a recognition of the outstanding service and commitment of our police personnel. India is proud of them!".
A thorough Investigation plays a pivotal role in delivering justice.

I congratulate all the recipients of 'Medal for Excellence in Investigation-2020'. This is a recognition of the outstanding service and commitment of our police personnel.

India is proud of them! https://t.co/RpFcY0hKry

— Amit Shah (@AmitShah) August 12, 2020
Meanwhile, another prominent name on the list of awardees is that of Vikram Khalate, Superintendent of Police, NIA. He is leading the investigation into the Bhima Koregaon violence in 2018. Those accused in the related cases include civil rights activists and writers, Sudha Bharadwaj, Arun Ferreira, Vernon Gonsalves, Varavara Rao and Gautam Navlakha, all charged under sections of the Unlawful Activities (Prevention) Act (UAPA).
In January, Front Line Defenders, an international human rights organisation that highlights the plight of human rights activists and defenders facing persecution from hostile regimes, came out in support of those facing prosecution in the Bhima Koregaon case. They questioned the motives of the central government in transferring the case to the National Investigation Agency (NIA), especially given the timing of the transfer. Front Line Defenders issued a statement saying that the transfer of the case to the NIA, in which nine human rights defenders – Sudha Bhardwaj, Vernon Gonsalves, Varavara Rao, Arun Ferreira, Sudhir Dhawale, Rona Wilson, Shoma Sen, Mahesh Raut and Surendra Gadling are in detention, is seen as an attempt to maintain control over the political narrative on this case.
In the case of the oldest accused, 80-year-old poet Varavara Rao who is under treatment for Covid-19 and other ailments, the NIA had suggested that he was " trying to take undue benefit of the pandemic and his old age and seeking bail." The NIA made these remarks in its submission before the Bombay High Court, and got sharp criticism for it. Activist and writer Lalita Ramdas had slammed the NIA for suggesting that and said, she was "Stunned. Speechless. And Ashamed that this is happening in our greatest, largest, democracy?" She added that "every regime has been complicit," in this.
The complete list of awardees can be accessed here
The list also includes the CBI officer who cracked murder case of rationalist Narendra Dabholkar, reported Times News Network, murder case. The TNN recalled that it was ASP Subhash Ramrup Singh, who had recovered the weapon used to shoot and murder rationalist Narendra Dabholkar, at Pune in 2013. The investigation had also turned up clues about the murders of Kannada writer M M Kalburgi , journalist-activist Gauri Lankesh and communist leader Govind Pansare. Another awardee is Inspector Perwez Alam from Ranchi, who solved the murder of engineering student Jaya Bharti. Alam and team scanned through over 300 numbers, questioned 150 people, and collected 11 blood samples to zero in on the rapist and murderer. Inspector Vibha Kumari who investigated the infamous Muzaffarpur shelter home abuse was also awarded.

Related:
Hope probe focuses on real perpetrators of Delhi violence: Prof Apoorvanand
Bhima-Koregaon case transferred to NIA to compromise independent probe: Front Line Stunned, speechless and ashamed: Lalita Ramdas reacts to NIA comments
Delhi riots transferred to SITs headed by controversial officers including one barred
Is Delhi Police hiding key information, documents of riot cases?
Delhi Violence case: Court reprimands police for failure to get video footage
Delhi HC again adjourns petition about police accountability for 'indiscriminate