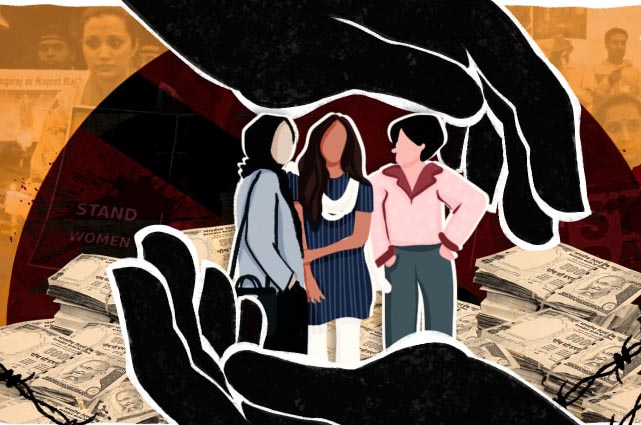 Image courtesy: https://www.arre.co.in
The report on 'Atrocities and Crimes Against Women and Children' was submitted in the Rajya Sabha by the Parliamentary Standing Committee on Home Affairs on March 15. The extensive report covers all themes related to crimes against women, including data on crimes, prevention of crimes and the criminal justice system for women and for each section provides recommendations that are worthy of paying attention to by not just the Ministry of Home Affairs but also all the state governments for better implementation of prevention of crimes and for better handling of such cases.
The Committee was presided over by Congress MP in Rajya Sabha, Anand Sharma comprised nine members of Rajya Sabha and 30 members of the Lok Sabha.
The comprehensive report touches upon various themes which can be divided into Criminal Justice system, prevention of crimes and Data on crimes against women and children. In a three-part series we will be going through the various elements covered in the report and he many recommendations of the Committee. In this first part we look at the criminal justice system which includes filing of FIR, Fast Track Courts, the dedicated Nirbhaya Fund and its utilization, shelter homes for women and children as well as the role of NGOs.
Zero FIR and delay in FIR
The Committee noted that cases of crimes against women and children are not getting registered at the police station and in time and is one of the main reasons for delay and denial of justice to the victim and family and also appreciated Rajasthan police for conducting decoy operations to check whether FIRs are being registered.
Further, as per data submitted to the Committee by select stated it was found that cases have been filed against police officers for delaying registration of FIRs, as also zero FIRs are also being filed. The same is depicted in the table below:
On the other hand, Tamil Nadu informed the Committee that there is no system of registering "Zero" FIRs in the State. However, FIR is registered in the Police Station where the complaint is given and transferred to the jurisdictional Police Station where it is re-registered as fresh FIR. Even UP submitted that they do not have a system for Zero FIRs as Crime and Criminal Tracking Network & System (CCTNS) does not provide for the same.
Fast Track Courts
The Committee stated that UP has the highest number of Fast Track Courts (FTC) with 372 courts and the lowest are in MP and J&K with one FTC each. UP with the highest number of FTCs also has the highest number of case pendency at 4.37 lakh cases.
Further, there is data on separate FTCs or dealing with cases of rape and cases under the protection of Children from Sexual Offences (POCSO) Act
The Committee was perplexed to note that against the 1,023 Fast Track Special Courts only 597 Courts including 325 exclusive POCSO courts have been made operational in 24 States/UTs. This shows that although there has been an increase in cases over years, the lack of such courts will further delay the course of dispensing justice which will subsequently reduce the faith of victims in the justice delivery system, the Committee said.
Nirbhaya Fund
The Committee noticed that only 38.55% of the fund has been disbursed i.e. Rs.3,581.11 crore has been disbursed out of Rs.9,288.45 crore. The committee expressed its displeasure over under-utilization of the Nirbhaya Fund by States.
Role of NGOs
The committee lauded NGOs for playing a significant role in preventing and providing services to survivors of violence by engaging in provisioning of psycho-social and physical support services to women violence survivors as also research on attitudes, perceptions and behaviour of men, community mobilization, conducts gender sensitization, orientation, educational programmes and awareness campaigns.
The Committee's recommendations
Decoy operations should be conducted to check whether FIRs are being registered at regular intervals throughout the country.
Developing and promoting online registration of FIR for different categories of complaints particularly, for the crimes committed against women and children.
MHA should introduce Zero-FIR in all the States and Union Territories and provide for the same in CCTNS
MHA should also work out a mechanism for gathering information on reasons for the delay in the investigation in criminal cases on annual basis and use analytical tool "Online Investigation Tracking System for Sexual Offences (ITSSO)" to monitor and track Police investigations within two months in sexual offenses
Ministry of Home Affairs should take steps towards setting up at least one forensic laboratory in every State capital in the country, on priority.
media should focus more on publicizing the penalty/punishment imposed on the culprits than the incidents of crime instead of indulging in sensationalizing these cases
The law enforcing agencies should be provided with the "public prosecutors" for their assistance to ensure proper investigation, collection of evidence, timely submission of charge sheet and strong presentation of the case before the court.
Adjournment Alert Module provisioned under the e-Prosecution online application can be used optimally to prevent procedural-delays.
Committee may be formed at a central level under MoW&CD to oversee and improve the utilization of the Nirbhaya Fund across States/UTs.
Setting up of more shelter homes in States and installing CCTVs to prevent incidents of any kind of abuse and maintaining a central database of all shelter homes and their inmates
The National Crime Records Bureau should consider segregation of data on the basis of different social parameters like education, income, caste to help in taking corrective measures
Ministry of Home Affairs should focus on building public and private partnerships by involving NGOs and other social organizations as part of their Schemes/Programmes/Projects.
Ministry of Home Affairs should take necessary measures to incentivize and encourage the NGOs to increase their presence in rural and tribal areas to reach out to the vulnerable and helpless sections of the society
Framing of Standard Operating Procedure (SOP) for ensuring Police accountability and sensitivity to deal with cases of violence against women.
Monitoring mechanism should also be created at the district level to check the behaviour and take cognizance in case of Police insensitivity/ remark/ comment and initiate strict action against errant officials
The complete report may be read here:
Related:
Hathras case: Victim's family and lawyers threatened inside court premises
SC addresses paternalistic and misogynistic attitudes reflected in judicial orders; issues directions
Madras HC refuses to entertain compromise of accused and complainant in POCSO case