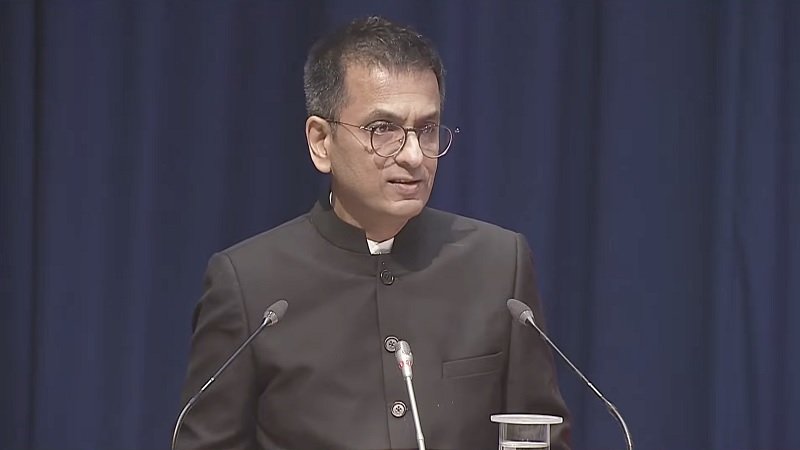 Image Courtesy: livelaw.in
The whole concept and idea of 'unity in diversity' can only be upheld when the people of our nation are accommodative of one another, by simultaneously applying principles which seem to be in conflict, said Chief Justice D.Y. Chandrachud on Constitution Day. Referring to the principle of accommodation propounded by Granville Austin, an authority on the Indian Constitution, Justice Chandrachud explained, "Accommodation is different from compromise in that the latter involves concessions. The Constitution does not force its citizens to choose between their rights and their culture, but includes the cultural, social, and religious aspects, in its journey to the goal of a democratic society." On an optimistic note, he added, "The strength of our Constitution comes from its ability to account for the rich tapestry of human experiences in India, be it culturally, socially, religiously or otherwise, and still chart out a vision for a progressive future. Like the Constitution, Indian society has displayed a remarkable ability to be accommodative of various concerns which seem to be in conflict. We must continue to do that."
Chief Justice Chandrachud was speaking at the Constitution Day celebrations organised by the Supreme Court of India. During his address, he spoke about how the Indian Constitution, despite being inspired by and borrowing heavily from constitutional documents and charters from across the world, was "uniquely Indian".
"The framers of our Constitution carefully considered the suitability of various provisions before modifying and incorporating them such that they suited the Indian context and the Indian polity," he said. Such a characteristic feature could also be found in the manner of its "practical functioning", Justice Chandrachud remarked. He recalled his days in Uttar Pradesh as head of the state's judiciary, "When I was the Chief Justice of the Allahabad High Court, the only remnant of the colonial past I found in oral arguments was when the lawyer opened the brief by saying "My Lord". What followed was a truly Indian style of advocacy – largely in Hindi, interspersed with a little English and a few Latin phrases."
The Chief Justice also highlighted how the Constitution of India was "doubly unique" for being one of the few post-colonial constitutions to be written entirely by the people of the nation and to endure for around seven decades after its creation. He added, "It has not only endured, but it has thrived and flourished. It has survived the stresses of some difficult times. The continuing success of the Constitution is a testament to the people's choice of the rule of law over brute force to achieve a social revolution."
Deliberating on the issues of constitutionalism and constitutional culture, the Chief Justice said, "India has undoubtedly developed a robust constitutional culture, but this does not mean there is nothing left to be achieved." He stressed, "Much like the law, which is practised from day to day, constitutional values also have to practised every moment. The practice of constitutional values is a continuous process that evolves as society evolves." The people of India, in their interaction with one another, must "breathe life into the Constitution" by practising the democratic ideals of equality, liberty, and fraternity. At the same time, it was incumbent upon the legislature and the executive to enable the practice of liberty, equality and fraternity, and the courts to sustain this practice by foregrounding these values in their judicial decisions, Justice Chandrachud explained.
India's 50th Chief Justice, with a two year old tenure before him also gave a broad overview of the various initiatives and plans that are being implemented by the Supreme Court, in their attempt to "apply the constitutional ideals of liberty, equality, and fraternity". The Chief Justice noted, "We are currently extending the establishment of vulnerable witness deposition centres to courts across jurisdictions and enabling paperless courts. We have recently inaugurated an online Right to Information portal to streamline the process of transparency. E-seva kendras are being set up in every district, so that every citizen may deploy technology to ease their journey through the legal system. The National Judicial Data Grid is a giant step towards making the legal profession more accessible. Soon, the Supreme Court will also conduct an audit of its own premises to review and ensure its accessibility to persons with disabilities." He also said, "When I stand before you, exactly one year from now, I hope that I can list out a new set of ventures that makes justice more accessible to the common citizen." To that end, the Chief Justice promised to work closely with Chief Justices of High Courts, who brought "years of experience in social life, legal life, and as administrators" on a footing of "equality, mutual trust and confidence". He said, "The course of today's discussion on judicial infrastructure, reforms, and court and case management will prove useful in this mission. I hope we can continue this dialogue in the future."
Related:
What CJI Chandrachud's two-year tenure looks like
Lower court judges hesitant to give bail: Chief Justice of India DY Chandrachud
Six Members in the Supreme Court Collegium until May 13, 2023
Young, junior lawyers are not slaves, renumerate them decently; legal profession should not be an "Old Boys' Club": CJI DY Chandrachud