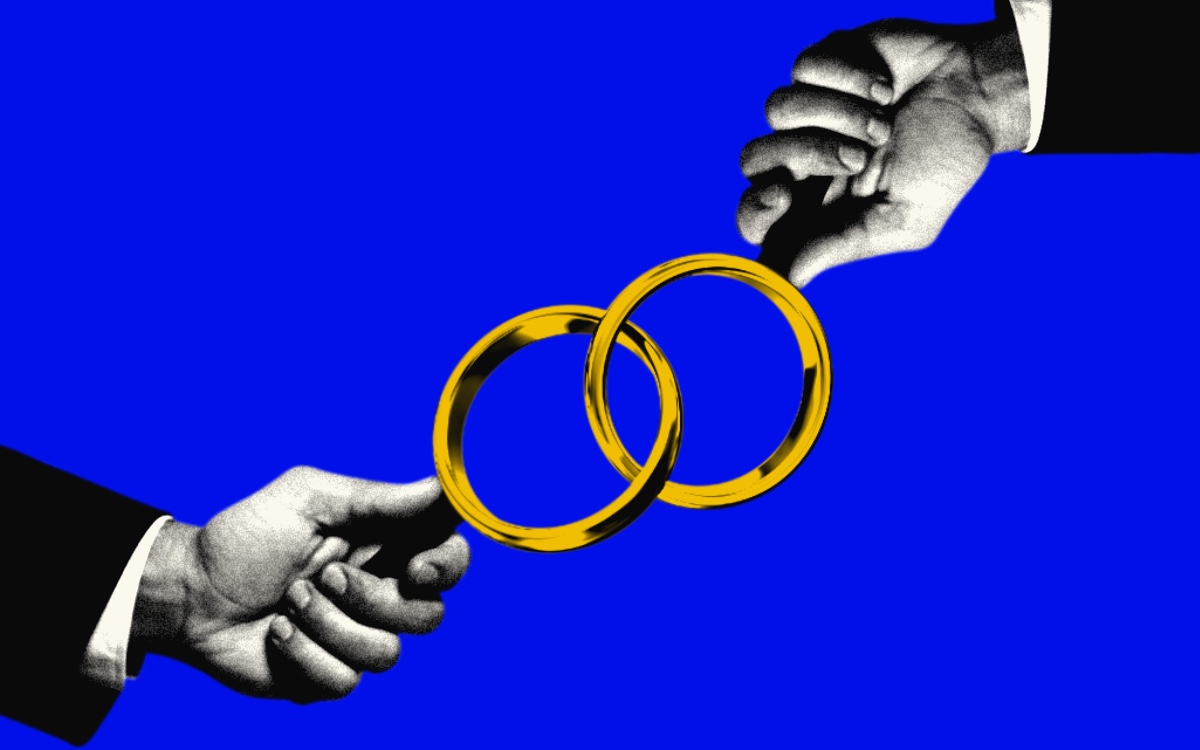 Within two days of issuing a GR for forming a committee to get "detailed information about couples in interfaith and inter-caste marriages", the Maharashtra government has conveniently removed inter-caste marriages from its scope, proving the critics right. What seemed to many as a harmless exercise to protect women and to reunite estranged women with their maternal families, is clearly a step towards monitoring inter-faith marriages in the State.
As rightly pointed out by women's rights groups and parties in opposition, this move is nothing but a means to push the government's sectarian agenda and an attempt to impinge upon people's right to privacy.
As reported by Indian Express, the new GR stated that the panel had been renamed 'Interfaith Marriage-Family Coordination Committee (state level)' and "it was under the government's consideration to amend the committee that was set up".
"To stop fraud in the name of love jihad"
Speaking to The Indian Express, Deputy Chief Minister Devendra Fadnavis said, "Tuesday's GR of the WCD department has been amended. This committee is only for interfaith marriages, and not inter-caste marriages. The earlier GR was not the correct one."
"The state government is encouraging inter-caste marriages and there is also a plan to give financial rewards to those who do it. But cheating in interfaith marriages has increased in the past few years and some aspects have come to light in the Shraddha Walkar murder case," he added. He also said that , "It is alarming that there has been an increase in cases of cheating in interfaith marriages in some parts of the state. Therefore, fraud in the name of love jihad has to be stopped".

Gujarat in late 90s
A similar move was seen in Gujarat in 1998-1990 when the state police dedicated certain cells to "investigate cases of inter-community and inter-caste marriages." The Gujarat police set up the special cells to 'investigate' inter-community marriages and was an act of the state that is directly violative of the fundamental rights of equality before the law, Right to Life with Dignity and Right to Freedom of Faith. This was followed by massive resistance and disenchantment of people and a spate of writ petitions were even filed by couples who had voluntarily entered into marriage before the Hon'ble Gujarat High Court.
Ms Teesta Setalvad had conducted an interview then with Gujarat's Director General of Police, C.P. Singh in Ahmedabad, telephonically from Mumbai on October 6, 1998, wherein he claimed that allegations of forced inter–religious marriages and conversions are entirely baseless in most cases. When he was asked about who was responsible for the disturbing spate of attacks on minorities — Christians and Muslims — in Gujarat since February, 1998 he said, "It is individuals not organisations that can be arrested and nailed. But one thing was clear in the pattern of incidents. It was reportedly the activists of the Vishwa Hindu Parishad and Bajrang Dal activists who were taking law into their own hands which posed a serious danger to peace in Gujarat. Many of the attacks on the minorities were after these organisations had whipped up local passions on mere allegations of conversions (by Christian missionaries) and allegedly forced inter–religious marriages, where again conversion was supposed to be the alleged motive."
Under the garb of giving counselling to women estranged from their families due to being a part of inter-faith marriages, the State is setting up a surveillance mechanism that has the potential to disturb the state's communal harmony, which has more or less remained unperturbed since the horrific Bombay riots of 1992-93.
Criticism
Many social organizations in the state opposed this decision of the government calling it 'moral policing' and infringement of people's right to privacy. They have raised concern that this data will be misused to monitor potential inter-caste (in response to earlier GR) and interfaith marriages and to discourage the same with the apprehension that such couples could be harassed. They also state that the government is ignoring real issues being faced by women in the state and should instead focus on effective implementation of laws against domestic violence and crimes against women.
Maharashtra Mahila Parishad has said that "By Collecting data, the government intends to target particular communities"
Stree Mukti Andolan Sampark Samiti said that raised concerns that this data that will be collected will be used to monitor women and to shut any attempts at inter caste and inter faith marriages to keep the so-called "purity" of their castes and religions intact. The Samiti has termed this exercise of the Maharashtra government as 'moral policing' and one that has no legal sanction and has called for the cancellation of this GR.
State incentives for inter-faith marriages:
Several states, including Maharashtra have been moving up the path of social reforms attempting to encourage the idea of a caste less society, one that Dr. Babasaheb Aambedkar envisaged to liberate men and women from the shackles of regressive notions and critical religious texts. The State of Maharashtra had planned to provide special concessions such as fee waiver to the children born out of inter caste and inter-religion marriages. In 2018, the Social Justice Minister of Maharashtra had said that the couples where spouses are from different religions or castes have to face various problems, including social boycott and the threat of honour killing and hence, besides other aspects, a law in place will focus on what kind of protection can be given to the couples who are facing such threat. Honour is in the attempt to achieve that glory by encouraging States to come up with incentives to encourage inter faith unions. The Act and the Ordinance aims to take ten steps backward against the spirit of national unity and fraternity.
The Right to Love campaign run by Sushant Asha and Abhijit K in Maharashtra, both journalists cum social activists, helps inter religious couples facing opposition to avail protection by police, legal help to get marriage registered, counselling to deal with the mental pressure and also in finding job opportunities. With such laws in place impinging on your free will and right to conscience, the significance of the work and efforts put in by such individuals becomes even more stark.
Related:
M'tra Govt's move to set up "Commission" on inter-caste, interfaith marriages strongly opposed by women's groups, Opposition
Three States have demanded caste census, says MHA
State has no business to know if a person has changed religion: Deepak Gupta former SC Judge
Uttarakhand further amends its 'anti-conversion law, maximum sentence up to 10 years