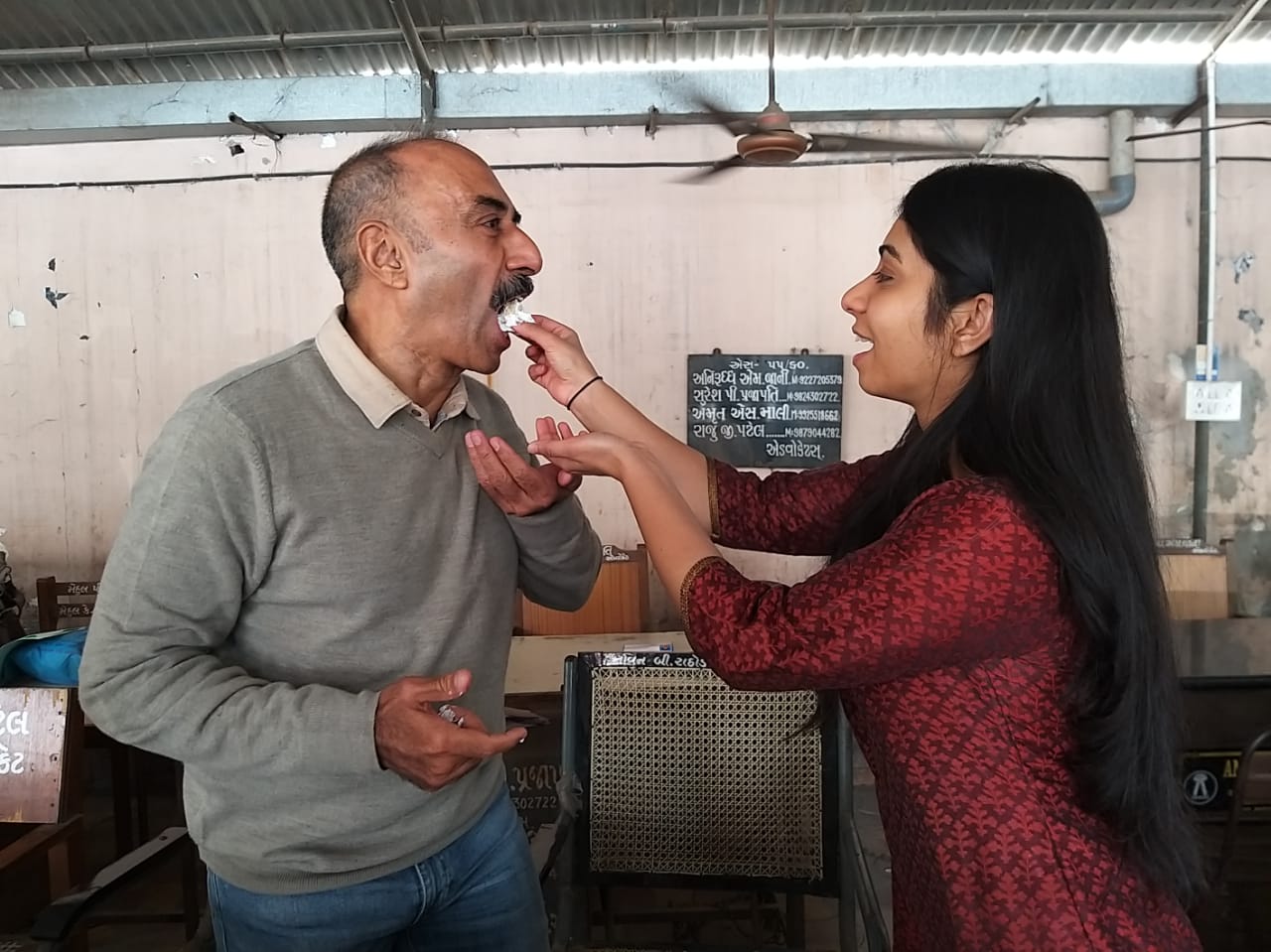 Last year, Sanjiv Bhatt's family, and a couple of friends had managed to meet him on his Birthday December 21, when he was brought to Ahmedabad for a court hearing . A year later, yet another birthday has come and gone, however this time the family has been unable to meet. Yesterday, children Aakashi and Shantanu wrote an open letter addressed to their father on his 57th birthday. The letter also highlights the apathy of the system towards undertrials languishing in jail, and living in hope, one court hearing date at a time.
In a post shared on Sanjiv Bhatt's His daughter Aakashi and son Shantanu Bhatt recalled his birthday's gone by when they would be up early and began "tip toeing around the house arranging flowers, decorations and gifts,". The morning air, they remembered, would be "filled with the sweet and buttery scent of baked goodies," and there would be "last minute frantic wrapping of gifts" in the Bhatt household which they described as "a home filled with happiness, echoing laughter, warmth and abundance of love …" especially on the mornings of most December 21s gone by.
However, they soon jolted the readers back to the dark present and said that instead of laughter, their home was "steeped in deafening silence", and the morning, "instead of being filled with giddy anticipation of waking dad up to another amazing year, to gifts, flowers, cake and breakfast … is filled with a nauseating sense of helplessness as yet another year stares us in the face, of dad being away from us."
Bhatt has been in jail since September 14, 2018, serving the life sentence awarded by a sessions court in Jamnagar. The case was that of the death of a man named Prabhudas Madhavji Vaishnani who died on November 11, 1990, allegedly due to torture in police custody. Vaishnani was among more than 100 persons detained after communal riots engulfed the Jamjodhpur village ahead of Bharatiya Janata Party leader LK Advani's rath yatra, stated news reports. Jamnagar was Bhatt's first posting, and he took charge as Assistant Superintendent of Police (ASP) on October 10, 1990.
On December 21, 2020, this children have addressed "the citizens of this country" reminding all that the it has been two years three months and 17 days "since an upright officer was vindictively incarcerated in a fabricated case to silence his voice of truth and honesty, a voice that displayed in-dismissible and unwavering courage to stand up to this fascist regime."
They write that an "example was made of an upright officer, and you, the people of this nation stood in silence. He was incessantly targeted and victimised, and the nation looked the other way. His home was broken down, and the nation shut its eyes and ears. He was falsely framed and vindictively incarcerated in a fabricated case, ripping him away from his family, sentenced to languish behind bars for a crime he did not commit, and the nation still watched as silent spectators… Our father, Mr Sanjiv Bhatt stood up to this totalitarian regime at great personal and professional cost, and today, he is paying the heavy price for being honest, upright and courageous."
They ask that people of India rise and be "the citizens, the nation that our father believes exists". They reiterates that their father remains incarcerated "for a crime he did not commit, his only crime that he did not buckle under political pressure and vindictive victimisation." The siblings then write an emotional personal letter addressed to their father, on his birthday.

Dad,
Today on your 57th birthday, I wish that instead of writing to you from afar, we would have been celebrating together in the warmth and peace of our home. We may have been torn apart by excuse of men, who have never and will never know what love, family, honesty and integrity is. They may exalt in ripping us apart, but what would men like these understand, that the four of us can be kept physically apart, but we are never separated from one another, for you, reside in our very being, our every heartbeat, and we in yours; that you are our strength and the three of us, your unwavering resolute pillars of support. These lumpen elements believe that they can break you, little do they know, that they haven't even scratched the surface of your tenacious strength. You, dad, are made up of strength, rigour and courage that are incomprehensible.
Today, on your 57th birthday, I wish you the world, for you deserve nothing less, but most importantly, I wish that India lives up to the idea of what you are fighting for; I wish for this country, the citizens of this country to rise up and be what you deserve.
You, Dad, are our hero, our pride!
Please know that you have never been and will never be alone, for now, your family doesn't just comprise of the three of us, but also of tens and thousands of people all across the world, who love you, respect you and continue to stand by you in our fight for justice.
It is my belief and resolve that this time, next year, you will be here with us, celebrating your birthday and the nation we all knew could and finally did exist.
We love you more than you can ever imagine!
Yours and only yours,
Aakashi & Shantanu
Related
Thuggery should never elevate itself into a technique of governance: Sanjiv Bhatt
"All this because he spoke against Modi": IPS officer, Sanjiv Bhatt's wife, Mumbai
In a country where custodial deaths & torture have been normalised, its a whistle-blower who gets 'exemplary punishment'
Life sentence for Sanjiv Bhatt in 30 year old case example of state vendetta?